Re-energise and regain your enthusiasm for stitch.
Use this ultimate resource by Award-Winning Australian embroiderer and quilter, Cathy Jack Coupland, designed specially for the avid fibre artist.
Reconnect your passion to create through unique colour and design choices.
Save time – use my Checklists to inspire and motivate.
Just begin, and see where it takes you.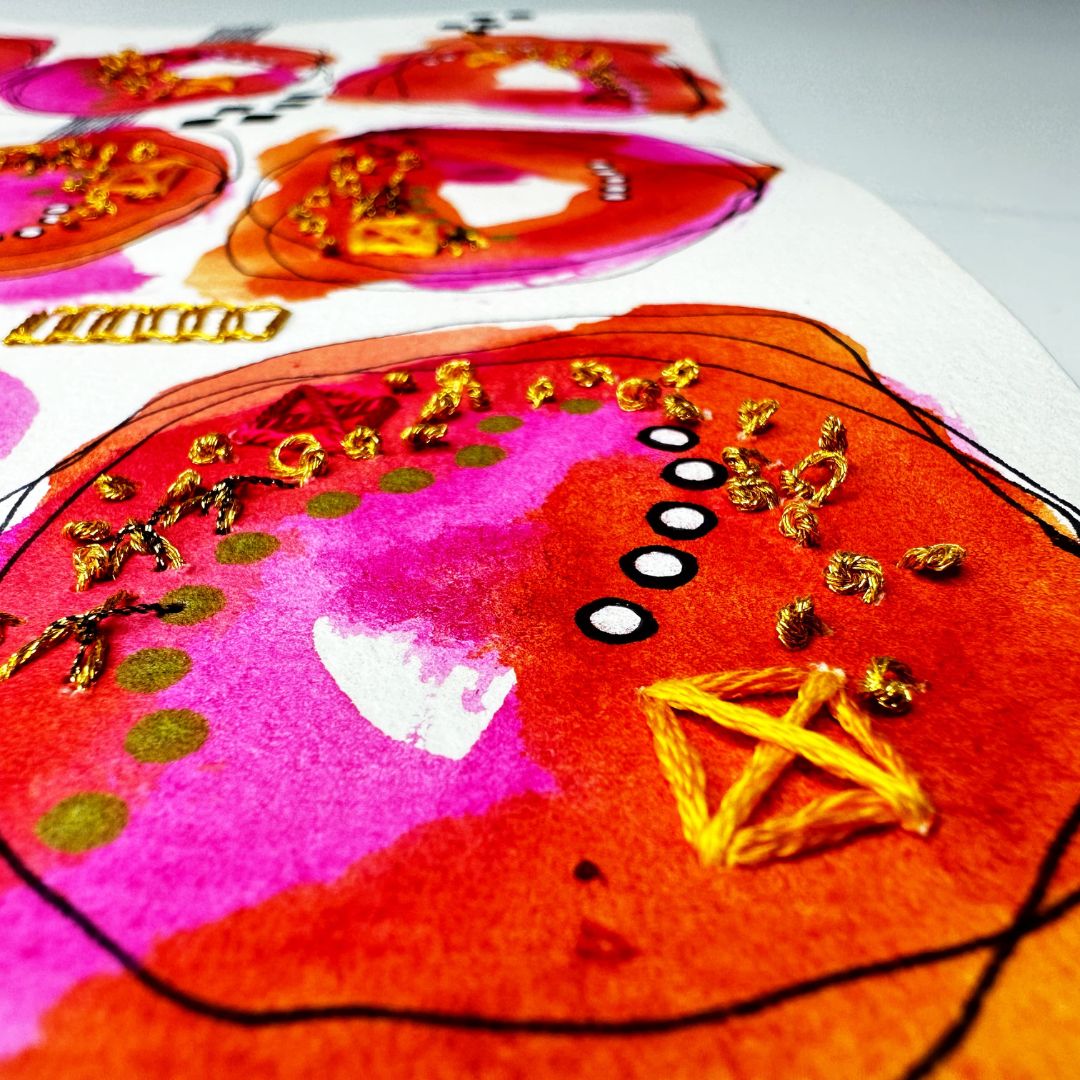 November 2023
As the year comes to an end, the inspiration and desire to stitch continue to grow, just in different directions.
And that's just how I like it.  
I'm continually growing, my work is evolving and I feel the pull of the needle and thread as strongly now as I ever did.
Colour plays a huge role in my work – and that alone can motivate me, but I have to say painting with watercolours has to be a favourite ignition to almost instant inspiration.
When those beautiful, strong pigments merge together and mix, I'm in heaven – and then trying to interpret how to stitch into those pools of colours poses yet another layer of problem-solving, testing my skills and my eye even more.
What works?  What doesn't work and why?
They're questions that I love having to answer.
And those questions are exactly what supports my intuition, something that needs to be cultivated daily.
Paint and stitch it's a perfect combination.
November 2023
I've always loved working with paper – especially combining my own mark-making with simple stitching.
But I wanted to up the ante recently, so it was back to the drawing board for me, testing watercolours, designs, and ideas.
I can see a resolution forming, but there's still a way to go – it takes time and practice to achieve solid outcomes, but I know I'm heading in the right direction.
Paper's an interesting medium for embroidery – not always easy, but one that allows the stitch and thread to really stand proud of the surface, giving it a certain pride of place in the design outcome.
I love the glow of strong watercolours especially the way the colours blend and meld – the way they overlap and merge is mesmerising.
Simple embroidery adds texture, dimension and pops of colour – not to mention the beautiful patterns only embroidery stitches can achieve.
I'll feature more images of this work in progress – stitching directly onto paper, working with the elegance of watercolour and other mixed media.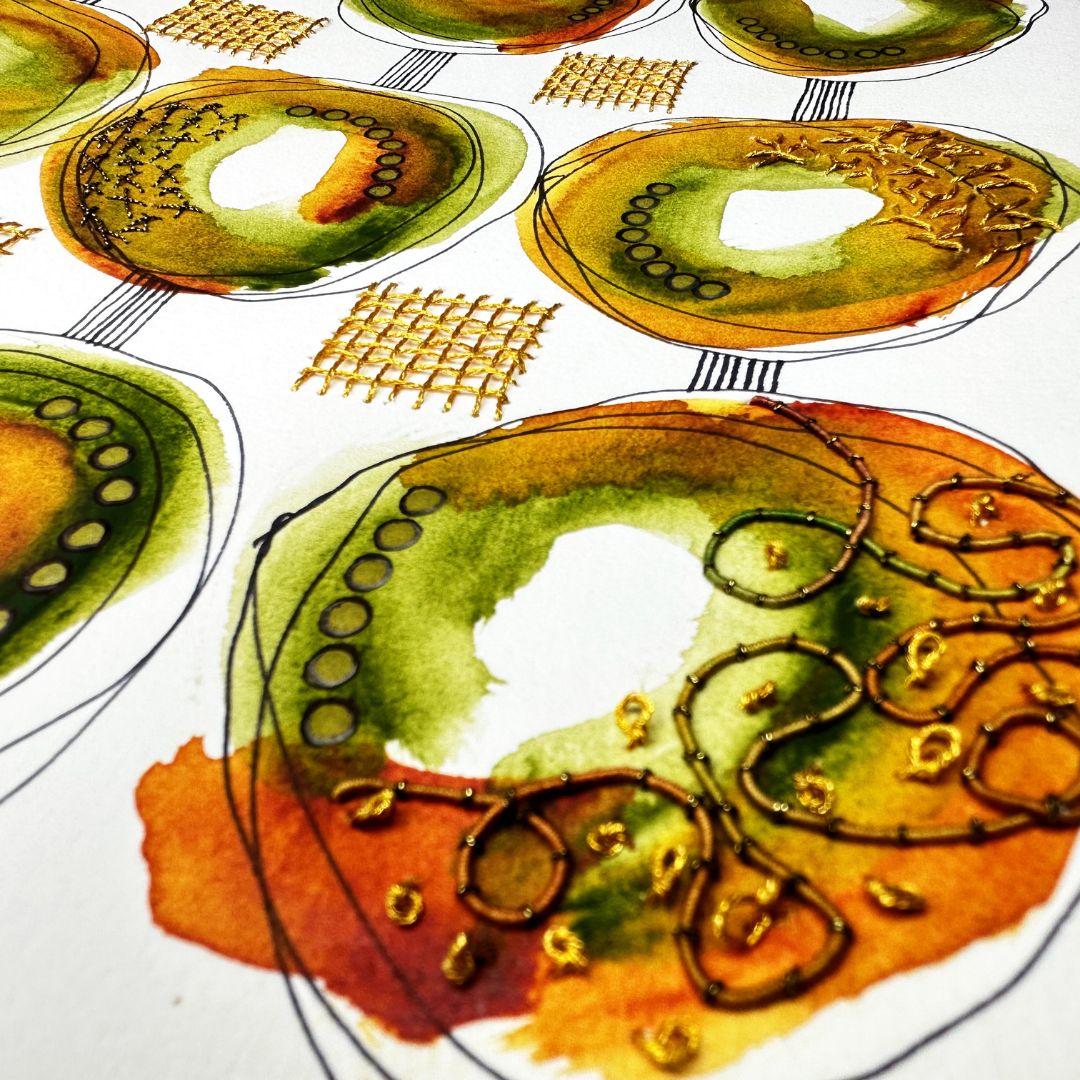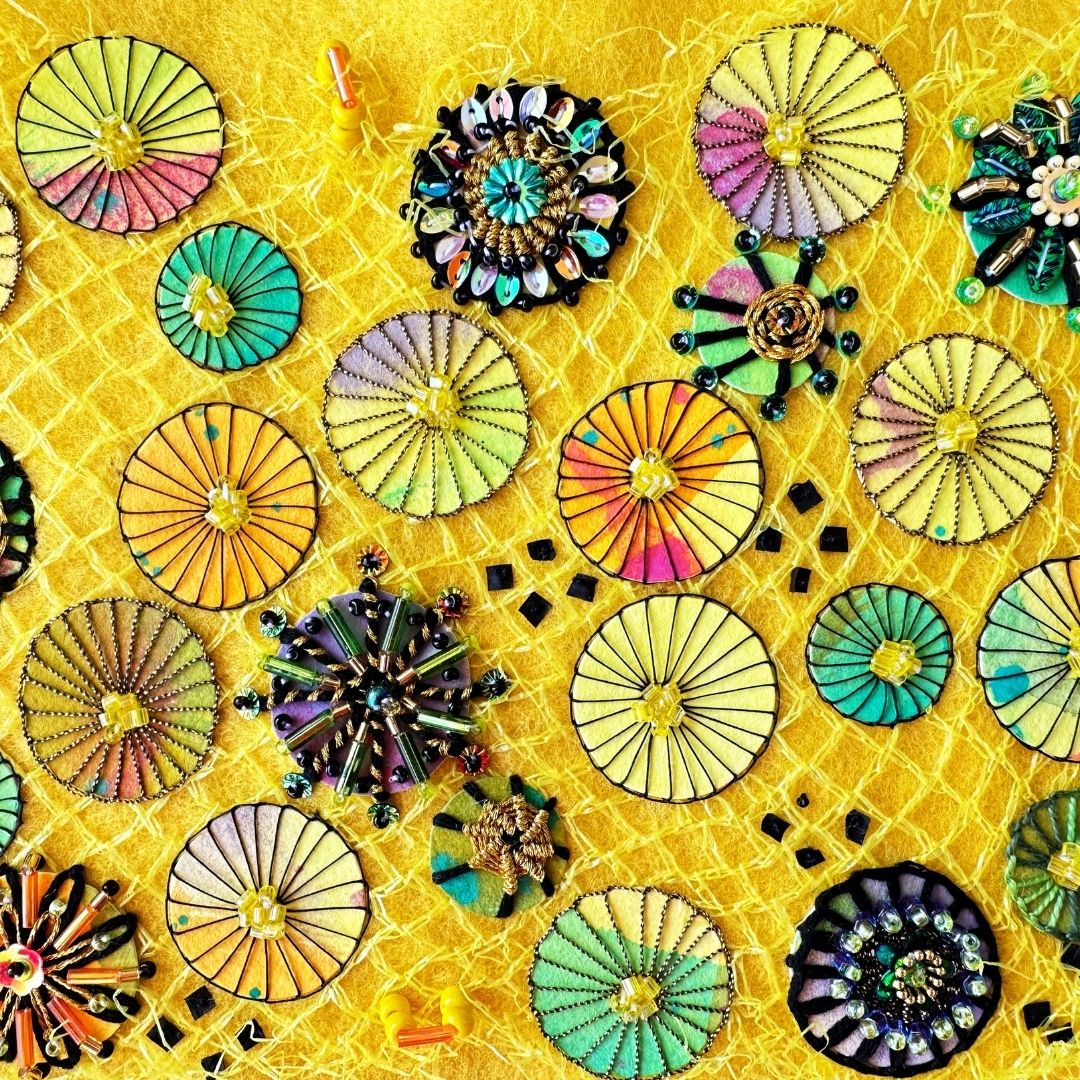 November 2023
Yellow symbolizes optimism, joy, energy, happiness, and friendship.  It really is a sublime colour to work with.
Take an unused watercolour, some yellow felt plus a used plastic vege bag for added texture, topped with some wonderful handmade circular sequins and you have an amazing ground for creative embroidery.
Where to start?  Always with colour and texture. 
Black seemed to be the perfect starting point and everything grew from that.
For me, hand embroidery is about layering and building on those initial stitches, thinking about the thickness, lustre, and shape – of both the stitches themselves and the embellishments added.
Here, I love the contrasts of weight – heavy and dark against light and floating almost, and yet I've used very simple stitches.
Straight stitch, chain stitch, whipped chain stitch, buttonhole – all share a role in this interplay, but that unusual plastic vege mesh adds unique visual interest with its suggestion of movement and motion.
Yellow is a fantastic starting point for any embroidery.
September 2023
Creating is all about doing – continually, not just every now and then.
It's about exploring and developing new ideas, and that's exactly what I'm doing with my new series titled, funnily enough, 'Exploring'.
They might be teeny-tiny but they pack a punch as you can see – I don't do things by halves here.
The idea is to take a single stitch, in this case, Spiders Web, and really see where I can take it.
And it's amazing sometimes just where that will lead.
Why bother I hear you ask?  Because we must continue to develop – and this is one way I inject my personality onto a stitch, rather than have it dictate to me.
It's a foundation for finding your own unique voice and style in your work.
Plus it's fun.  
And anything worked in pink with a few touches of gold has to be good.  Right?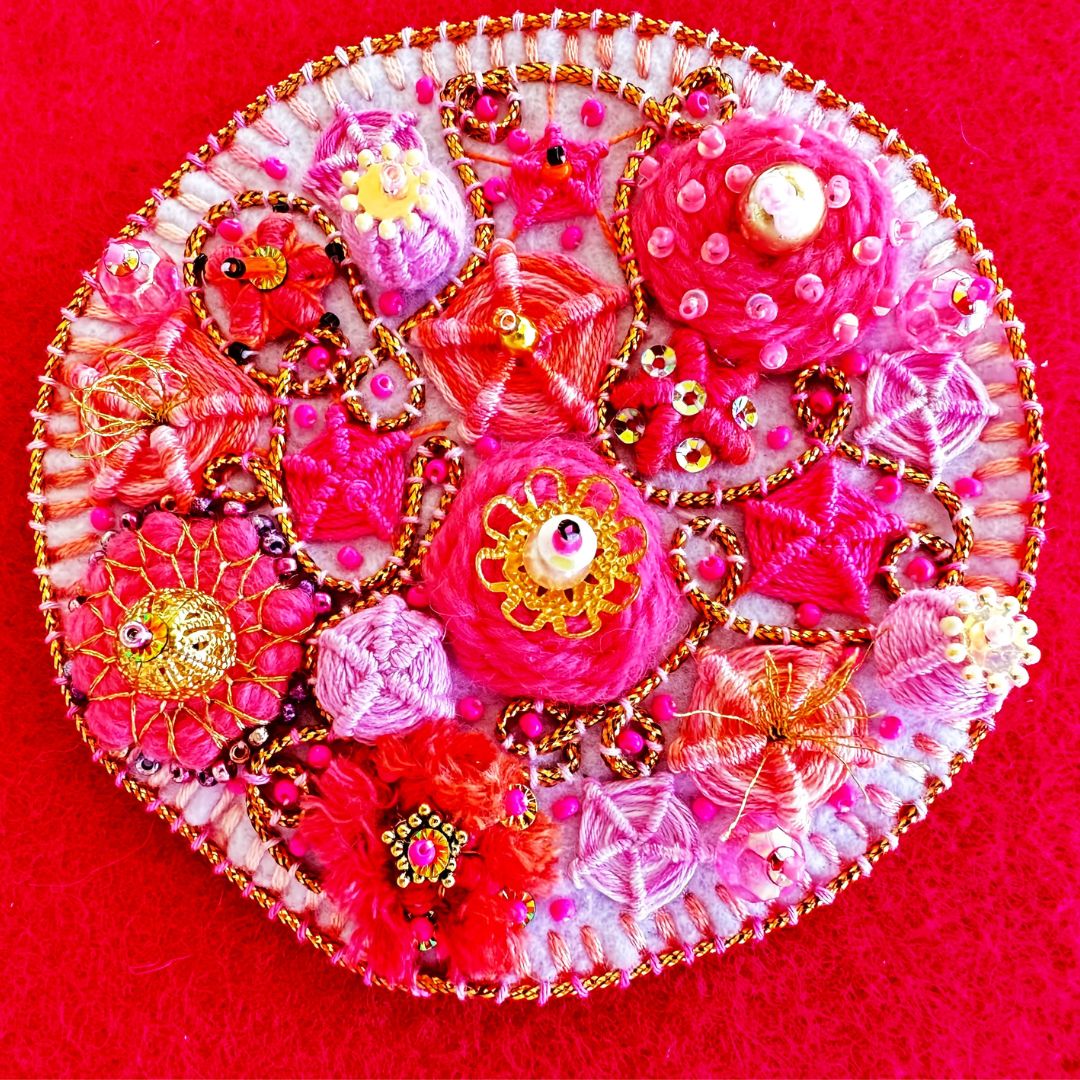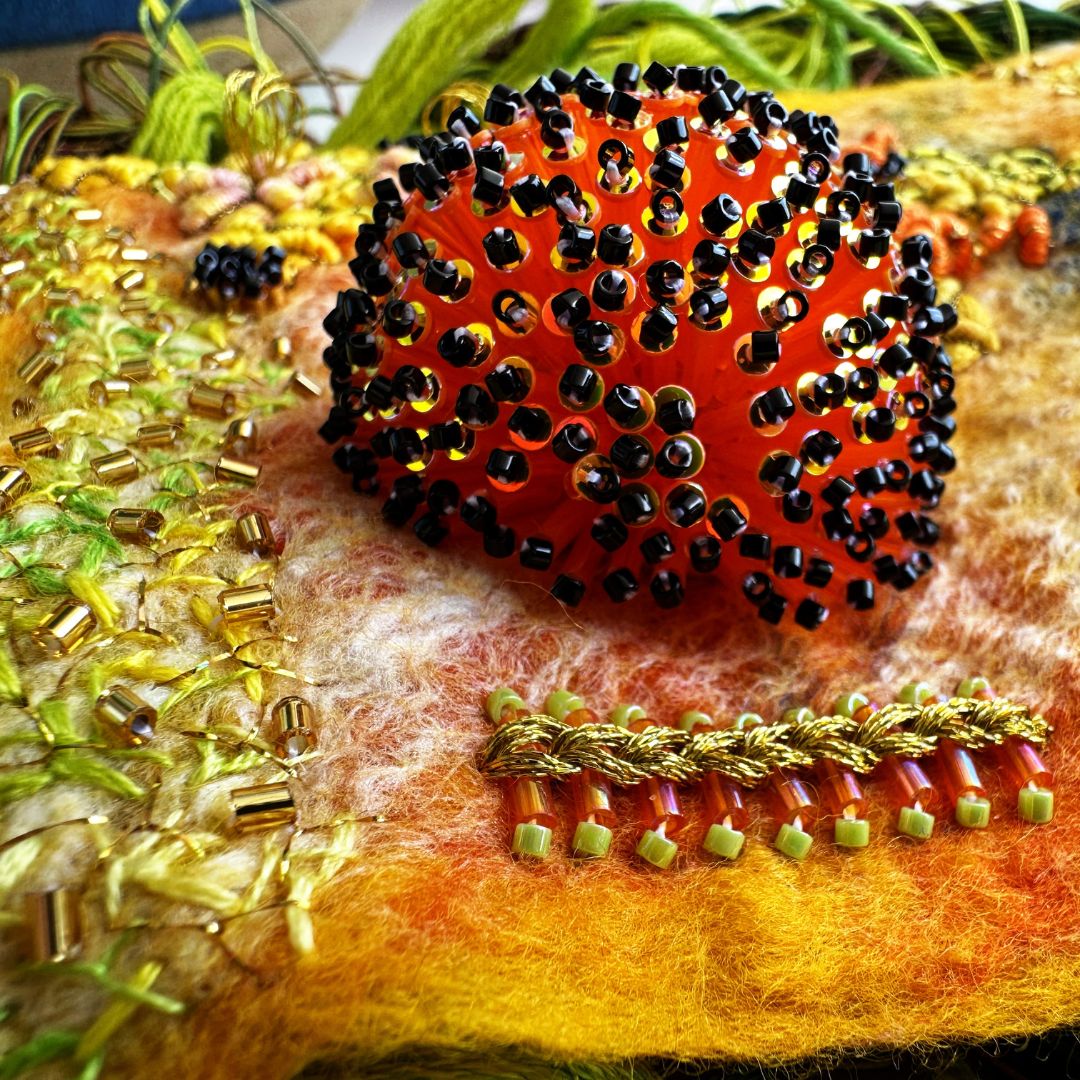 September 2023
What stimulates me to create?
Colour and texture would probably top my list.
And when it comes to hand embroidery, I like to keep adding and mixing elements to create not only variety but also interest.
So this is my latest small embroidery worked on some beautifully coloured, hand-made art felt that just begged to be stitched into.
Tones of orange, strikes of lime green, sooty black, and creamy white made the perfect base on which to simply create – which is exactly what I've done here.
No pattern, simply instinct and experience.  Improv stitching at its very best.
Not everything worked, but I'm more than happy to give anything a go – and with hand work, it's fairly easy to rectify if it needs to come out.
So with colour and texture as my impetus and a theme based around the beautiful world of our amazing coral reefs – the embroidery simply flowed.
And I'm very happy with the outcome. 
August 2023
Design, design, design.
That's what helps create new work for me.
With hand embroidery, I prefer a more organic, looser approach, but with my machine work I like precision and detail
And to achieve that I have to draw each and every line to ensure it will work and that I can actually stitch it.
Finding a number of unused sketchbooks prompted me to begin drawing again – and the feeling is magic.
I can see the designs develop and feel the lure of shape, colour, line, and pattern drawing me in.
It's that energy that helps motivate new work each and every day and it's invigorating, to say the least.
So, watch this space as I post images of my latest design journey into the Underwater world in and around coral reefs – designed specifically to be machine embroidered.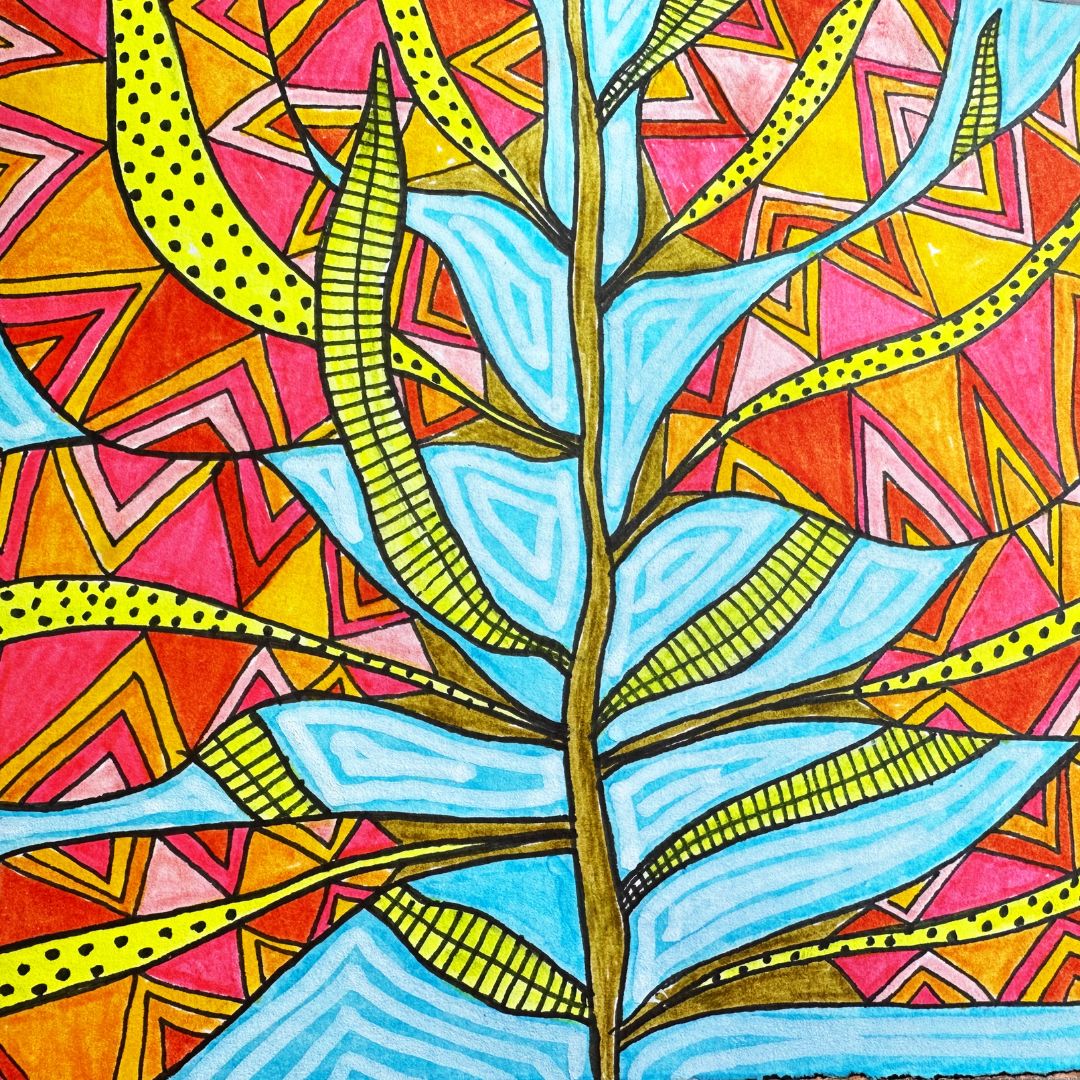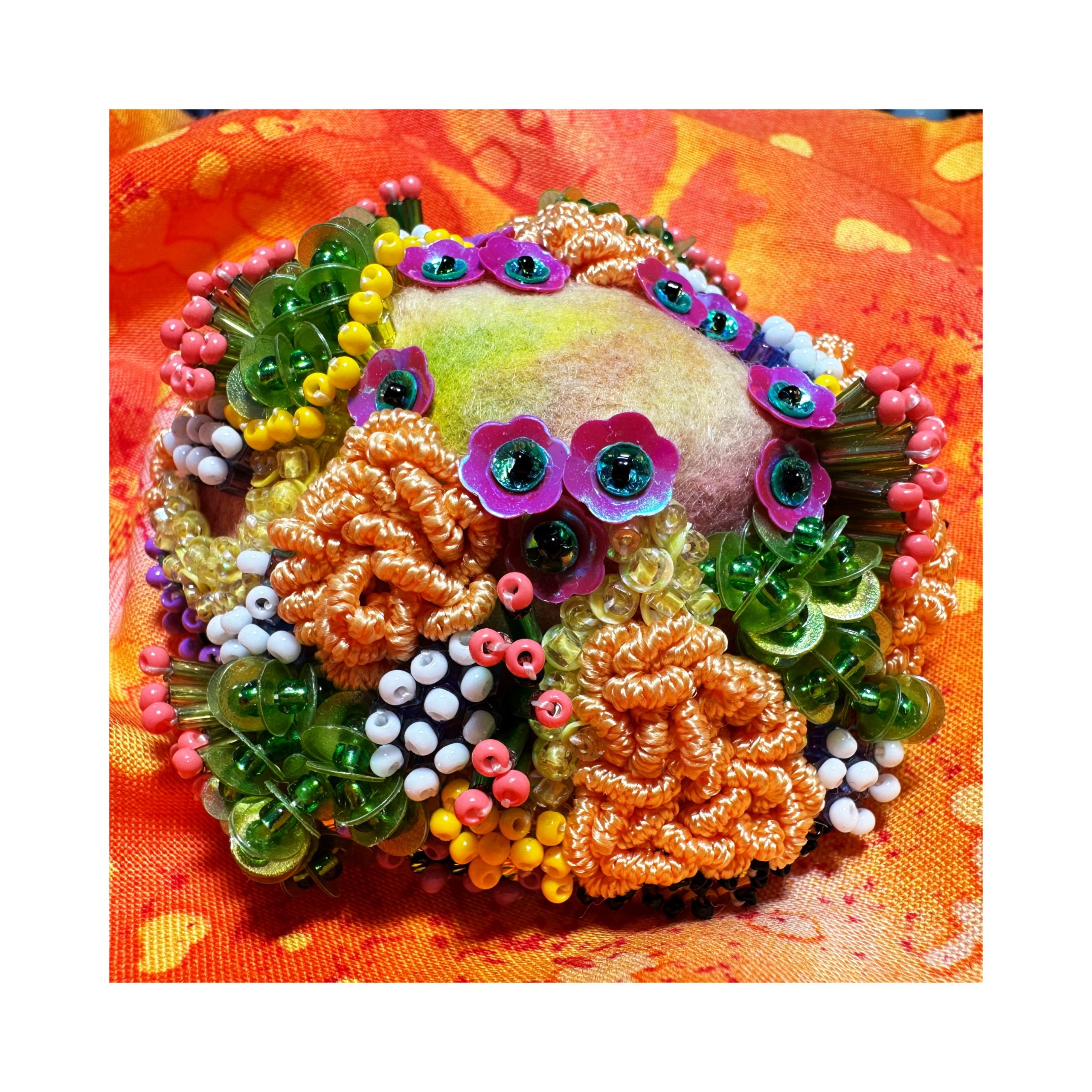 August 2023
What is it exactly that makes me want to work with a needle and thread?
Well, it's no one thing, rather, a combination of elements such as colour, texture, dimension, and scale.
And when the union of those elements excites, inspires, and urges you to create, then there's no stopping the endless output of work. 
Now that's a good thing, believe me, but inherent within those elements is also a need to continue to explore and innovate.
For instance, I'm now investigating the addition of embroidery with beadwork because the textures are just so completely different – as you can see in this image.
A simple Bullion stitch worked in rayon thread catches and reflects light beautifully and is a simple contrast to the beadwork.
Another aspect is leaving some empty spaces throughout the work – and I think that just makes the work all the more interesting.
July 2023
My latest work, Coral – soon to be appearing in the Exuberance exhibition at Craft + Design, Canberra from July 6 till August 26, 2003.
I don't consider myself a hand embroiderer – my work normally centres around machine work.
But, I was invited to participate in this exhibition, featuring hand embroidery and I happily accepted.
That meant a huge pivot for me – not that I can't embroider, it's just that I haven't done it in years.
However, it's amazing what you can do when you put your mind to it and when parameters and guidelines are set – because that's really what helped get me through.
I had a concept, Coral, and I knew I had to focus on contrasts – of line, shape, colour, texture, number, and size – the whole kit and kaboodle.
And this is the result, incorporating hair bands, cotton buds, shells, beaded wire, covered wooden beads, and a cacophony of assorted beads and sequins.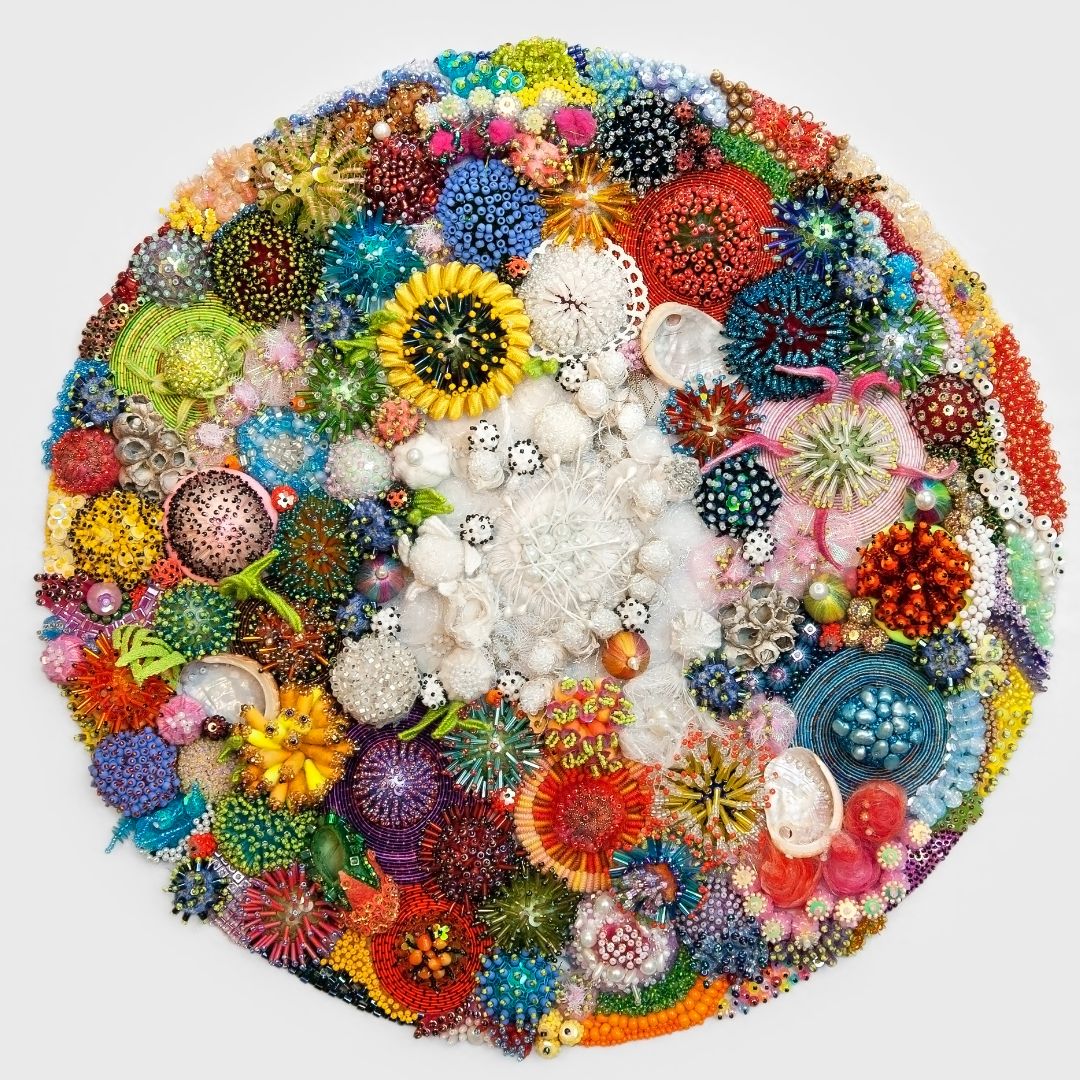 Download my free Checklists now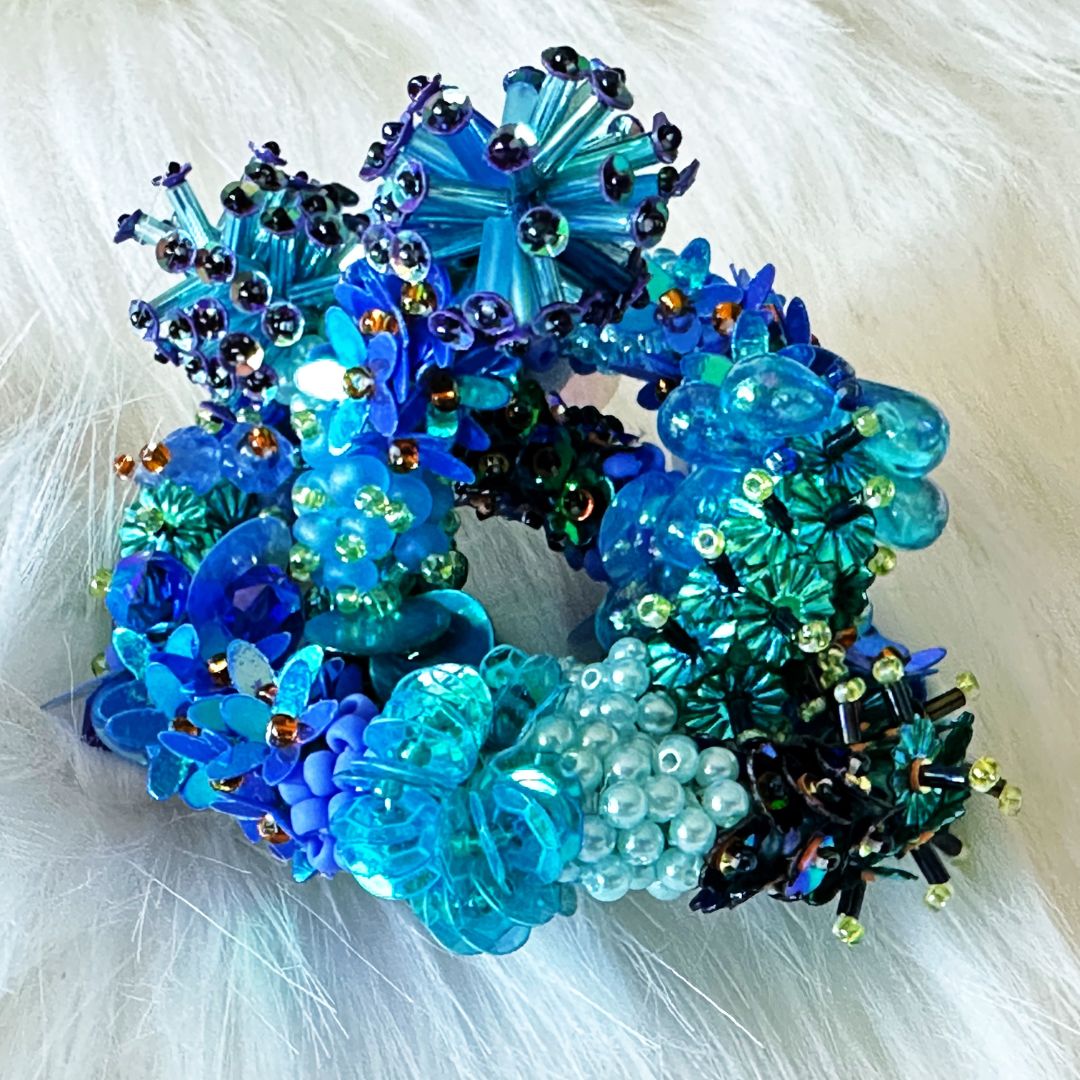 June 2023
More and more people are turning to the needle arts as a means of slowing down, reconnecting with traditions, or forming new ones.
And it's easy to understand why.  
Even through the harem-scarem of packing for an imminent move, I've still needed that connection to work with my hands, to be creative, and to just relax into the repetition of forming stitch after stitch.
These Coral Clusters are a delight to make – and I love to work them in an almost monochromatic colour palette.  Somehow, it just deepens the magic.
So, even with innumerable packing boxes overtaking my life – those haptic senses still need to be appeased.
And it's a pleasure to do so.
Whilst I truly enjoy research for my Stitch Safari Podcast, involving a great deal of screen time, designing and creating is what really slows me down and allows me to breathe deeply.
It's a very easy solution to the business of the world today and one I wouldn't trade at all.
May 2023
Part of what urges me to create these underwater embroideries is that I love to analyze and problem-solve.
Developing likenesses to these underwater creatures requires close observation – but for me, it's linking that observation with what I know I can do – and do well.
So looking at shapes that are easily replicated isn't too difficult, but thinking about the type of stitch technique to use is, has to marry up with my ability.
So far, it's working. Stitch creates the textures within those shapes that catch the eye and encourages wandering all over the work.
But there's another part of me that just loves to look at odd little items that can be applied to my work.
One bag of small metal tubes had me thinking. 
I could use them to create height and dimension, but being tubular, they can also be seen through – a perfect scenario for an underwater home or refuge from predators, but also as a view-through.
Not a perspective often used in embroidery, and one I'll explore further.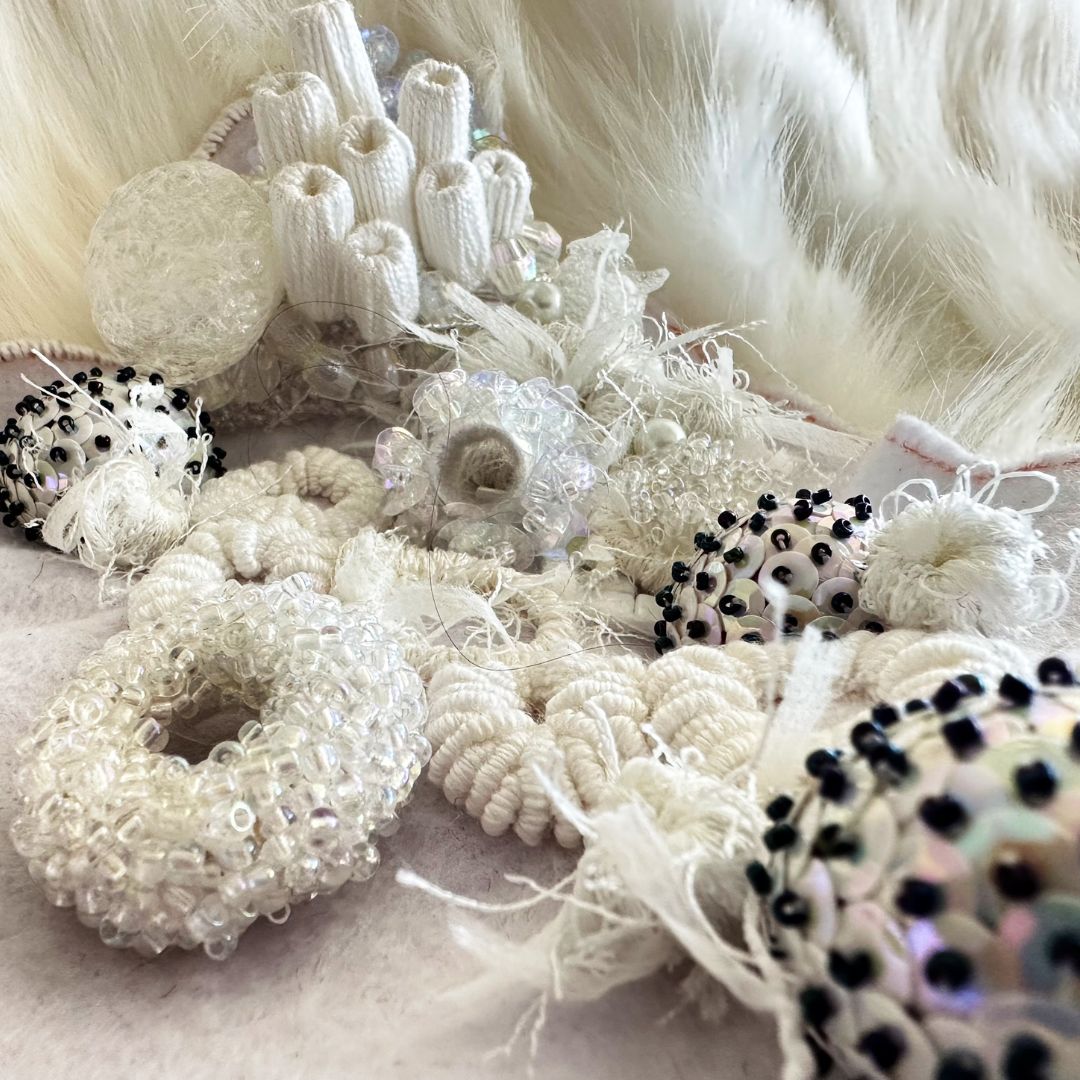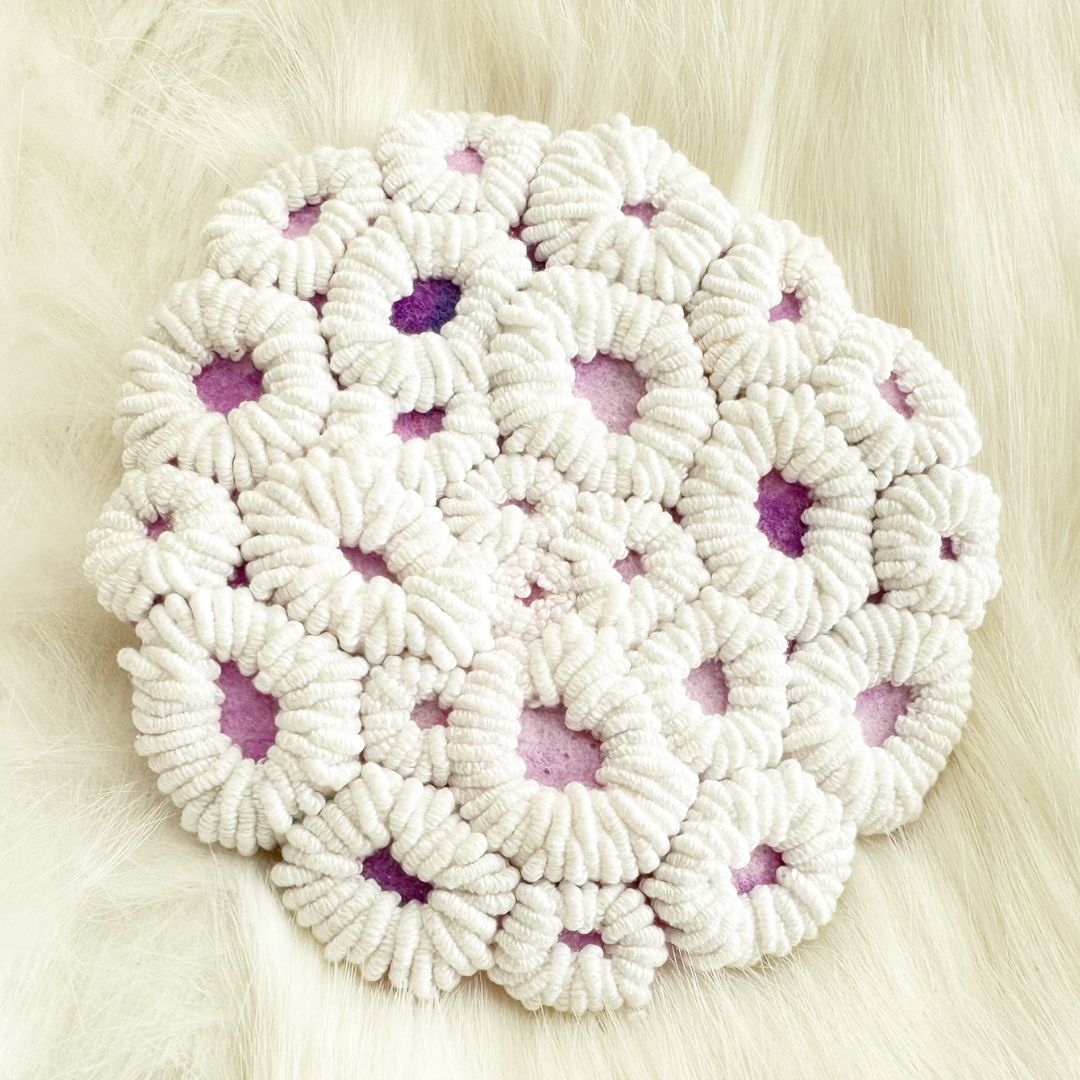 April 2023
This work-in-progress image exemplifies the link between expressive embroidery and the natural world.
It's just one stitch, repeated and repeated to replicate the amazing textures found in our underwater world.
Like so many embroidery stitches, Bullion stitch is versatile and under-utilized – it's a powerhouse of texture and dimension.
And I love it.
My next step is to think about a colourway and how I'll fill the centres of each coral-flower, but that will come will a little trial and error.
What's fascinating here is the utter simplicity of using one stitch for visual impact – and it works so well to express those hard corals.
So, something to look forward to when I post an image of the piece finished and ready to mount for exhibition.
Both our natural world and embroidery are so giving – it's just a matter of looking to see what each offers and interpreting that in our own unique way.
April 2023
Hand embroidery takes time.
I'm creating these works on the theme of Coral, highlighting worldwide coral bleaching events, for an exhibition early in 2024.
Equally, I'm trying to create interesting thematic hanging and display options. 
I'd love this exhibition to spark an interest in people as to the beauty of our underwater world but also the devastation of these recurring coral bleaching events.
I believe work is being done to regenerate and resolve ocean-warming issues that are the cause of coral bleaching – and that should also be acknowledged and applauded too.
A needle and thread have long been used as a form of protest – but this body of work is more about showcasing an awakening of the utter beauty and vitality abounding around our healthy coral reefs.
It's an important and timely message delivered in the only way I know how – doing what I love to do.
It's my way of highlighting this serious and devastating problem.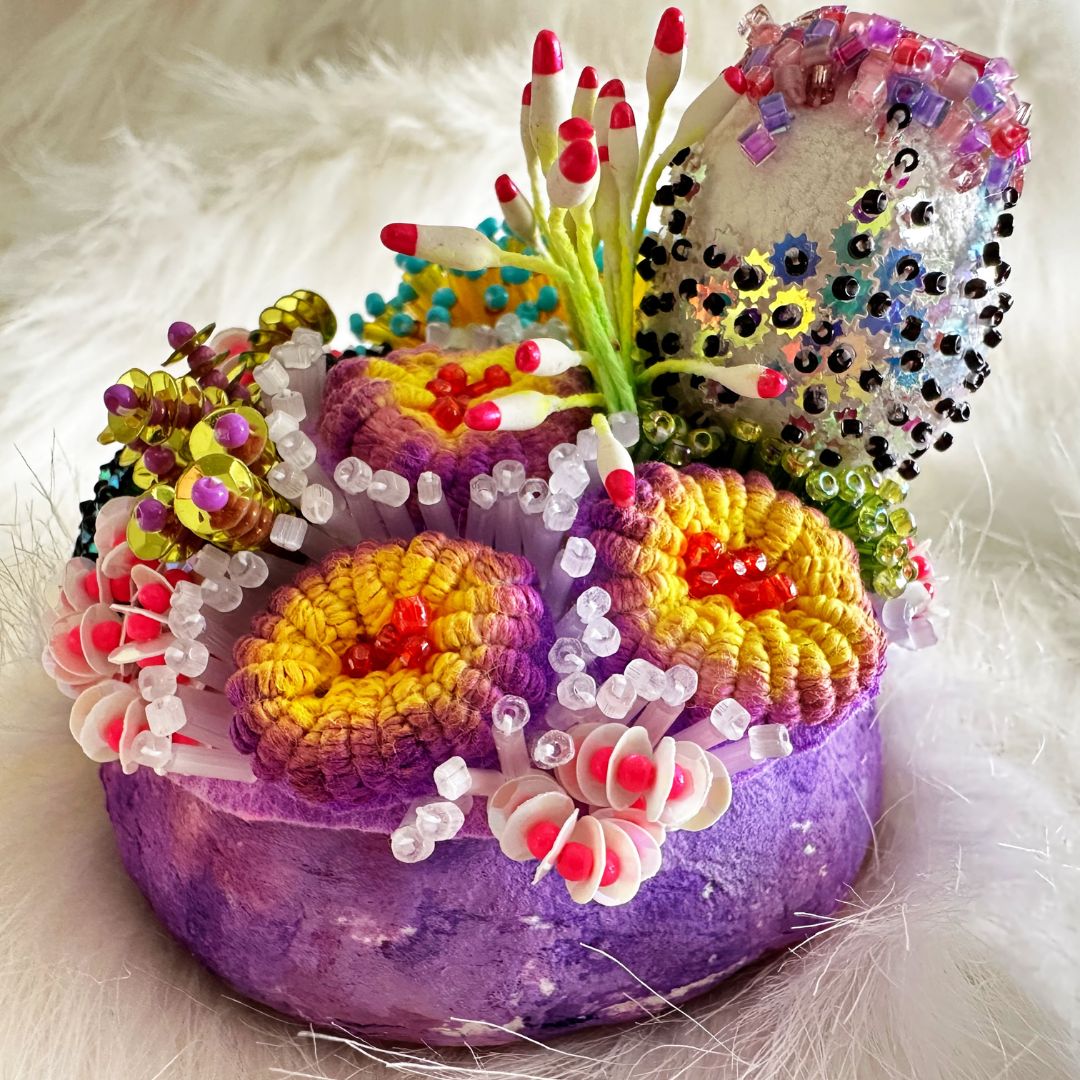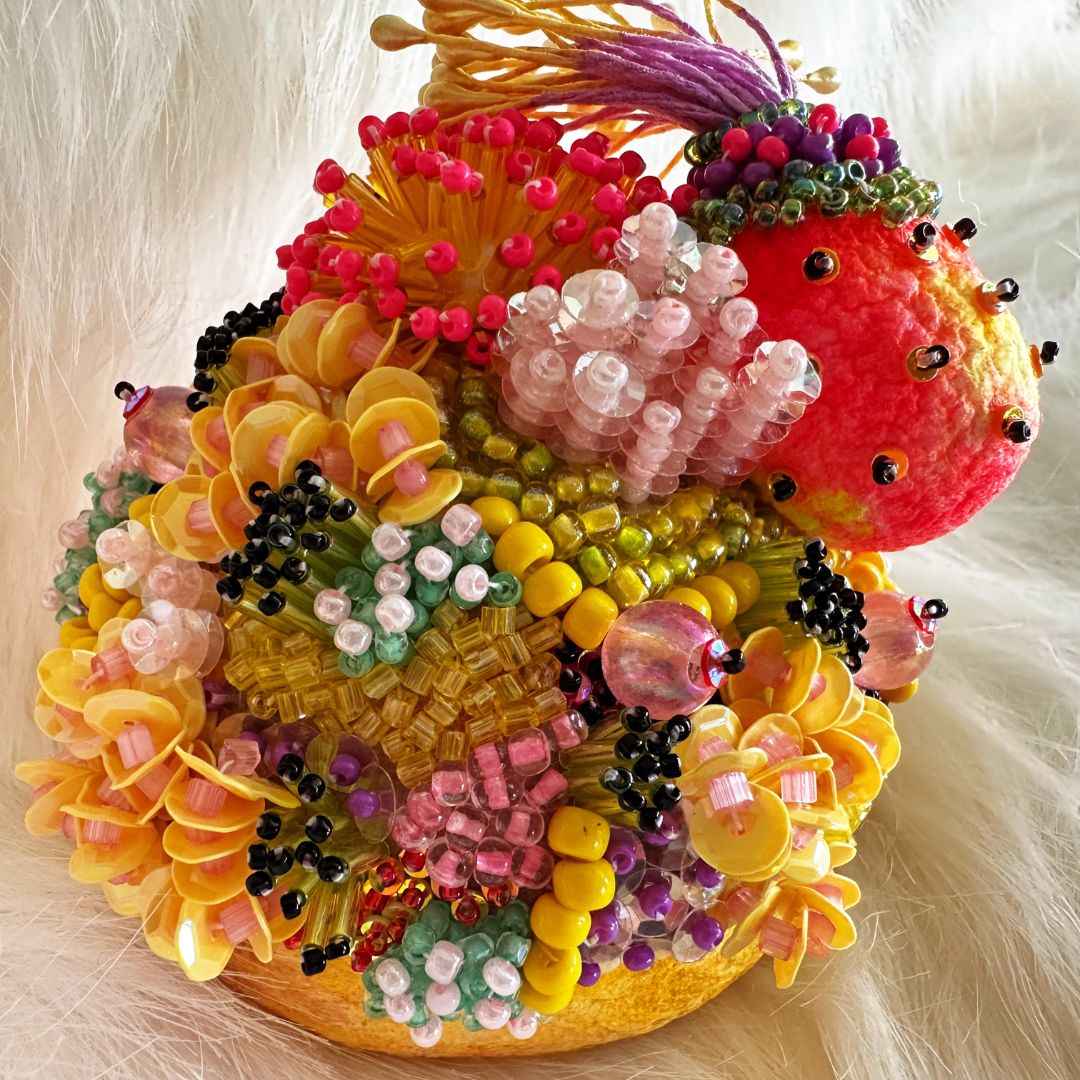 March 2023
Where there's a will, there's a way.
While wasting time on the internet, I came across some very interesting forms made from compressed paper.  They're light and take paint well.
However, they are not easily stitched.
So I had to think of a solution….and there's always a solution.
I made a little cap that covers most of the half-circle form, then will simply secure that.
It had to be shaped to fit, so I drew on my long-lost dressmaking skills, cutting away several sections – just like making darts for a dress or blouse.
And it's worked well.
The cap fits, and all I need to do is take a few stitches around the lower edge to secure it to the form.
So the process, yet again, was back-to-front, in many textile artist's books, however, it's worked for me.
And created a new series of works.
March 2023
And sometimes, it's a good idea to take a photo of works in progress – all together.
This way I get a feel for all those colours and textures and can see it's working towards a simply stunning and innovative body of work.
To achieve that, I'm working organically – that is as ideas come, I begin to stitch – and I change and adapt as I go.
This is exactly the look I'm after.  
Intricate, bold, detailed, and varied – it suits the style of work I create – I simply go where my instincts lead
But it's not easy.  Until now, I've looked at these pieces individually – but placed together for this photo shows me I'm on the right track.
Everything is resting on a white faux-fur stole – another idea I have for a large work incorporating this metropolis of stitch and business.
It works for me.  I look across this image with a great deal of satisfaction – of goals reached and those yet to be achieved – all with a needle and thread.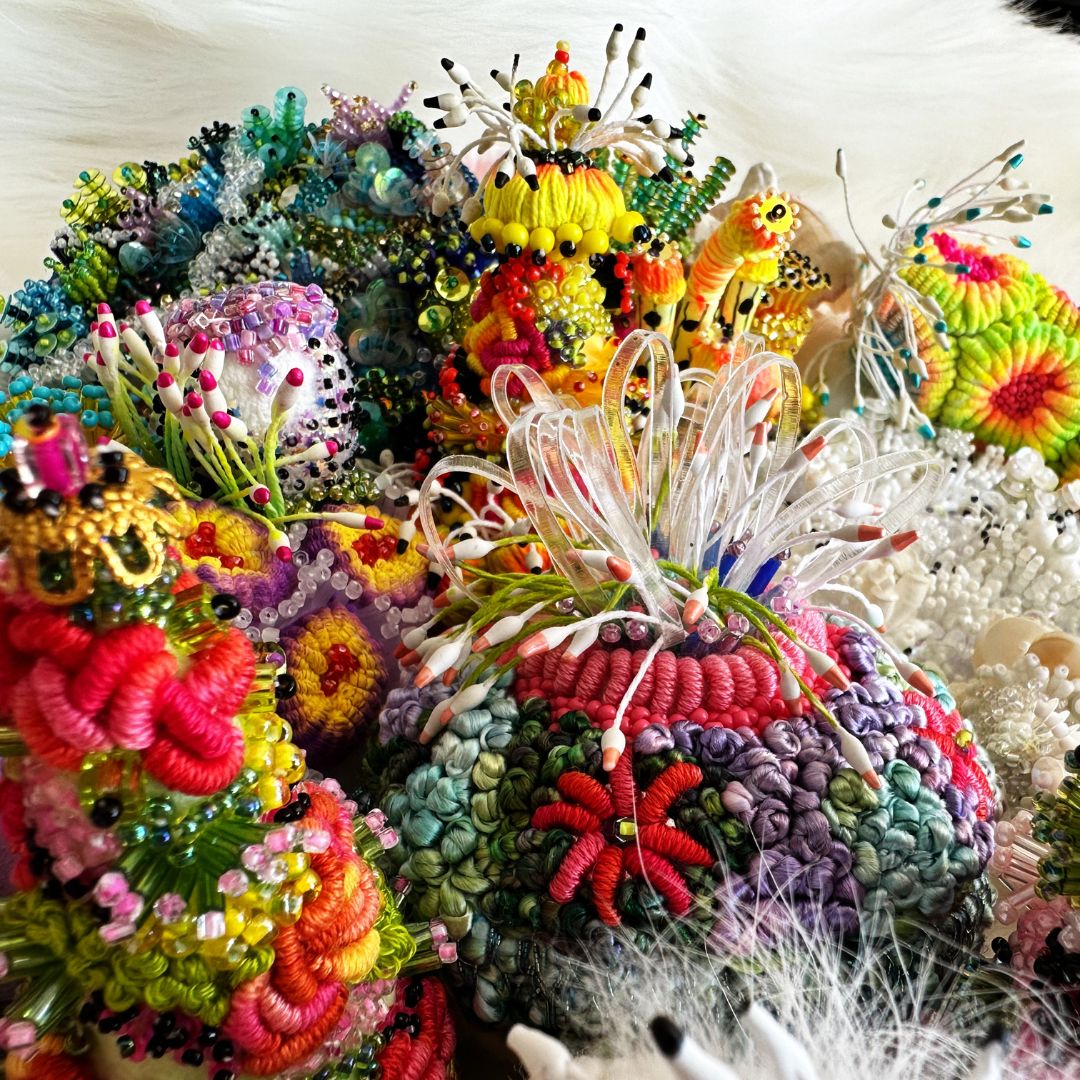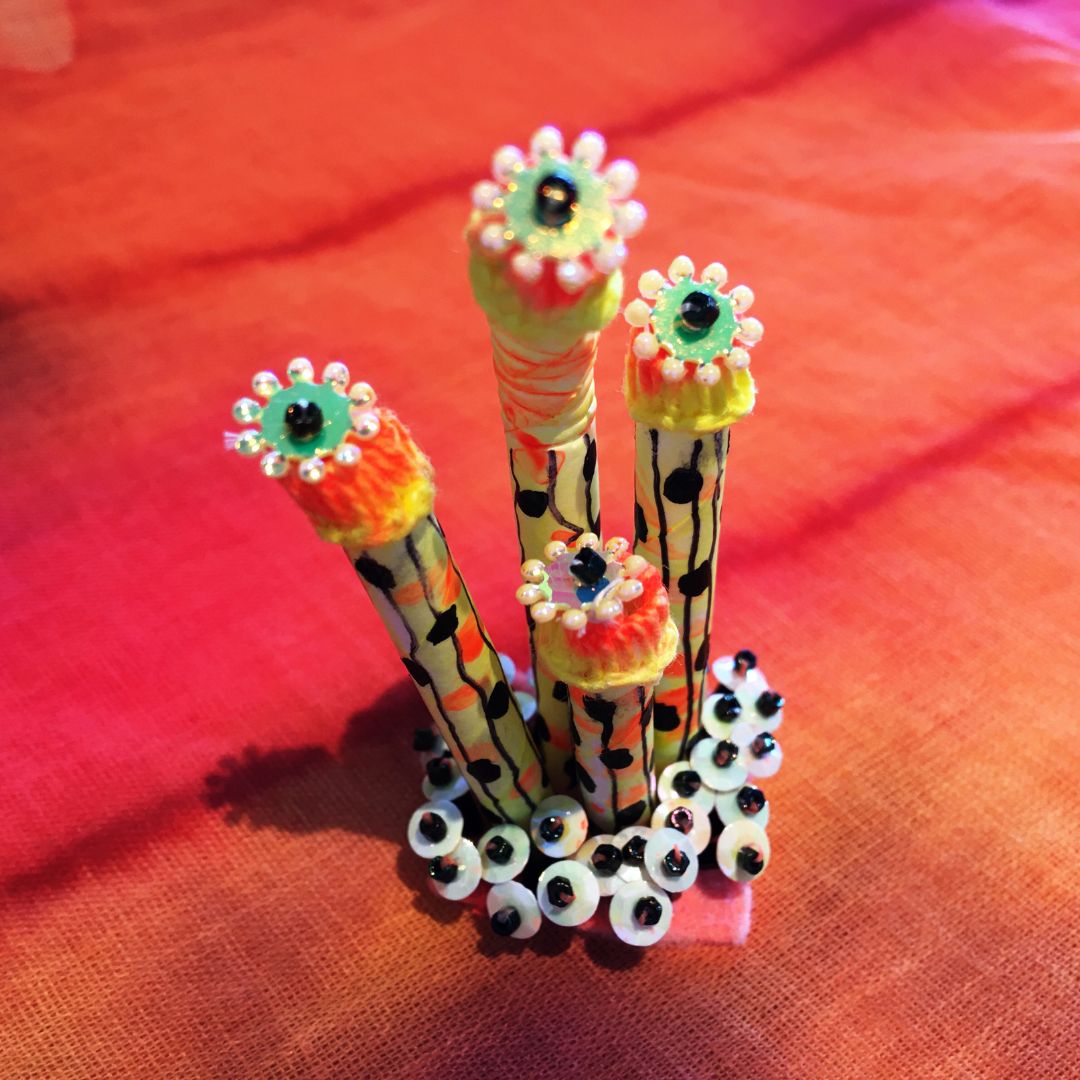 February 2023
I'm currently writing a book on design for textile artists – it's two steps forward and one step back at the moment, but, here's the crux of what I believe design is really about – give it time, give it energy, and give it all you have to help visualize your idea.
These forms were inspired by an underwater image of a plant-like sea animal.
Pastel in colour, it had soft, tubular arms that reached upwards ending in flower tips.
Immediately I saw a connection between some beautiful sequins and some white straws I had.
And that's all it takes – that connection between a drawing, sketch, or image, what we have to work with, and the techniques we're able to utilize to make it all work.
So after a couple of hours of thinking, stitching, and painting, this is the result – almost completely different from what inspired it, but offering something that's uniquely original and uniquely me.
And that's what design is all about.
February 2023
This journey into coral reefs and coral bleaching events has been monumental.
Not only is it riveting research, but it's opened a whole new world of stitch for someone who has normally worked by machine.
Why haven't I delved into hand embroidery before this?  
Well, it appears I like the quirky and unusual, along with juxtapositions of textures and colours that normally wouldn't be seen – except underwater.
Now that's a world that truly fascinates me – with its endless motion, those dark nooks and crannies, as well as the stunning reef life that abounds on and around a healthy coral reef.
It's an amazing world and I've tried to capture the essence that makes up a healthy, thriving reef.
And embroidery and beading are the perfect vehicles for this form of self-expression.
Head on over to my YouTube channel to see more.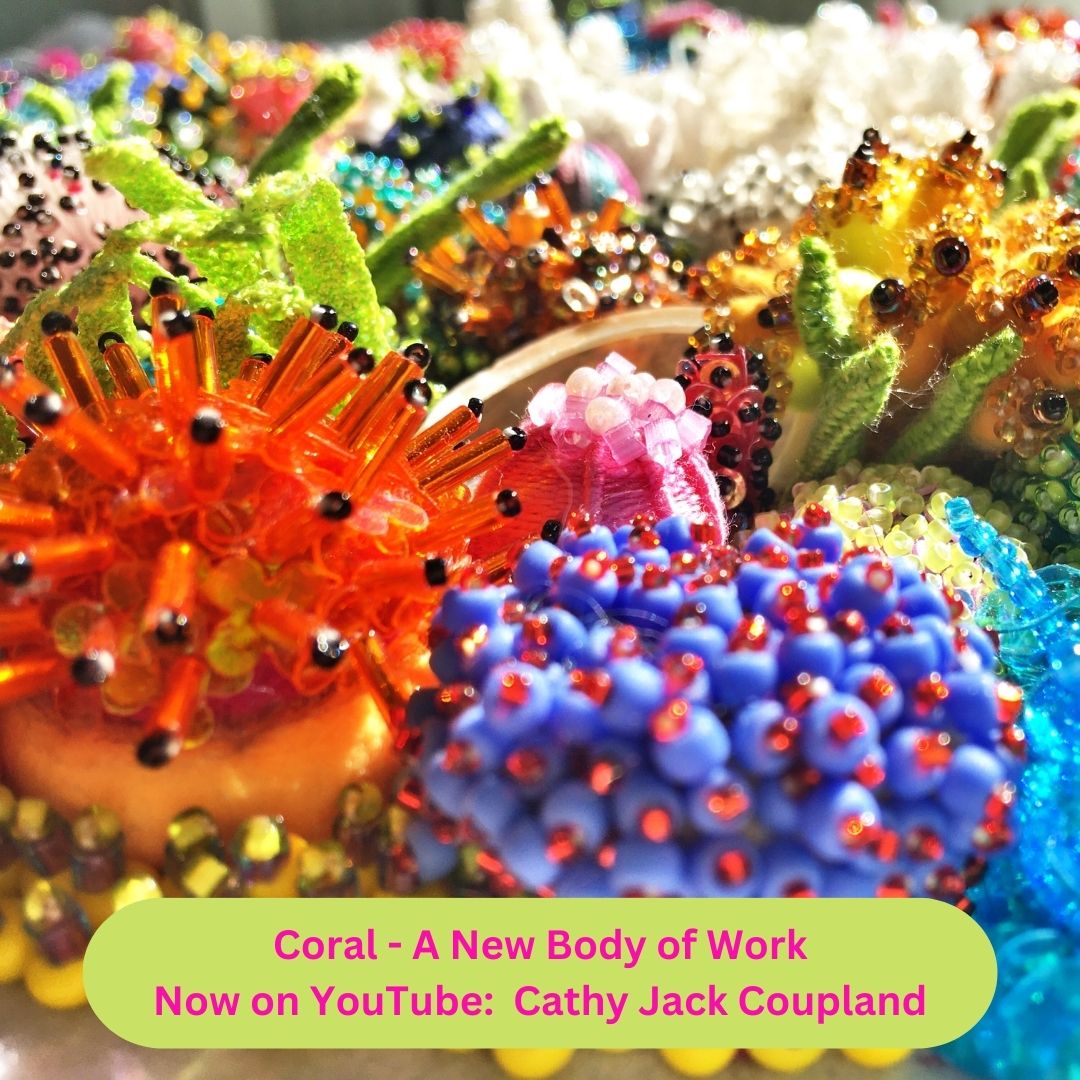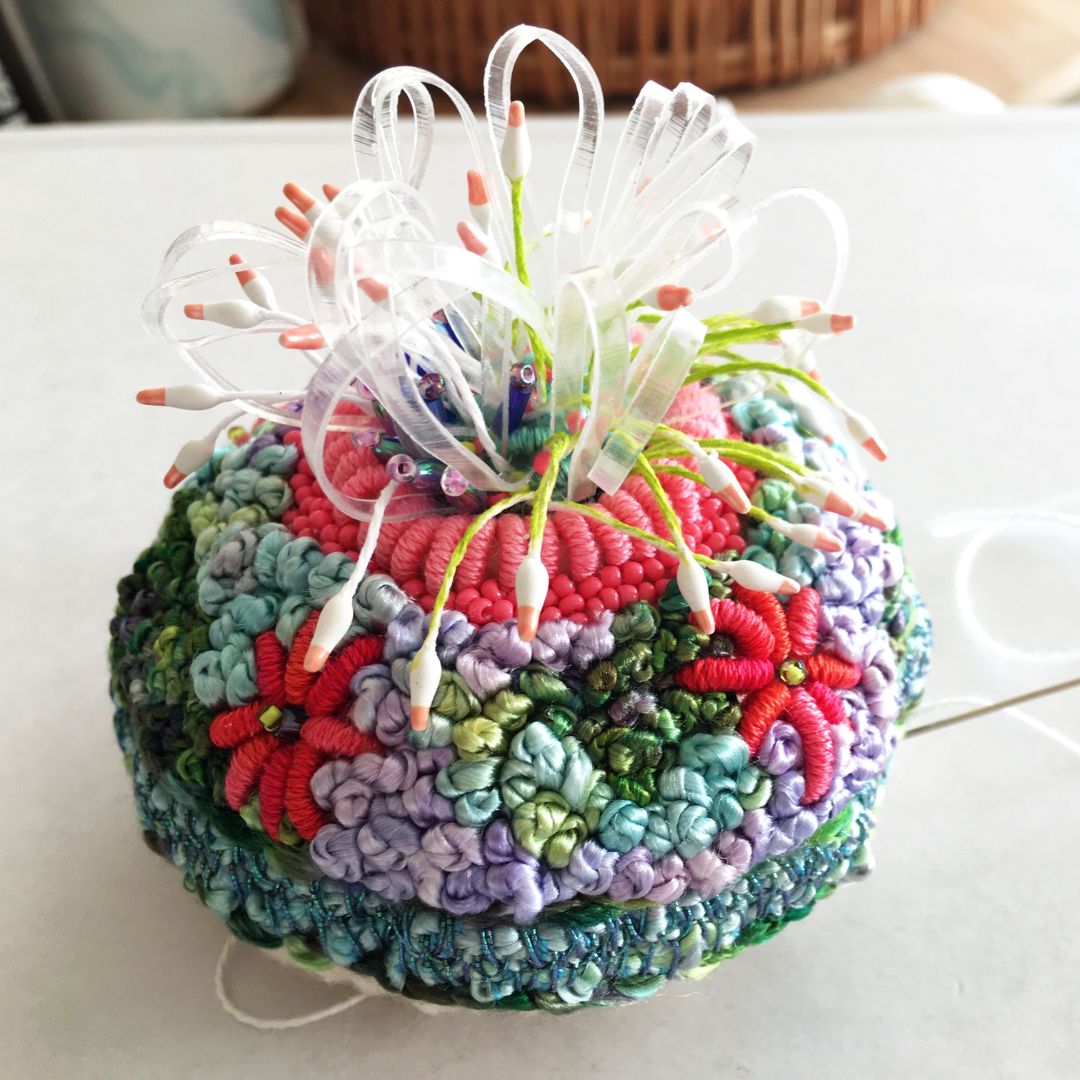 Working with form has truly pushed me to think and work differently.
Thinking of shape is easy, but working with form certainly throws a few obstacles into the mix.
For instance, do I cover the form with fabric and then stitch onto it, or do I embroider the fabric first and then make it fit?
Either choice poses the question of the suitability and appropriateness of my stitch choices – some simply can't be used.
But the beauty of time is that as all these thoughts and questions filter through my consciousness – I'm also trying to figure out solutions.
And there's always a solution.
The stitches used are all simple stitches – Fly stitch, Bullion knots, and French knots, and these are the type of stitches I love working with.
So form + embroidery is achievable when I really push myself to think.
And this is the result.
January 2023
Well, a very Happy New Year to everyone – may it be filled with inspiration, potential a needle and thread, and some stunning textiles.
And while the time over the Christmas and New Year break is very much family oriented, that doesn't mean creativity is put on hold.
This is the first piece in a new series of works entitled 'Encrustation', mimicking the eerie witness of coral bleaching before the living coral actually dies.
Where did the inspiration for the form come from?  Just reading a Facebook post where another artist working in the realm of wearable art, wrote about using armatures.
For me, inspiration can also come from words – and that 'light-bulb' moment when you suddenly think, 'hey, perhaps this will work – why don't I just give it a try'?
Which is exactly what I did.
And a few days later this is the result.  
The work is malleable and stable, proving yet again, the versatility of embroidery and working with the amazing texture created by beads.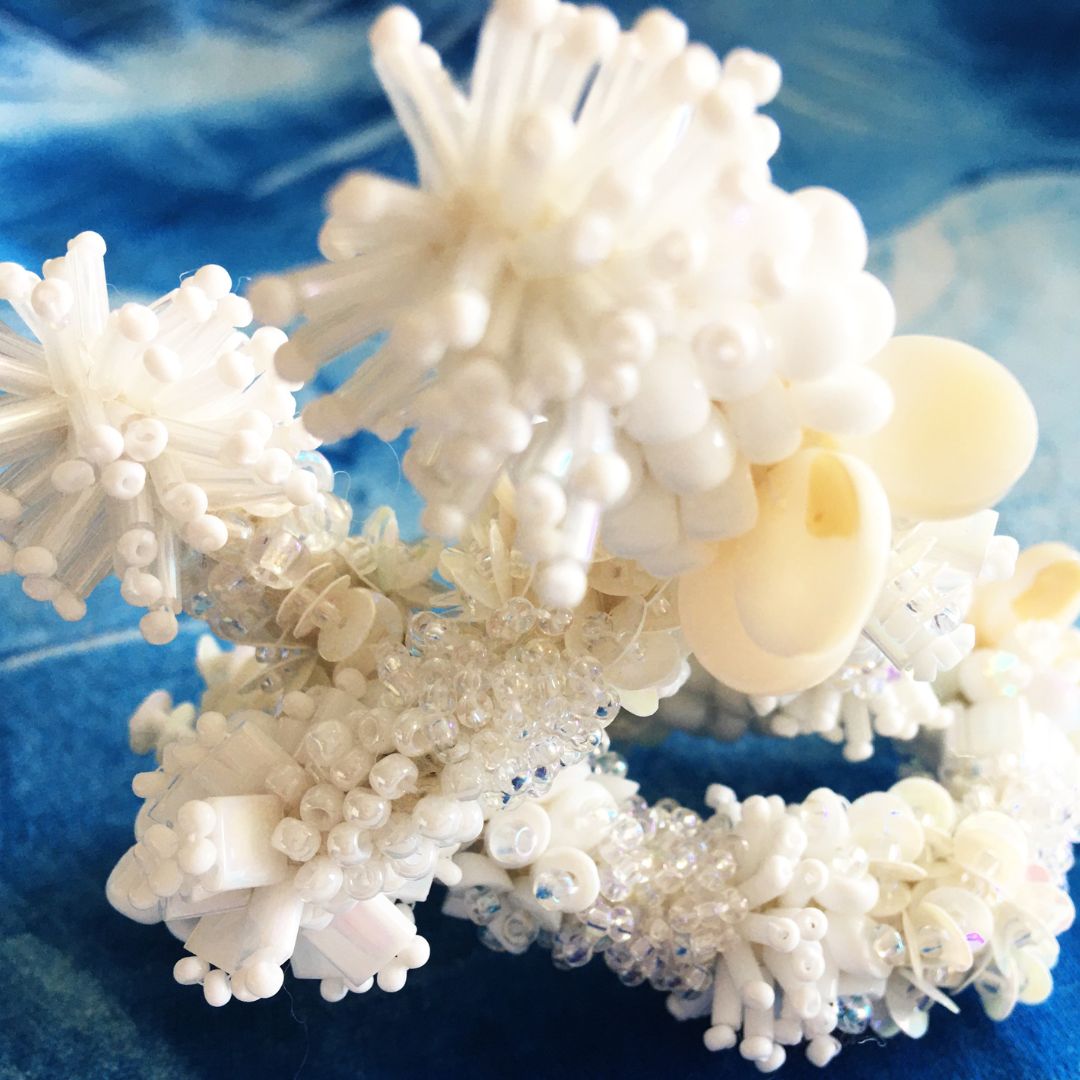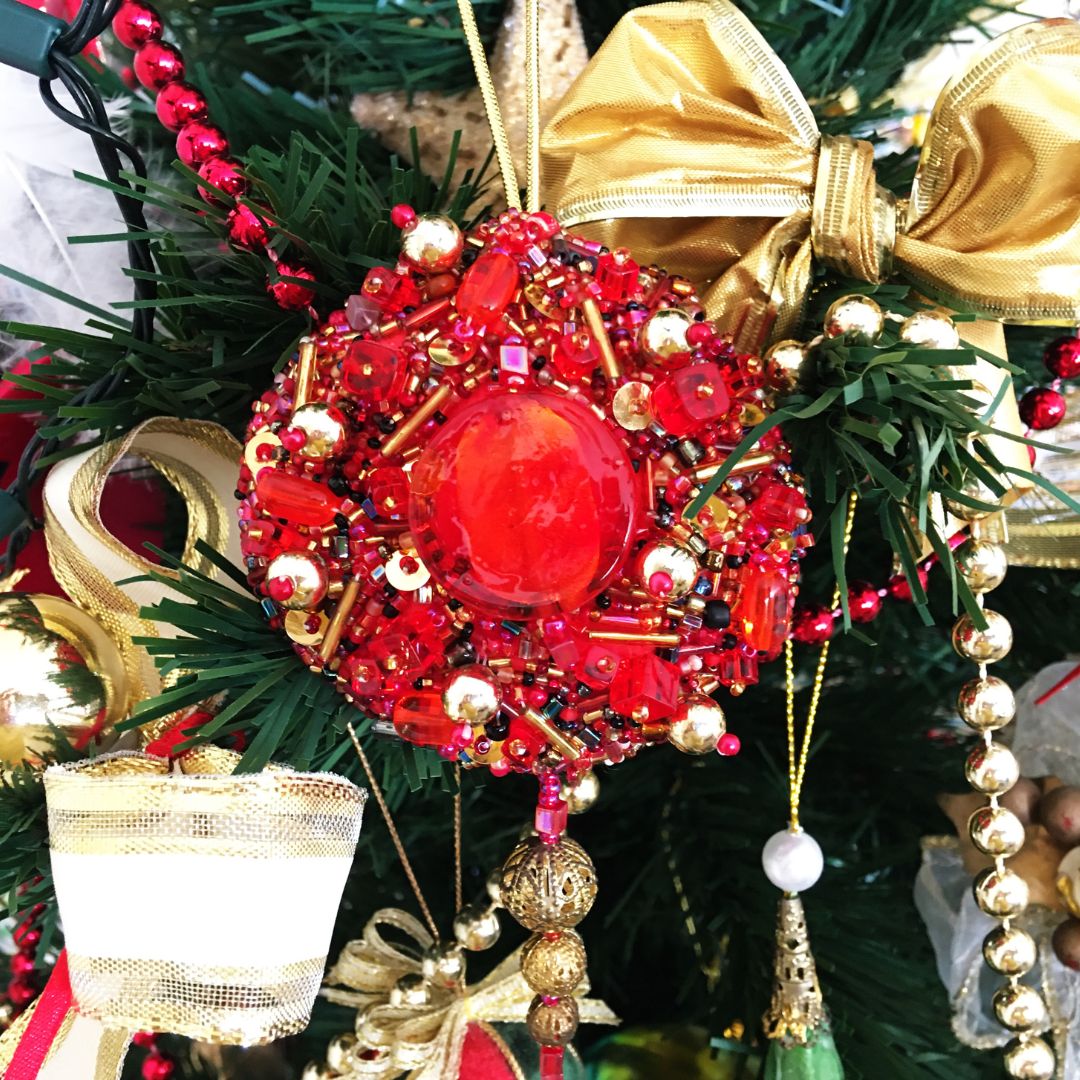 December 2022
Well, it's nearly Christmas time and the big countdown is well underway.
But, as with anything we do, a time of reflection and contemplation does not go astray – and this is the perfect time to do it.
That break between Christmas and the New Year is my time to look back to help me move forward.
It's great to reflect on achievements, successes and failures – and they're all in there, but now, with an eye to the future.
I like to take stock, re-think, re-evaluate and push through some of the obstacles I've faced this year, so I can look ahead with clarity.
This is also the perfect time to wish everyone a peaceful and safe Christmas along with my best wishes for a fabulous new year to come.
And I hope it's filled with ambition, creativity and endless inspiration, so those stitched masterpieces can just keep coming.
So, from my work-room to your studio, I send my very best wishes.
May all your dreams be filled with exotic textiles, and sumptuous threads.
December 2022
Stitching this work has been like pealing back layers – of inspiration, innovation as well as concept.
Finally, I feel like this is a fully resolved work and I'm very happy with the outcome.
What it shows is that to achieve desired outcomes, it takes three things: persistence to continue to work through issues, adjustment to rectify weaknesses and build on new ideas and lastly, change.  If something isn't working, then it needs to change.
And that takes years of constantly critiquing and analyzing your own work to come to understand.
So, as this particular work is nearing completion, I'm already planning an entire body of work around it for an exhibition in early 2024 – and that's what keeps me going and pushes me to continually create.
Embroidery is an energy that needs constant nourishment – stopping that flow and regaining that momentum is hard.
So I don't stop.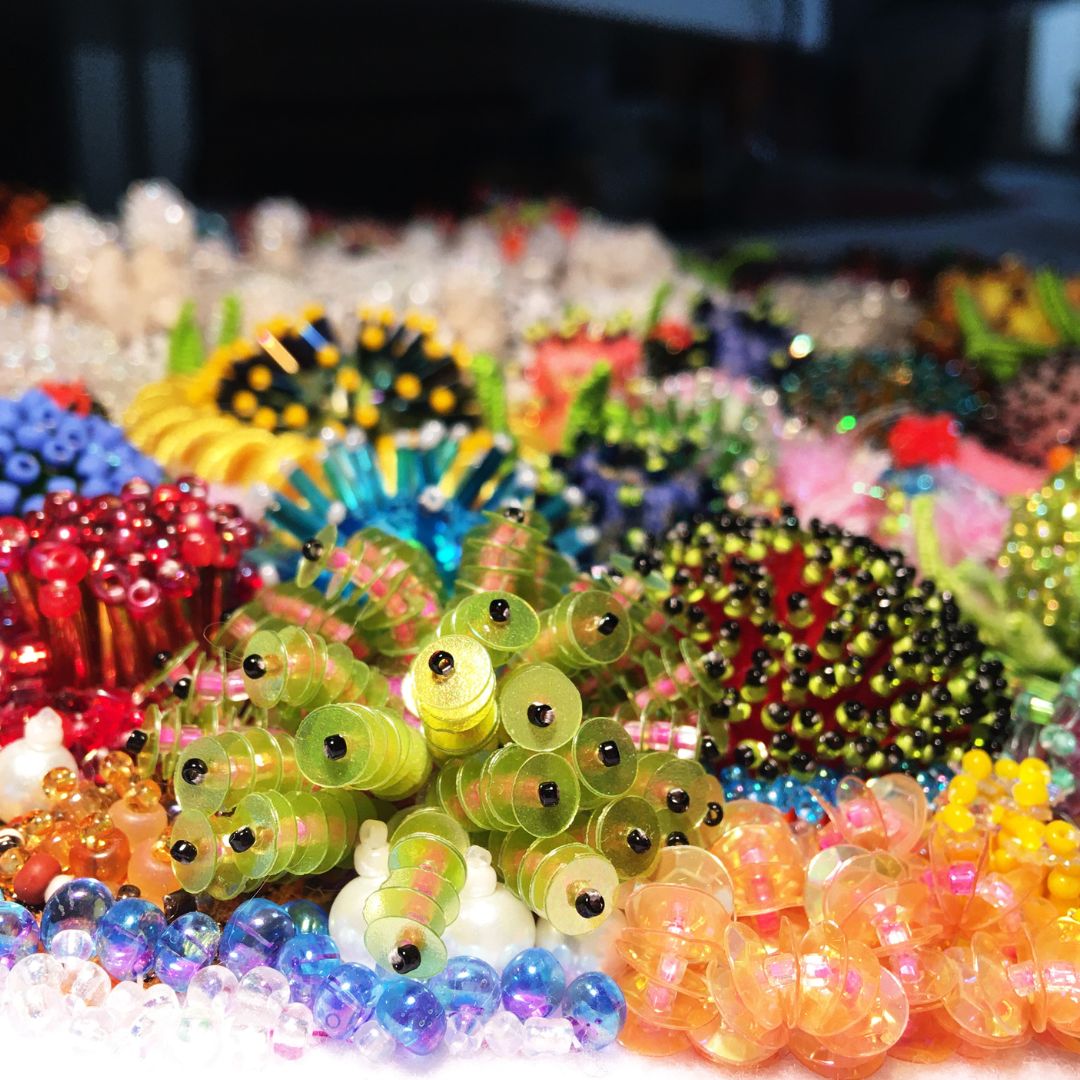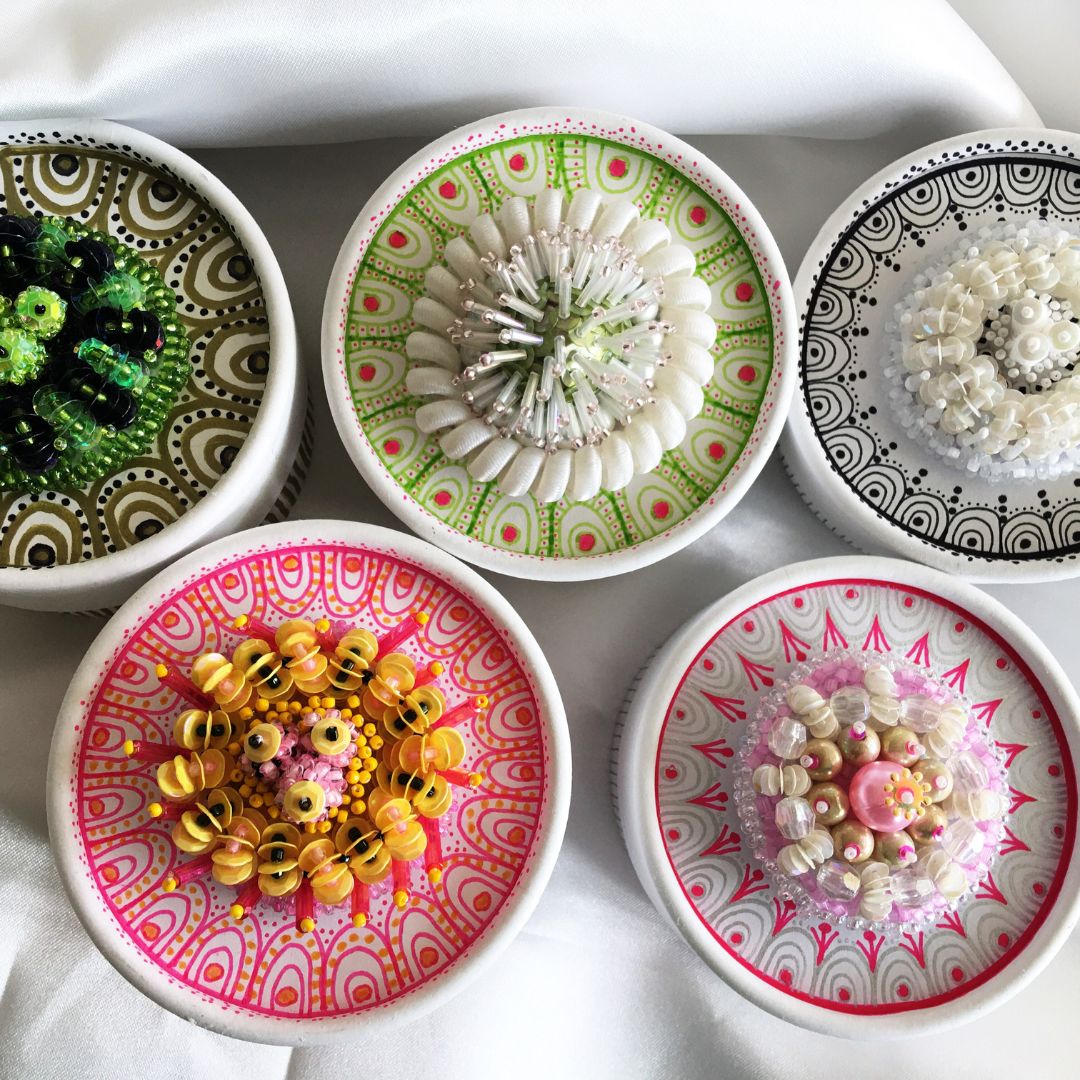 December 2022
It's amazing where inspiration can lead you.
Coral certainly has me in its clutches with its magical, witchery sub-aquatic beauty.
And stitching is the perfect time to think and plan – with this set of small decorated boxes being the outcome.
Small beaded tokens sit amid decorative motifs to form even more intricate patterns – all using simple shapes.
The result is just so elegant and pleasing – showing yet again, just how versatile a needle and thread can be.
Yes, they're decorative and useful at the same time – is that still considered art?  Of course, it is – the Arts and Crafts Movement would applaud, I'm sure.
But really, creating is about the inner person and their style and values – so I suppose these say a lot about me.
Beautiful, useful, colourful, and intricate – that encompasses my work exactly.
November 2022
Sometimes you just have to stick with something until it's done.
The concept for this work has evolved in four distinct stages – each becoming stronger and visually, more powerful.
This last iteration sees the culmination of all that work and I'm thrilled with the result.
All those hours spent thinking and stitching pay off, but you have to stick with it till you reach the ultimate vision for your concept – and sometimes, I know, it's not easy.
With this work though, that saying, more is better, certainly paid dividends, as it's those contrasts of colours, textures, shapes and sizes that's deeply enthralling – and highly reminiscent of those stunning coral gardens.
We live in a beautiful, inspiring world.
Now, I have more and more ideas bombarding that vision, so it's time to get back to those needles and threads.
Thank goodness.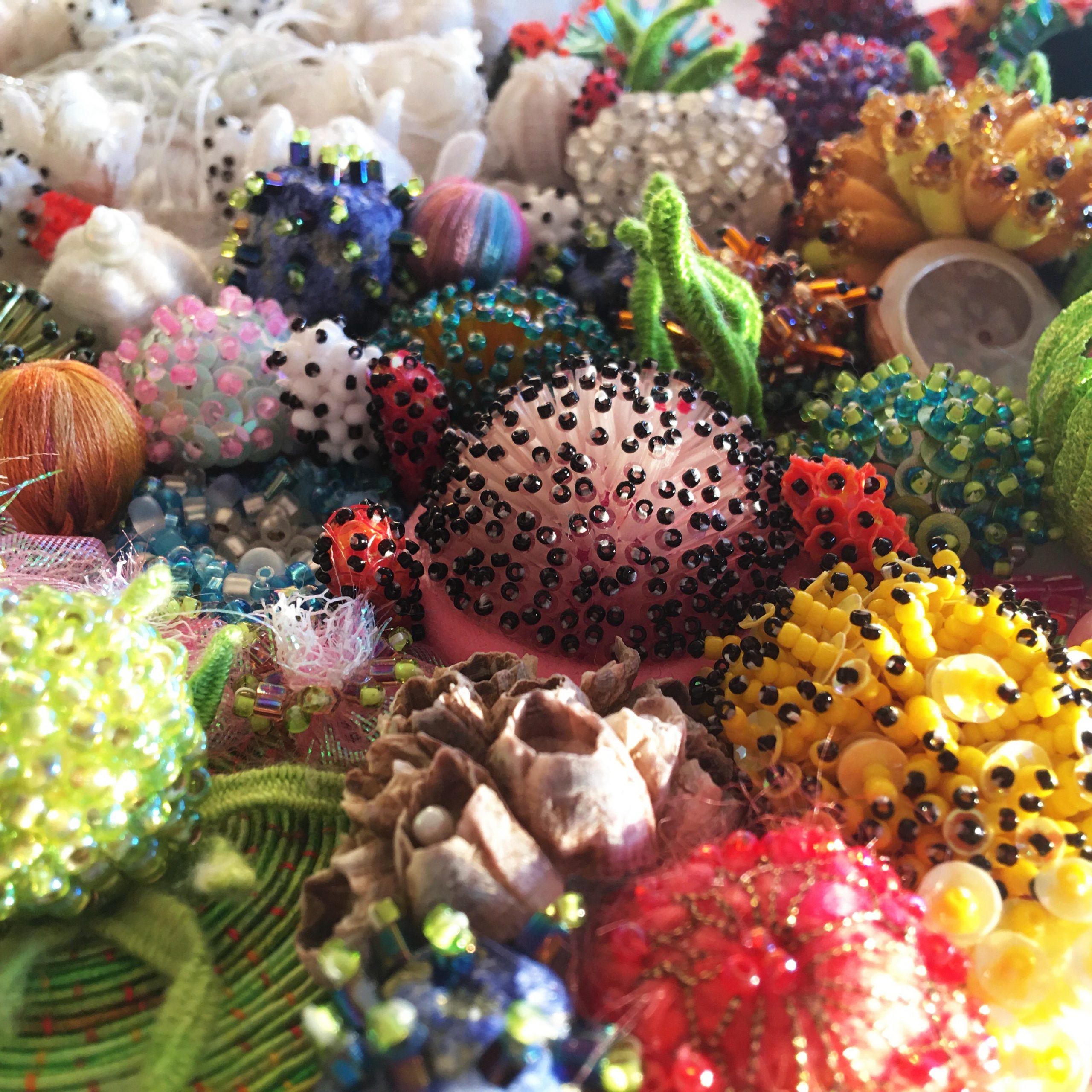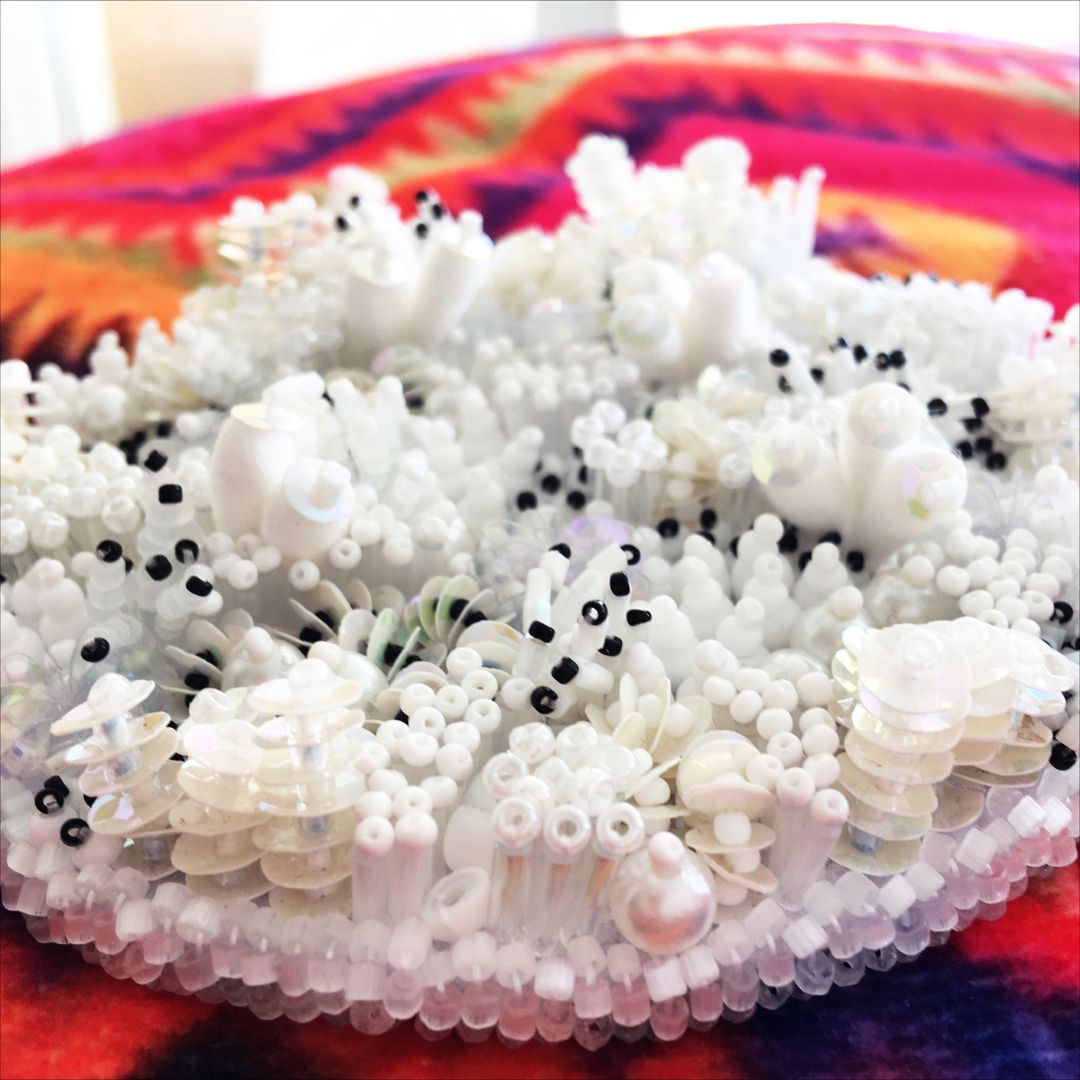 November 2022
Working with the magic of a very simple, yet elegant colour palette – Black and White.
The Black/White contrast is one of the most eye-catching and well-used in the design world, but it's also extremely satisfying and easy to stitch.
Take away colour, and your focus moves onto other design elements such as variety, repetition, pattern, and texture – and sometimes that's a great way to re-energize and re-ignite stitch inspiration.
And the joy of working with Black and White is that you can use as little or as much as you like – small accents can be quite powerful without actually taking over a design.
This piece emulates coral bleaching – that eerily beautiful, yet devastatingly sad event that occurs across the world where coral gardens begin to die due to a number of factors, one of which is thought to be warming water temperatures.
So again, a simple needle and thread are able to offer a narrative, and perhaps gain attention to the crisis in our oceans.
October 2022
Beautiful, idyllic Rarotonga!  You'd think that with a wedding and that stunning azure sea, no stitching would get done.  Wrong.
'Island time', that wonderful concept of no rush and no stress allowed me to pick up a needle and thread daily to try to emulate those magnificent colours just outside our doors.
With an amazing natural reef lagoon, there were brightly-hued, tropical fish just metres from the shoreline.
But it was the colour of the sea and the breaking reef encircling the lagoon that prompted this small work, along with its coral-like shapes.
Then, of course, came this image, taken just before we returned home, capturing forever the sun, sand and sea, as well as some very interesting coral shapes.
Returning home with us as well, was a stunning Tivaevae quilt – with the pattern pre-cut and tacked to the backing, all ready for me to stitch.
Thank you Rarotongan Beach Resort and Lagoonarium for a wonderful stay.
Simply perfect!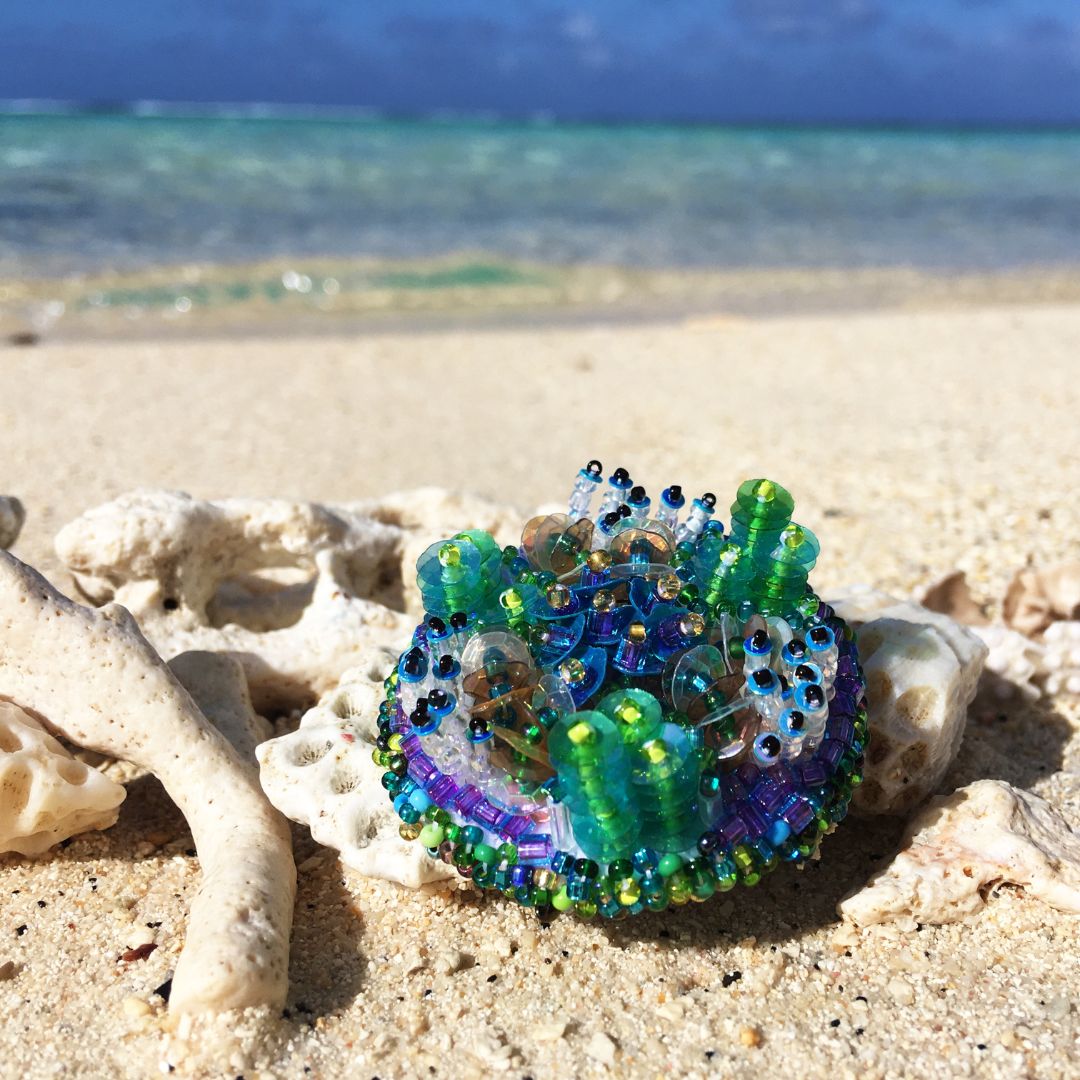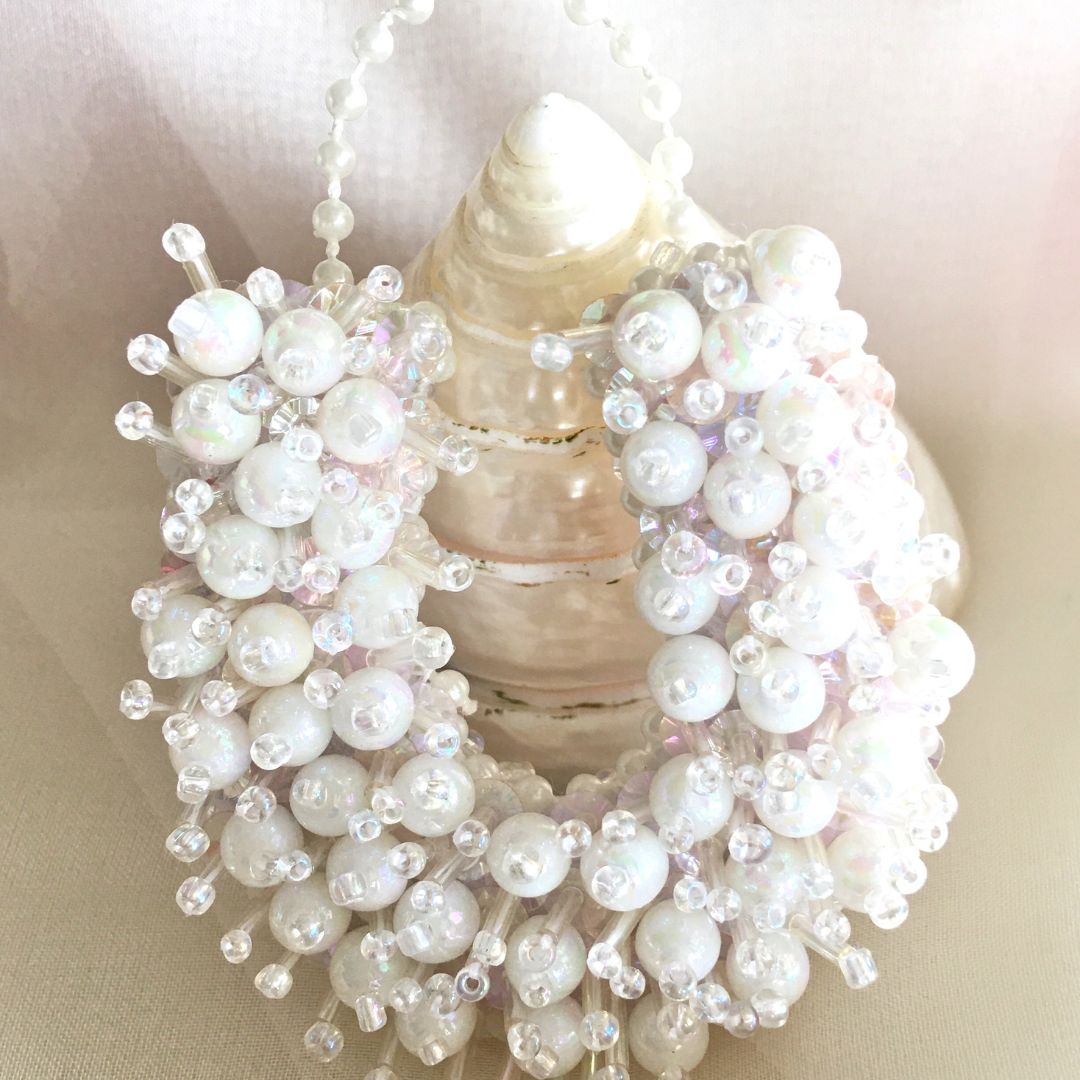 August 2022
Next month my daughter's being married in a romantic, tropical destination wedding.
So what does a Textile Artist mother do?
Well, she beads a teeny-tiny Neo-Baroque, bespoke beaded horseshoe for the happy couple, of course.
Measuring just 6cm high by 5.5 cm wide, this sweet little horseshoe is also fully beaded on the back along with just one blue sequin for that 'something blue' all brides should wear.
This little horseshoe will be pinned onto her gown immediately after the ceremony and has spurred me on to create something similar for a different wedding at the end of the year.
What I love about this work is that it shows the diversity of embroidery in our modern world – still.
This can't be machine-made or mass-produced, it has to be worked by hand with thoughtfulness and affection.
It's a beautiful coalescence of technique, tradition, and innovation.
August 2022
Sometimes you just need to focus on what feels most important at that moment.
For me, it's been a re-acquaintance with classic hand embroidery – the sort of stitching that has no plan and no design, so the way forward is totally up to me and totally hidden.
Now while that's exciting, it's not always easy – and sometimes stitching doesn't necessarily start to use its voice until it's nearly finished.
And that was the case here.  
One layer of stitching followed another, but it wasn't until this piece was nearly completed, that I began to feel the colours, textures and patterns began to gel.
So this kind of work, is really an exercise in confidence-building, ploughing through, and daring to be different.
And if that's not one of the best exercises I could advise for anyone, then I don't know what is.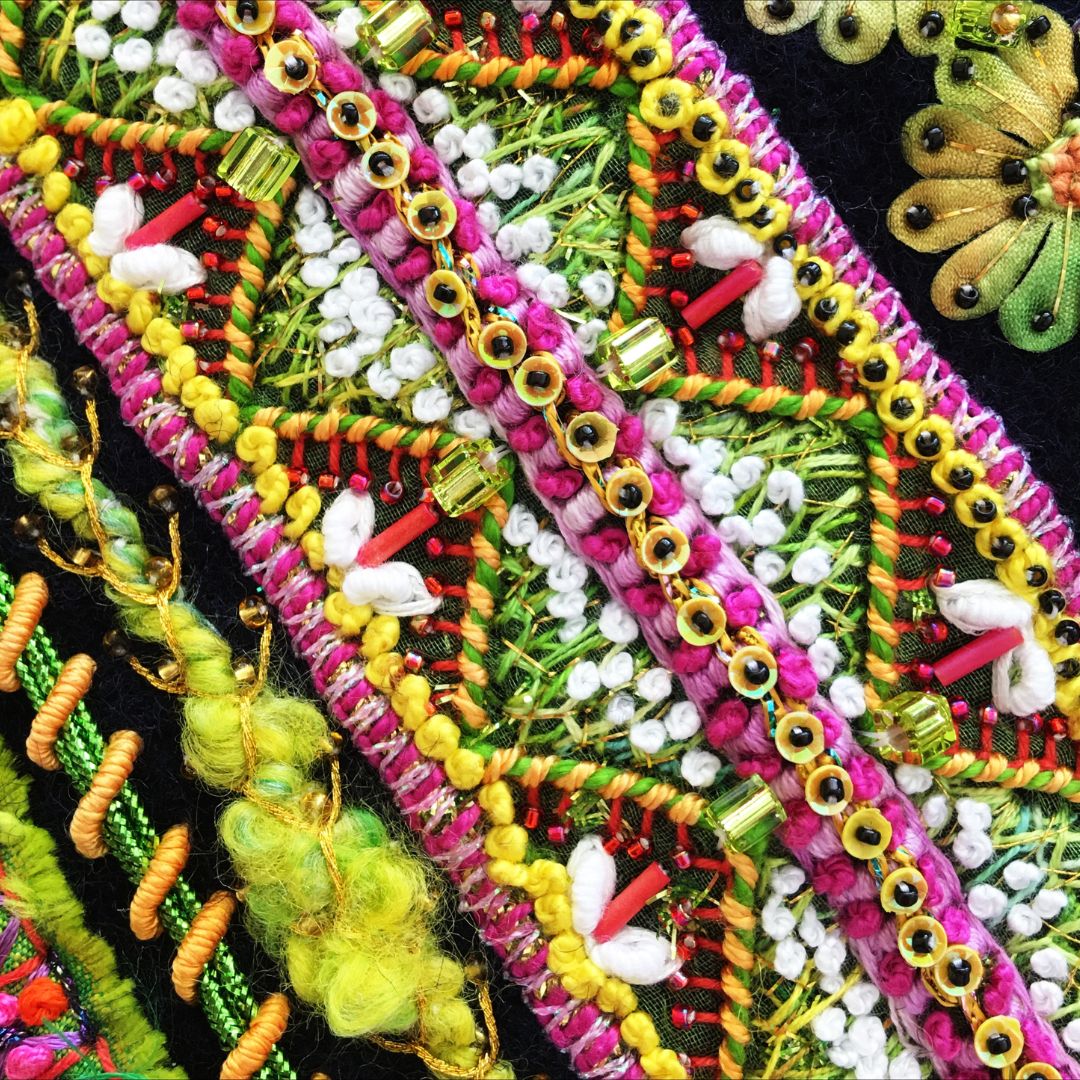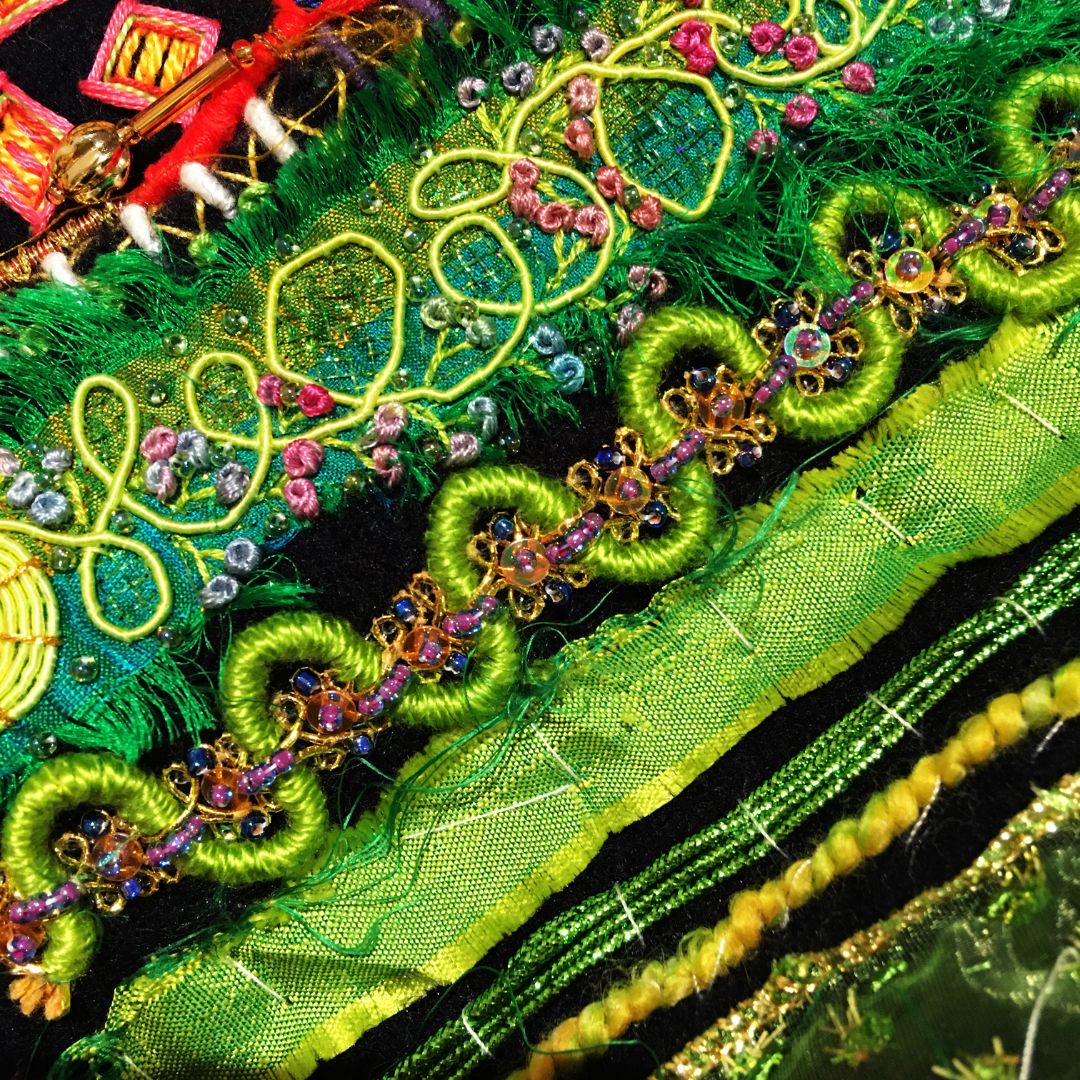 July 2022
We all know and understand the importance of colour – but just how exhilarating can one colour be?
Green is such a simple, evocative colour, yet it just gives and gives in terms of pleasure and usability.
Add contrast of line, shape and texture and it's simply divine.
Used since the time of the ancient Egyptians as a symbol for regeneration and birth moving to signify wealth, merchants, bankers and the gentry in post-classical and early modern Europe.
Green is as mesmerising as it is ancient – but so useful and modern at the same time.
Here I've used a variety of applied fabrics and threads, working a plethora of threads, gimps, sequins and beads to create a panel of green for my Improv Sampler.
Very satisfying and highly recommended – green is delightful to work with.
July 2022
The Sydney Craft and Quilt Fair for 2022 is over and it was a huge success in its new venue at The Sydney Showground at Homebush.  
It was six full-on days, but it was extremely worthwhile.
At last, after nearly two years, people could interact – to learn or simply be creative.
Here I am on set-up day, proudly standing in front of a hugely blown-up image of a piece of my work – hand embroidered I might add, which is not what I'm known for.
Thanks, IntoCraft for the amazing opportunity of being one of your Guest Artists.  I loved every moment – plus I made some inspiring purchases.
So if one of these events is coming close to you, do try to attend.  Everyone needs support from the traders, to the groups and guilds, and to textile artists like me.
Hand on heart, I can honestly say, I really enjoyed this one.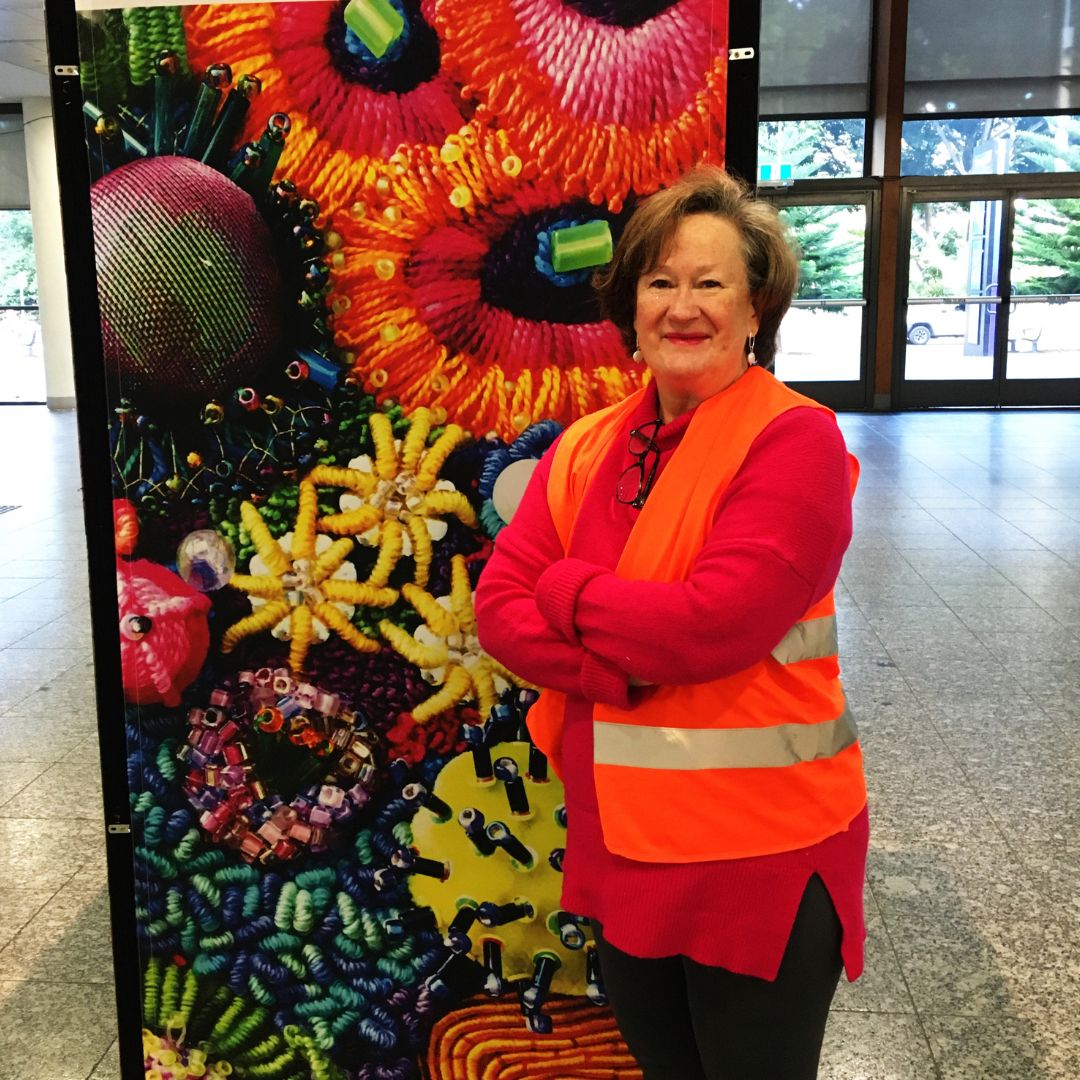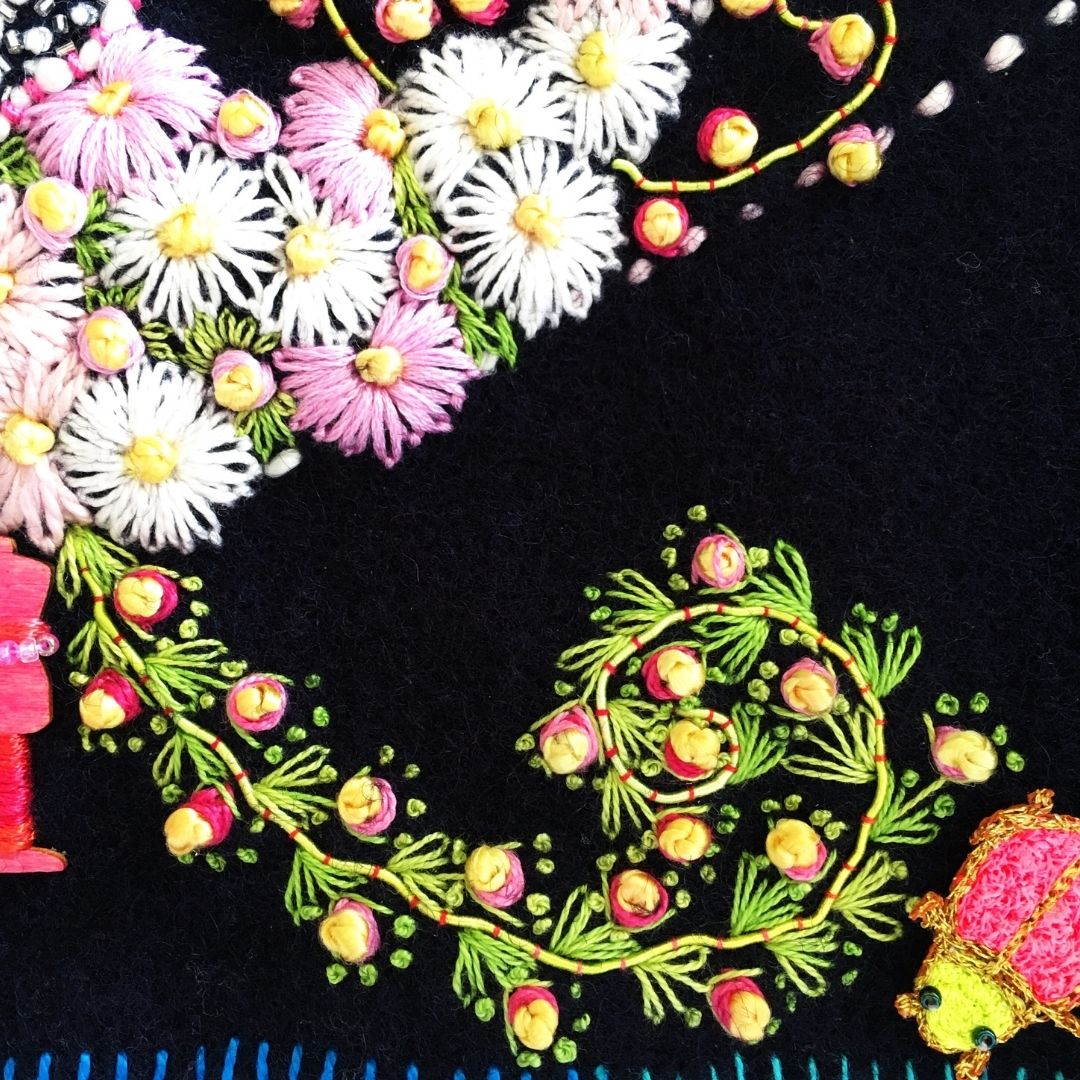 May 2022
Hand embroidery crosses time and borders.  It's an art and a treasure.
And I've recently rekindled a passion for hand embroidery leading to this work-in-progress.
Worked on a ground of beautiful navy blue wool off-cuts, the rectangular lengths have been simply stitched and patched together to form one long working ground.
There's no plan – other than a general idea of using a different colour palette in each rectangle.
So this is my interpretation of improv stitching – of gently meandering where line and shape dictate and where colour and texture add variety and interest.
Using simple surface stitches, and drawing upon my stash of threads and bits and bobs, I'll be working on this at my stand at the upcoming Quilt & Craft Fair at Homebush next month.
Come and say hello.
May 2022
Very pleased to be one of five artists being recognised for their significant contribution to the development of the Embroiderers' Guild NSW Inc.
This will be celebrated with an Exhibition named 'Treasures', where a signature piece of each of our works will be displayed in Gallery 5, throughout May.
A Members and Guests Day will also honour the 'Treasures' at Guild Headquarters, 76 Queen Street, Concord West on May 11.
Enjoy the exhibitions on the ground floor as well as the Gallery shop, which is full of temptations for the avid stitcher – I never leave empty-handed.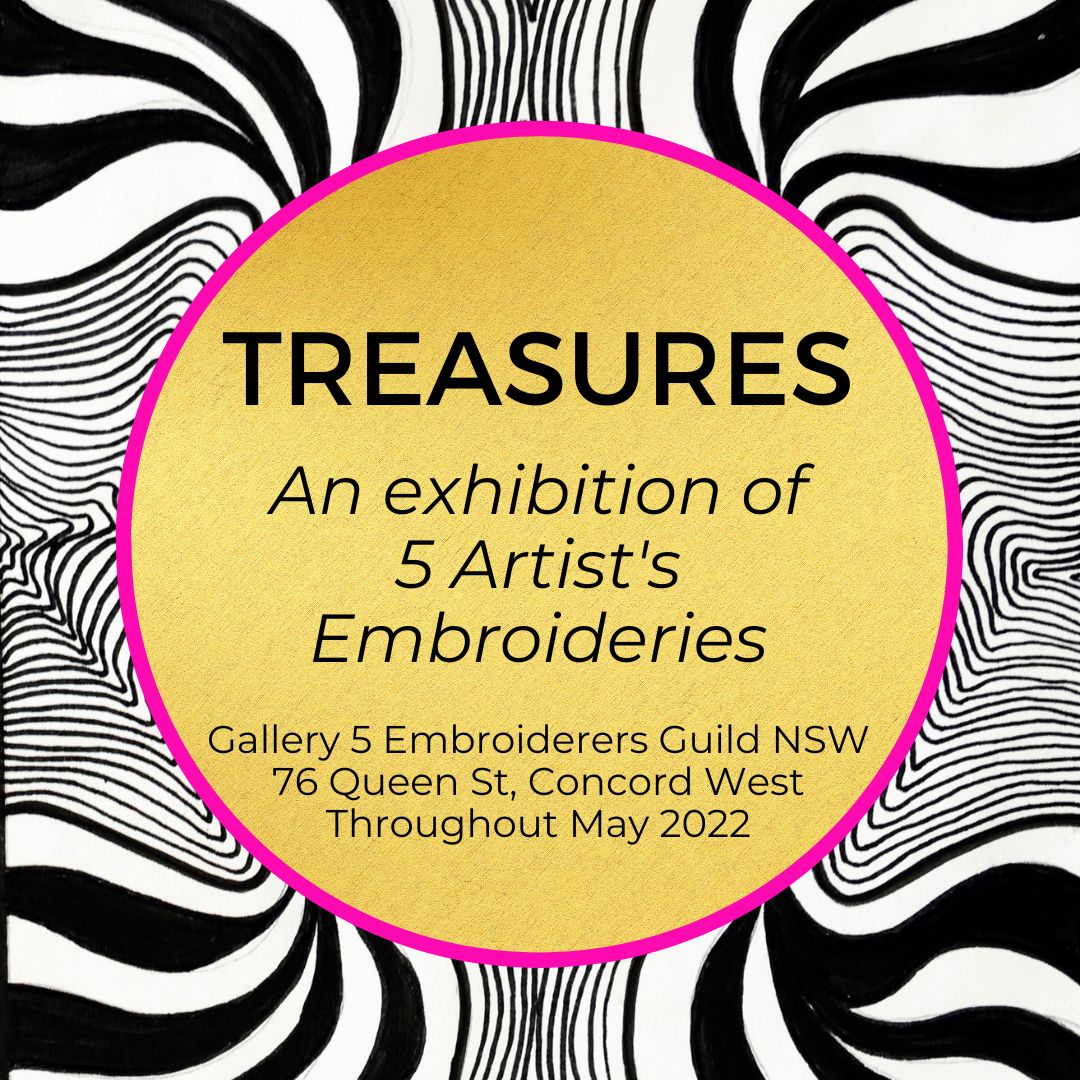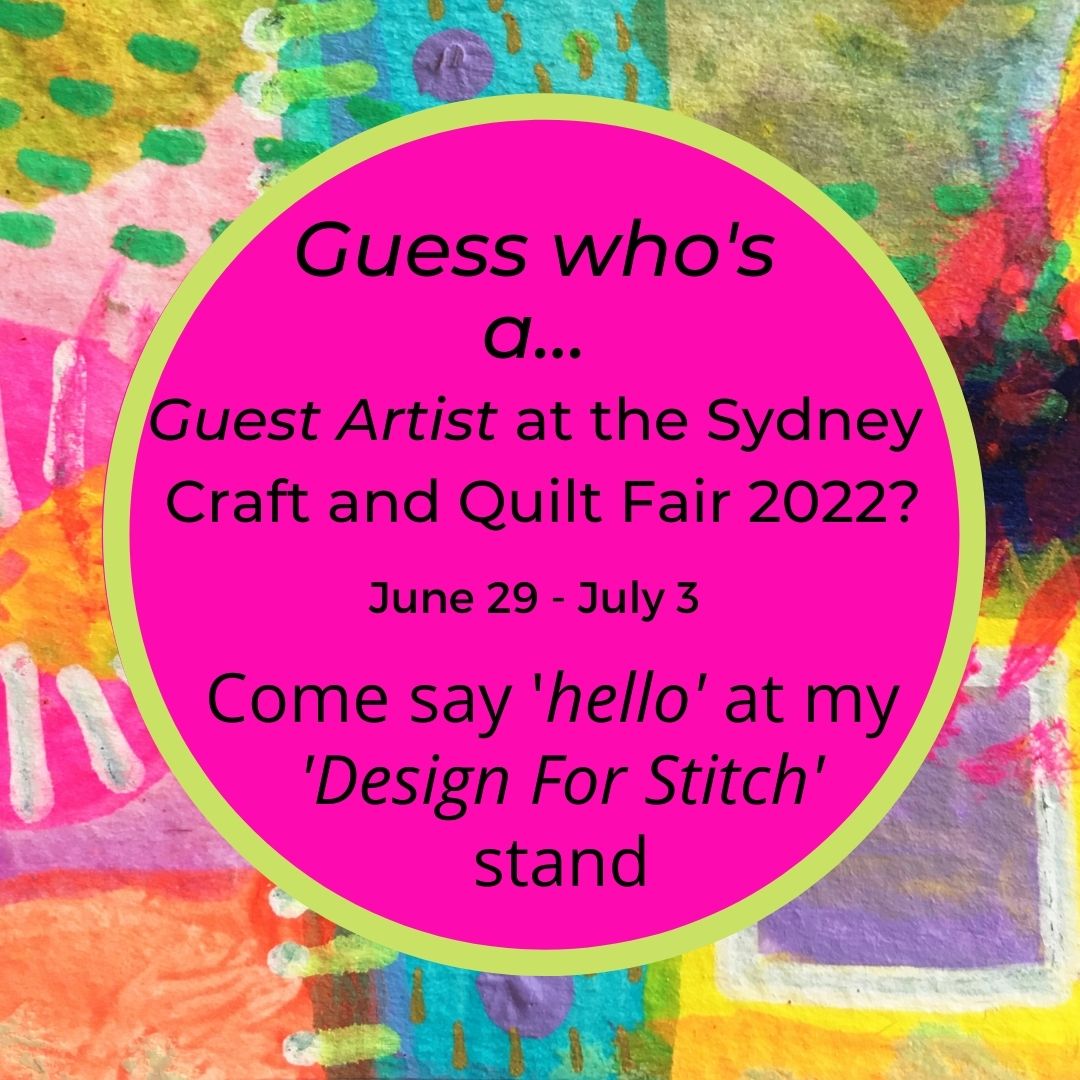 April 2022
Delighted to have been invited to be one of three guest artists at this year's Sydney Craft and Quilt Fair, presented by Expertise Events.
This wonderful event will be held at The Dome, Sydney Olympic Park, Homebush, from June 29 to July 3, 10 am-4 pm.
My stand 'Design For Stitch' will emphasize integral components needed to design your own work to stitch.
Most of all, I'll be emphasizing making design enjoyable, sustainable and unique to you.
Come and say hi, and let's chat about design.
There'll also be my Top Tips talks daily at 2 pm.
Honestly, after so many lockdowns and restrictions, it's time to network, socialize and re-energize our creative spirits.
See you there!
March 2022
Sometimes, creating is simply about going back to the basics of making marks, playing with colours and textures – of just understanding the types of marks that are pleasing and the colours that are uplifting.
Out of twelve small pieces of abstract art, this was my favourite and the one that is most successful to me – it speaks strongly of the colours I love to work with and the contrasts of line and shape that I find so appealing.
More importantly, though, it's about never stopping, being continually curious and willing to make mistakes to learn and grow.
How do I interpret this in stitch?
That's the next hurdle because it would be stunning.
This need to create and explore, to be curious and learn will come up with the answer I need.
I'm naming this artwork 'Summer Sun'.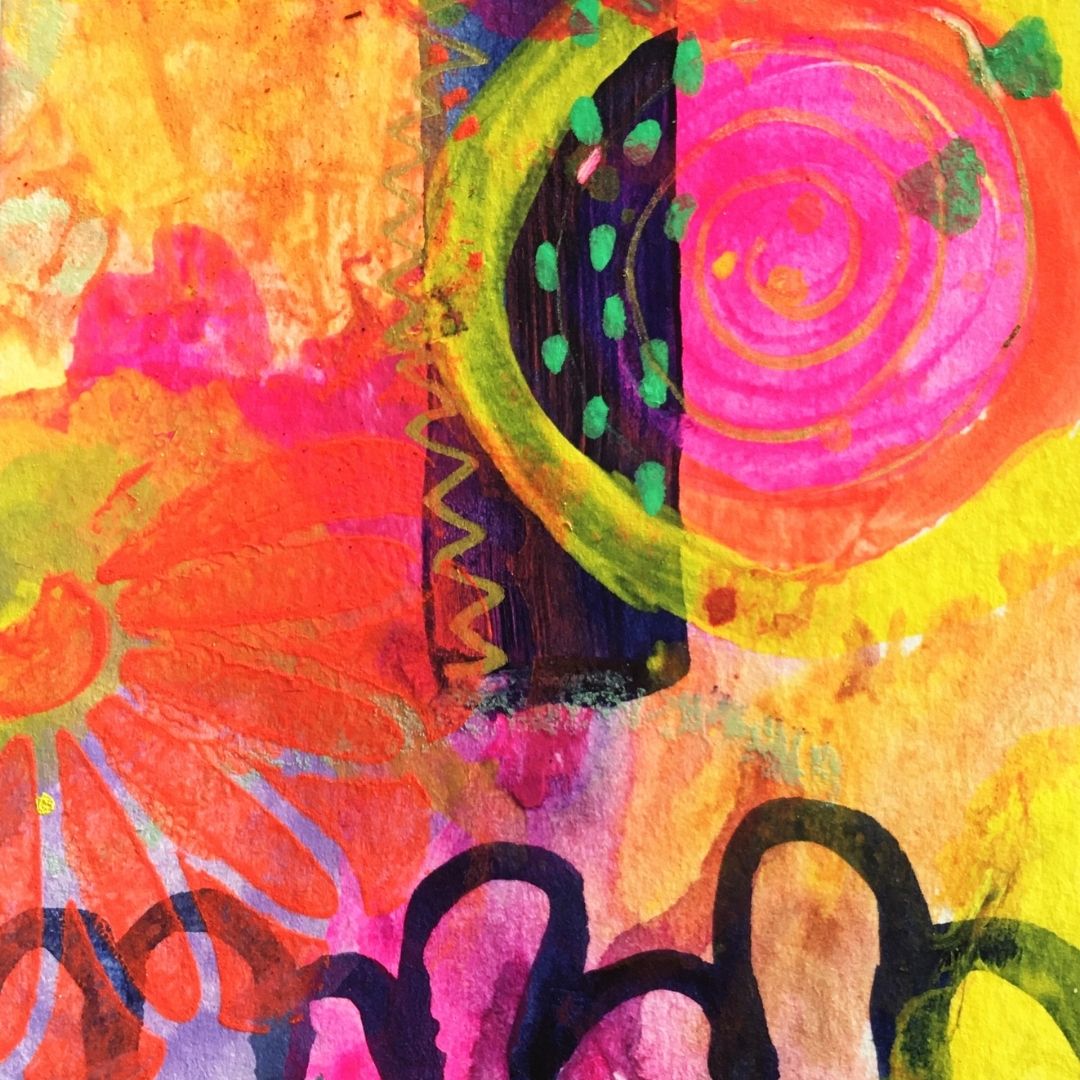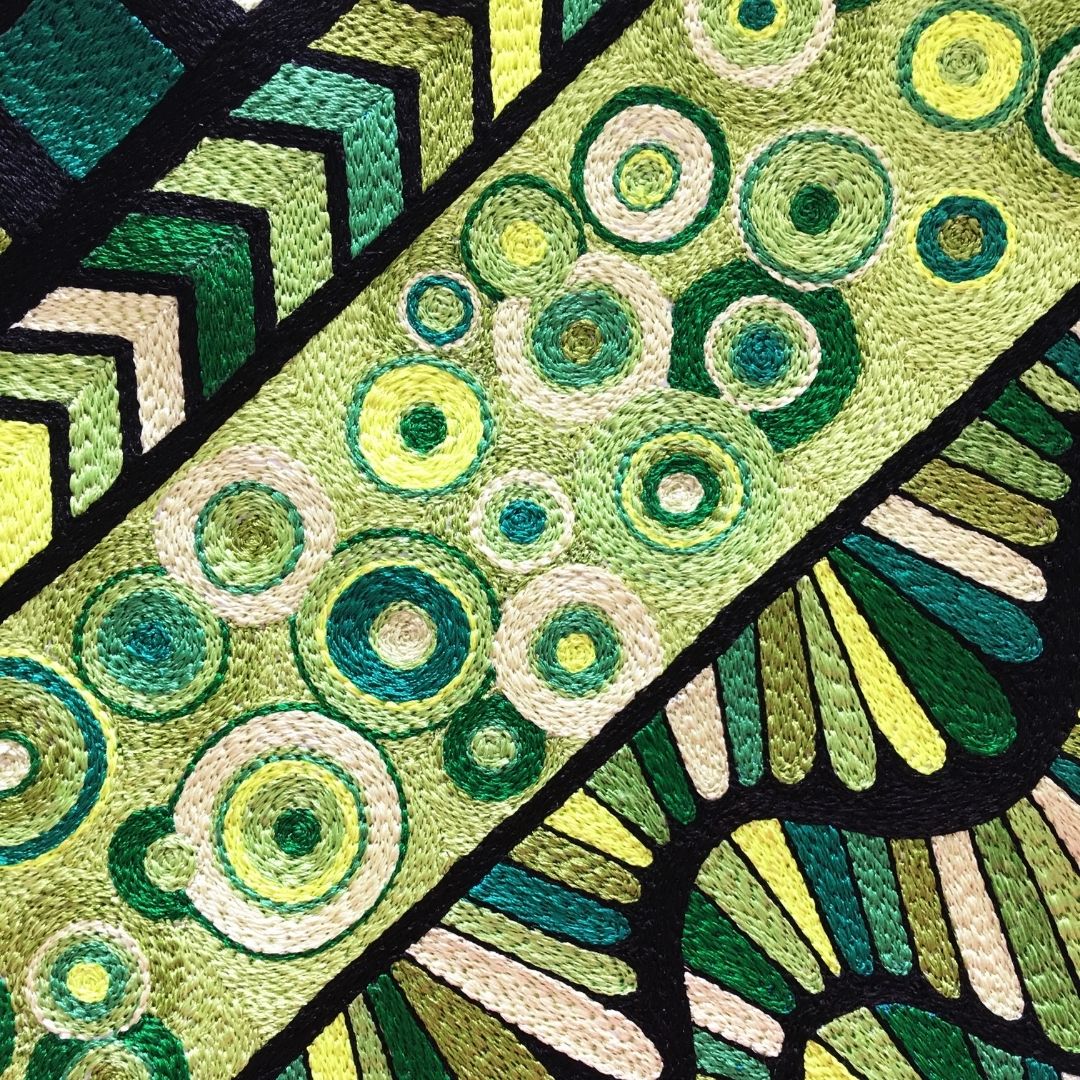 March 2022
Ozquilt Network offers a touring members' exhibition, called Australia Wide.
This fabulous initiative by Ozquilt Network offers its members the opportunity to submit work that represents their contemporary art quilt practice.
I'm thrilled and delighted to be one of three selectors for the artworks to be included in the upcoming Australia Wide 8 touring exhibition and to be given the opportunity to submit a piece of my own work to travel with the exhibition.
Study In Green is my submission for this exhibition and was based on collage work done some time ago – something I don't often do, but am certainly looking to further as a result of this work.
Initiating new design work is not always an easy process – and sometimes you just want to do something a little bit different.
Online entries close on April 8, 2022.
March, 2022
How privileged and honoured am I to have been selected to be a part of this wonderful publication, 'Finding Your Thread – The Search For The Storyteller and The Artist', curated by Anne Kempton, gallerist of Timeless Textiles in Newcastle?
The Foreword by David Eastburn, states that Anne is a 'creative leader' and that she 'releases the energy and creativity of others to enable them to realize their capacities.'
That's so true – especially for me.  Anne offered me an opportunity and I took it – and I've worked hard for it too.
This amazing book links local and international fibre artists – a sector of the arts too long under-acknowledged.
Thanks to Anne, that is changing.
Buy your copy of 'Finding Your Thread' here.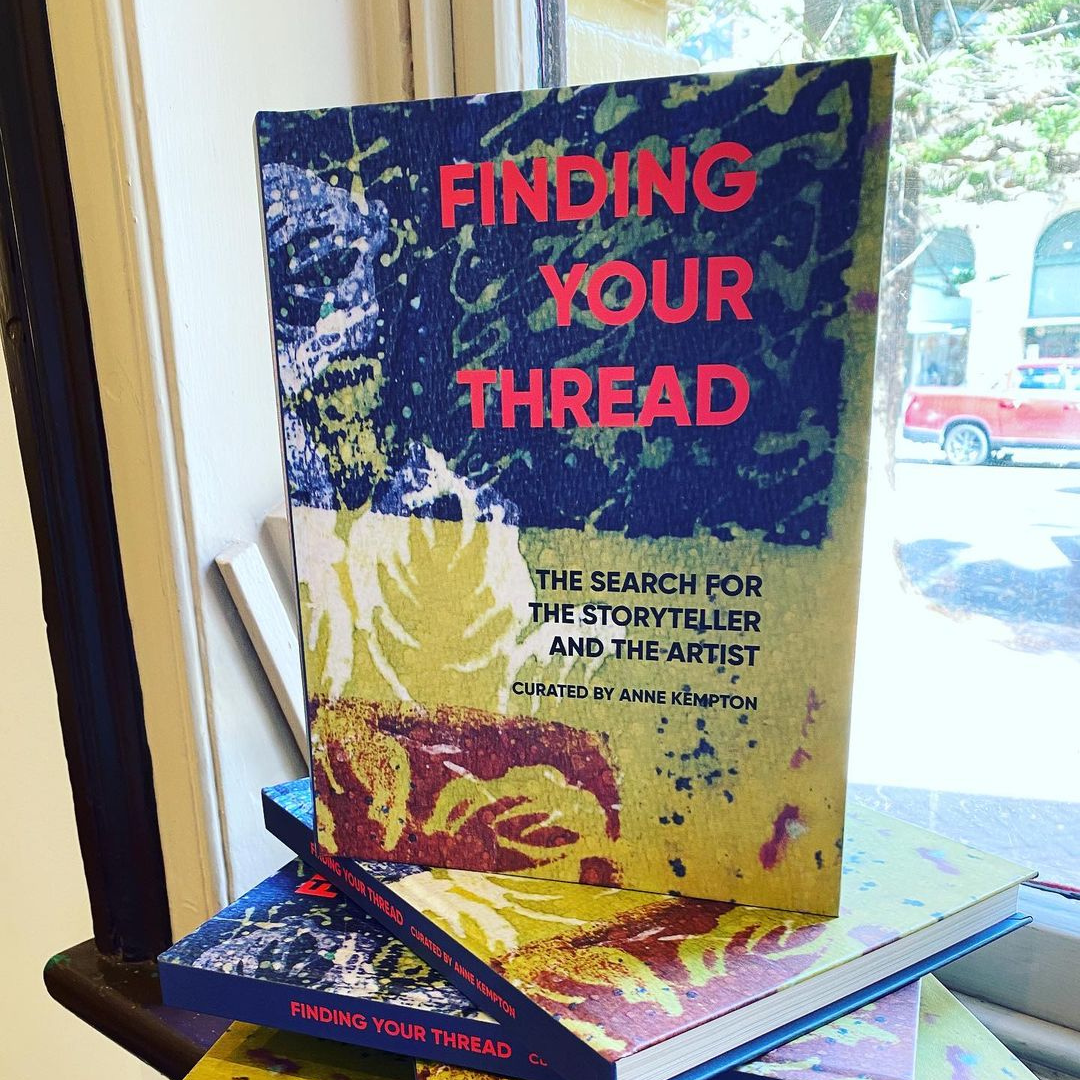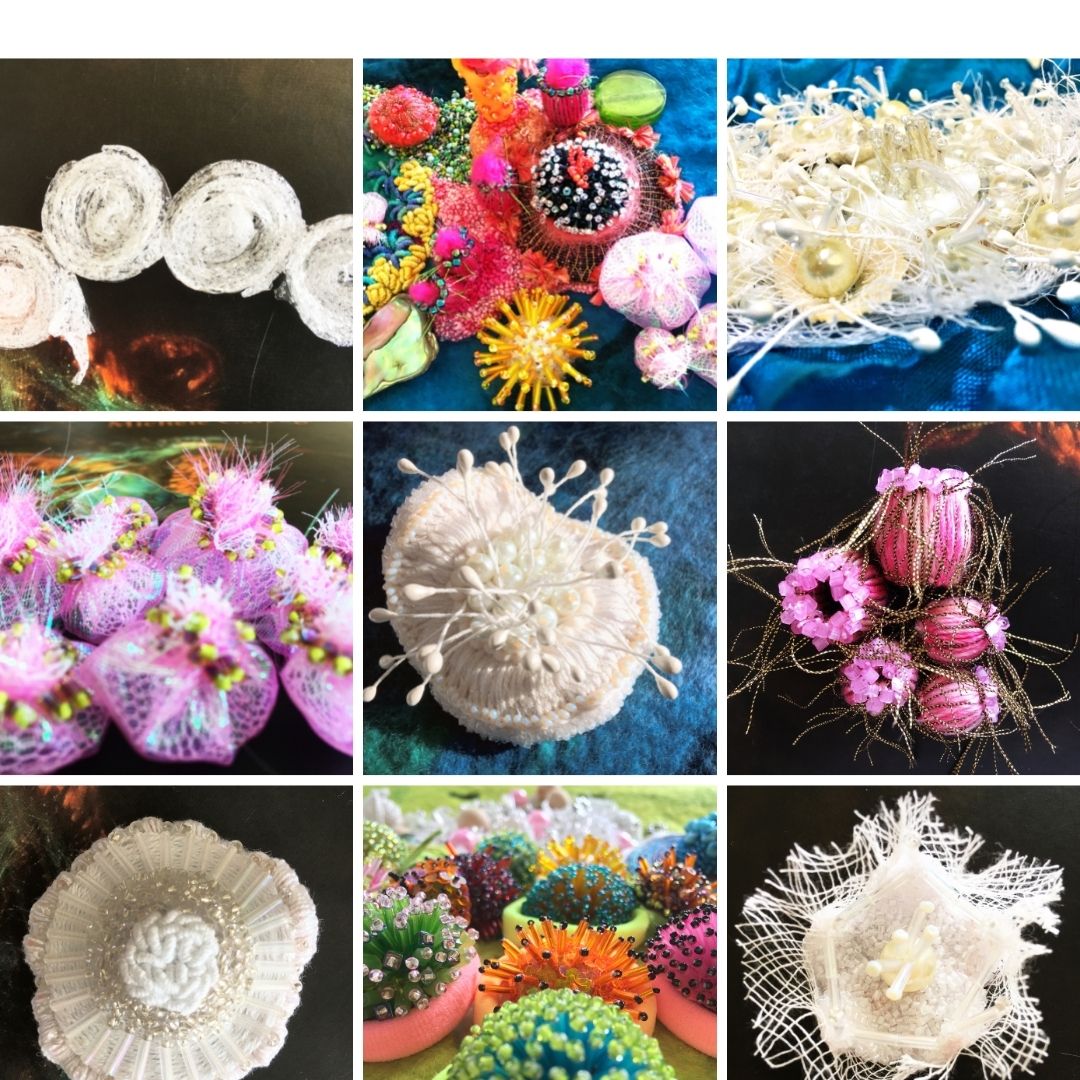 February, 2022
2022 appears to be the year of hand embroidery here at Live, Love, Stitch.
And it's amazing to be back in the rhythms of needle and thread, stitch and embellishment.
So if you'd like to follow my progress, watch my YouTube channel.
This is a wonderful way to tap into all the research I do for my Podcast, Stitch Safari – and apply some of those stunning ideas and techniques – some of which haven't changed for centuries.
And I just want to reinforce that none of the stitches I do are complicated – rather I love simple stitches worked over and over again, just like my machine embroidery.
So join me on my hand-embroidered journey for 2022 – or pick up a needle and thread and begin your very own.
ART QUILT AUSTRALIA 2021 OZQUILT NETWORK AWARD OF EXCELLENCE 2021- see below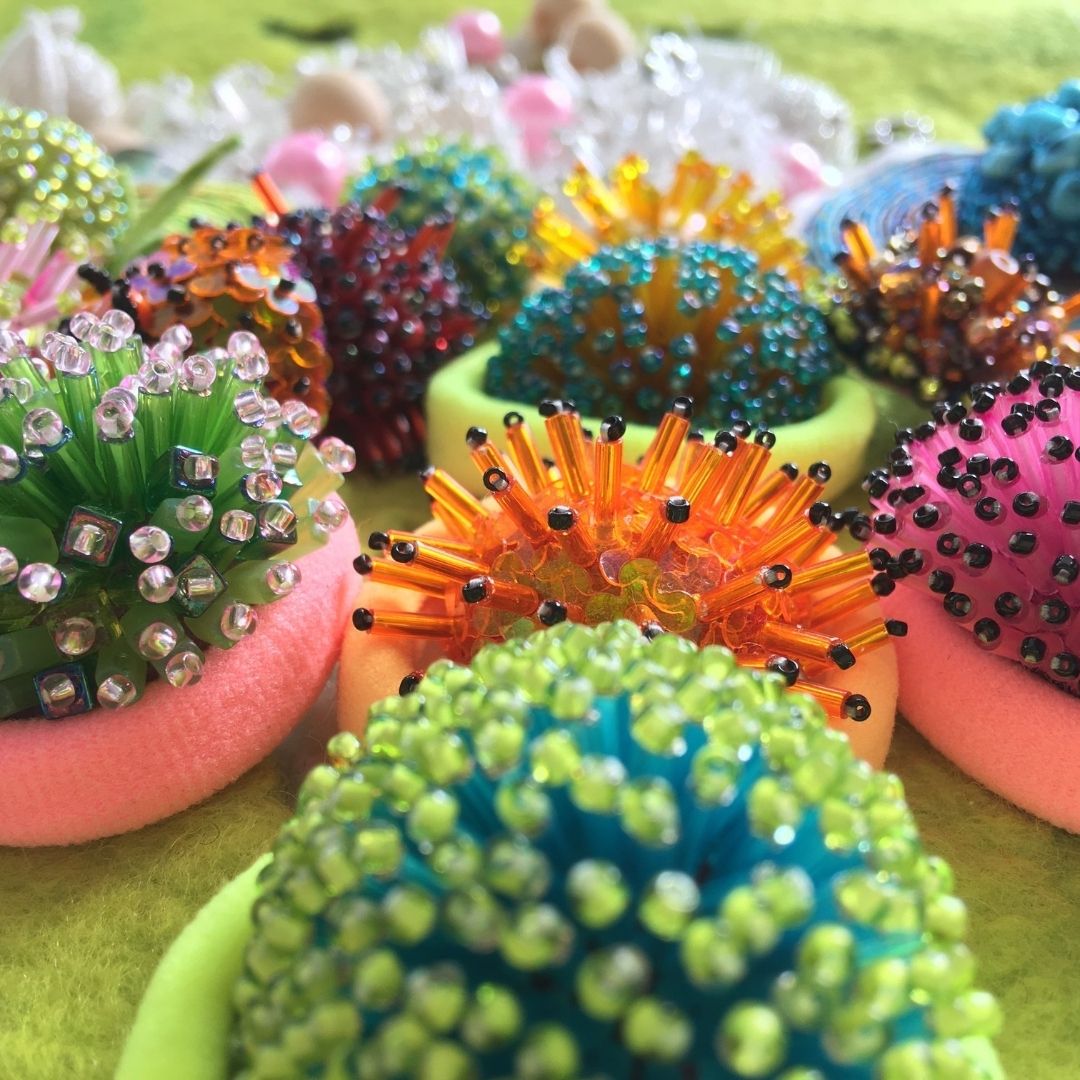 December 2021
An invitation to exhibit a piece of hand stitching has prompted me to reacquaint myself with a skill I've neglected for some time.
I've used our amazing ocean floors, in particular Australia's magnificent Great Barrier Reef as inspiration, gleaning important education about the fragility of these eerily beautiful structures.
And to achieve this goal, I've begun two samplers – one to ensure I could actually embroider and the second to begin to delve into innovative ways to express these megastructures of coral, home to many animals and such an important eco-system.
If you'd like to follow my story, I've posted part one of a vlog entitled 'A Cacophony of Stitch' on my YouTube channel.
Now I'm beginning to build a picture of how I'd like to move forward.
Such an exciting journey.  Join me as I progress through all the hurdles to create some beautiful slow stitching.
July 2021:  Creating art by using art – my latest work is taking staged images of my textile and fibre art incorporating hand and machine embroidery.  More images on Pinterest.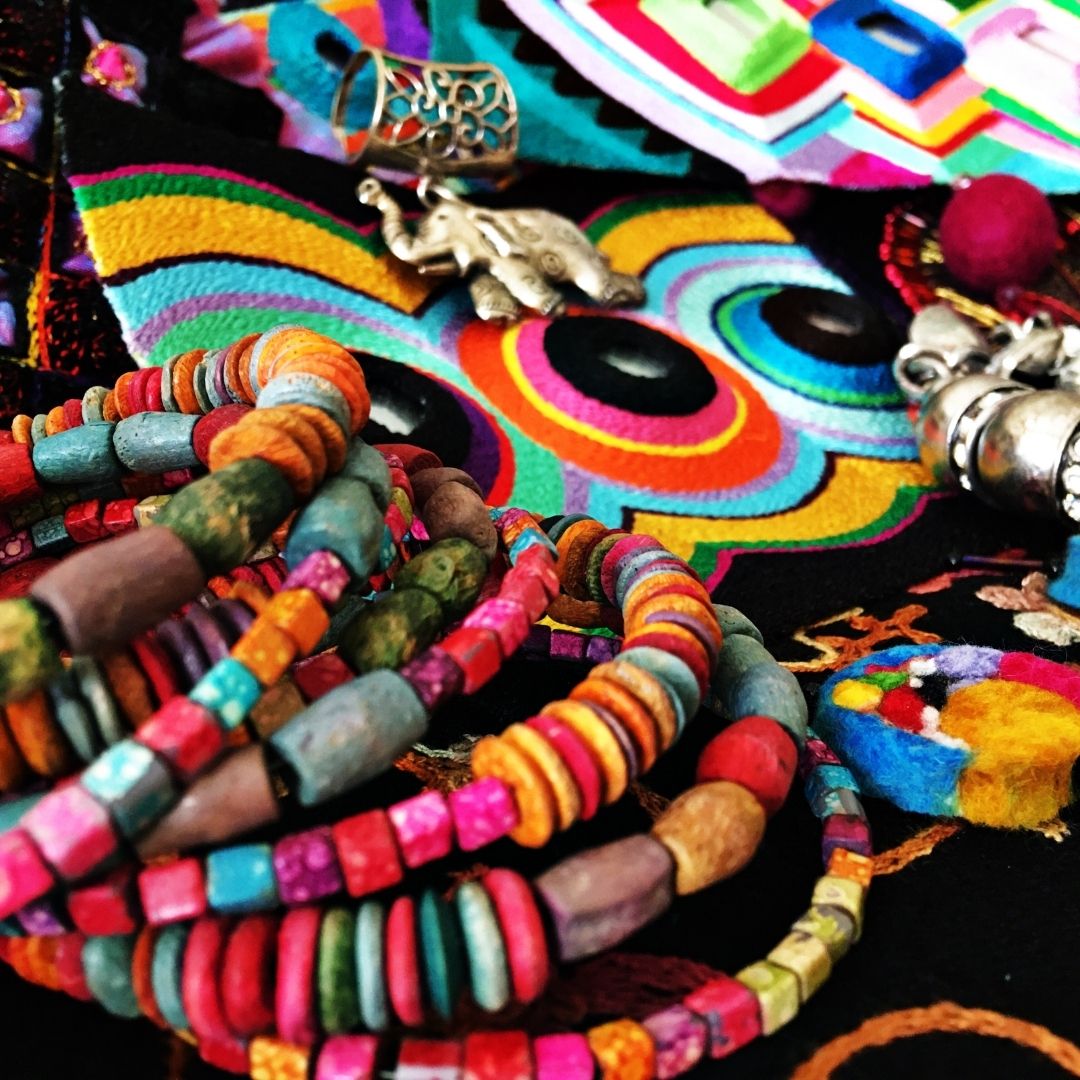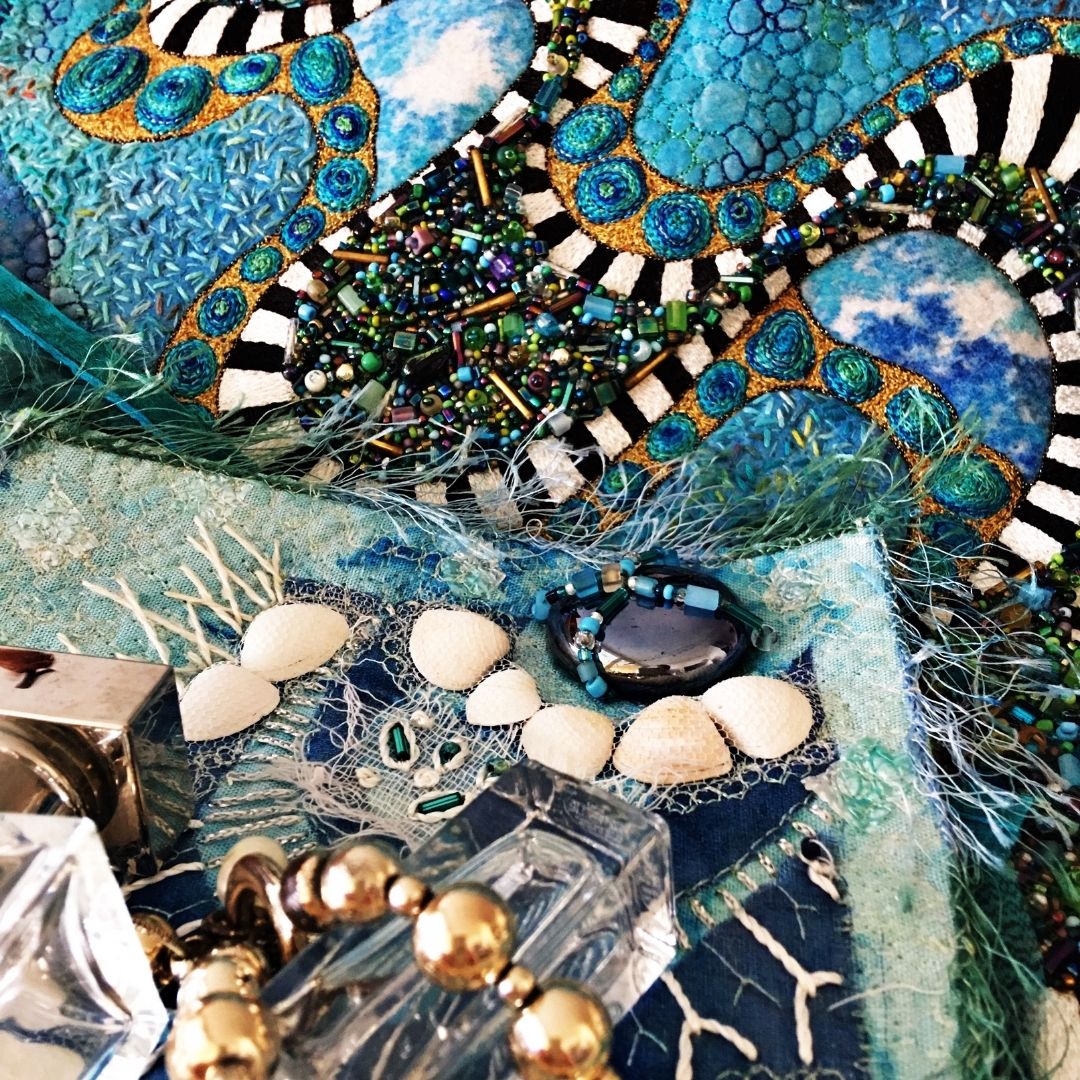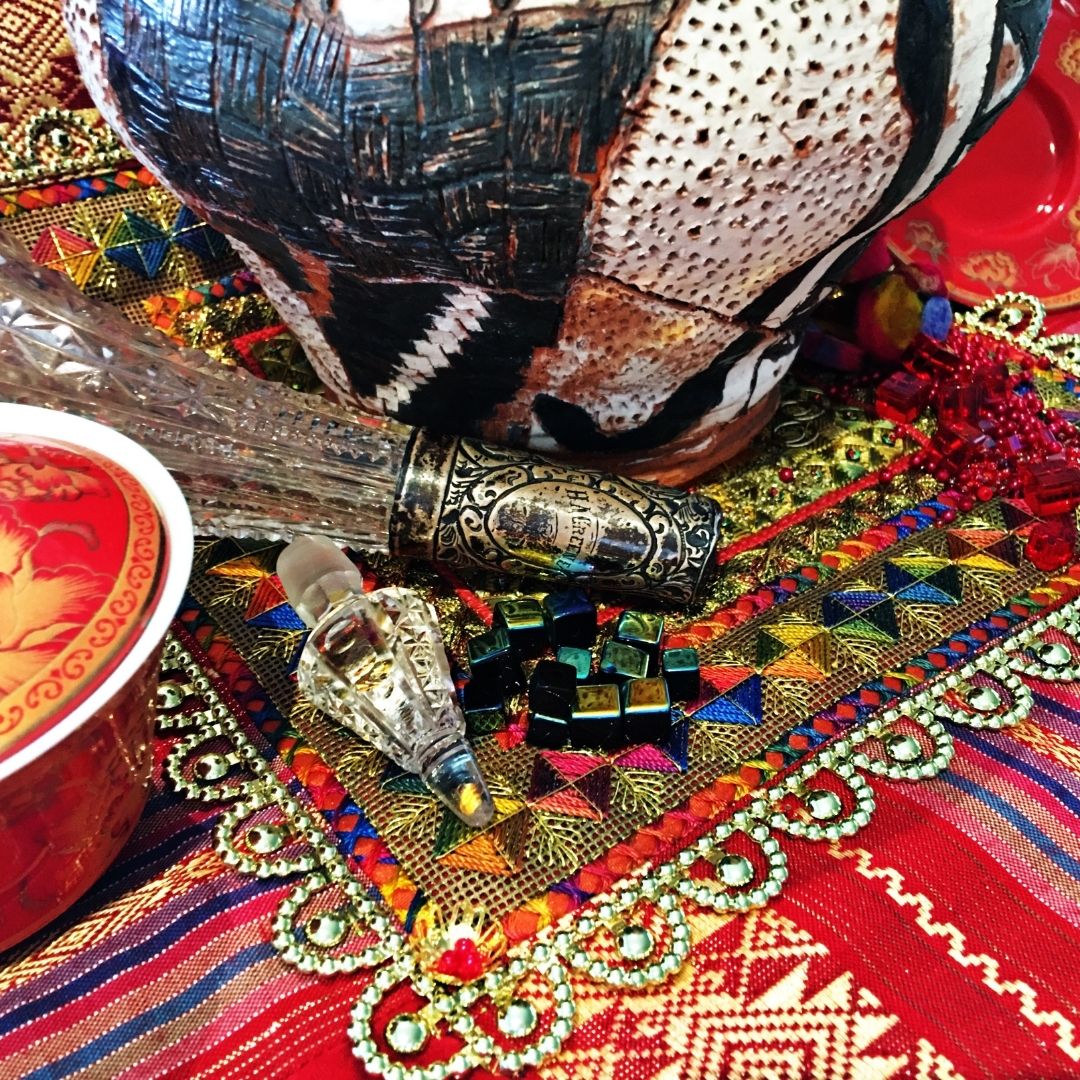 April 2021:  Thrilled to receive news that the Stitch Safari Podcast has been named as one of the 20 Best Embroidery Podcasts of 2021 by Welp Magazine.
There's a ton of work gone into beginning this Podcast, be equally, there's a ton of pleasure too.
The research, the writing and the recording are all new to me, but I'm enjoying every moment and every journey of learning more about design through history, its effect on the art of the needle, and the relevance of stitch to communities, economies, cultures, traditions and the individual.
It's also meant that I've been able to add some wonderful titles to my Embroidery History library.  More and more research is being done into the importance of stitch, embroidery and textiles throughout history, resulting in some pretty amazing books and papers being written by some pretty amazing people.
Most Podcasts range from between 10-20 minutes – making them perfect for a sit-down cup of coffee or for some dedicated stitching time.
If you haven't subscribed or listened, head on over to the Stitch Safari website where you can listen to every episode.  If you love history, design and stitch, you'll love the Stitch Safari Podcast.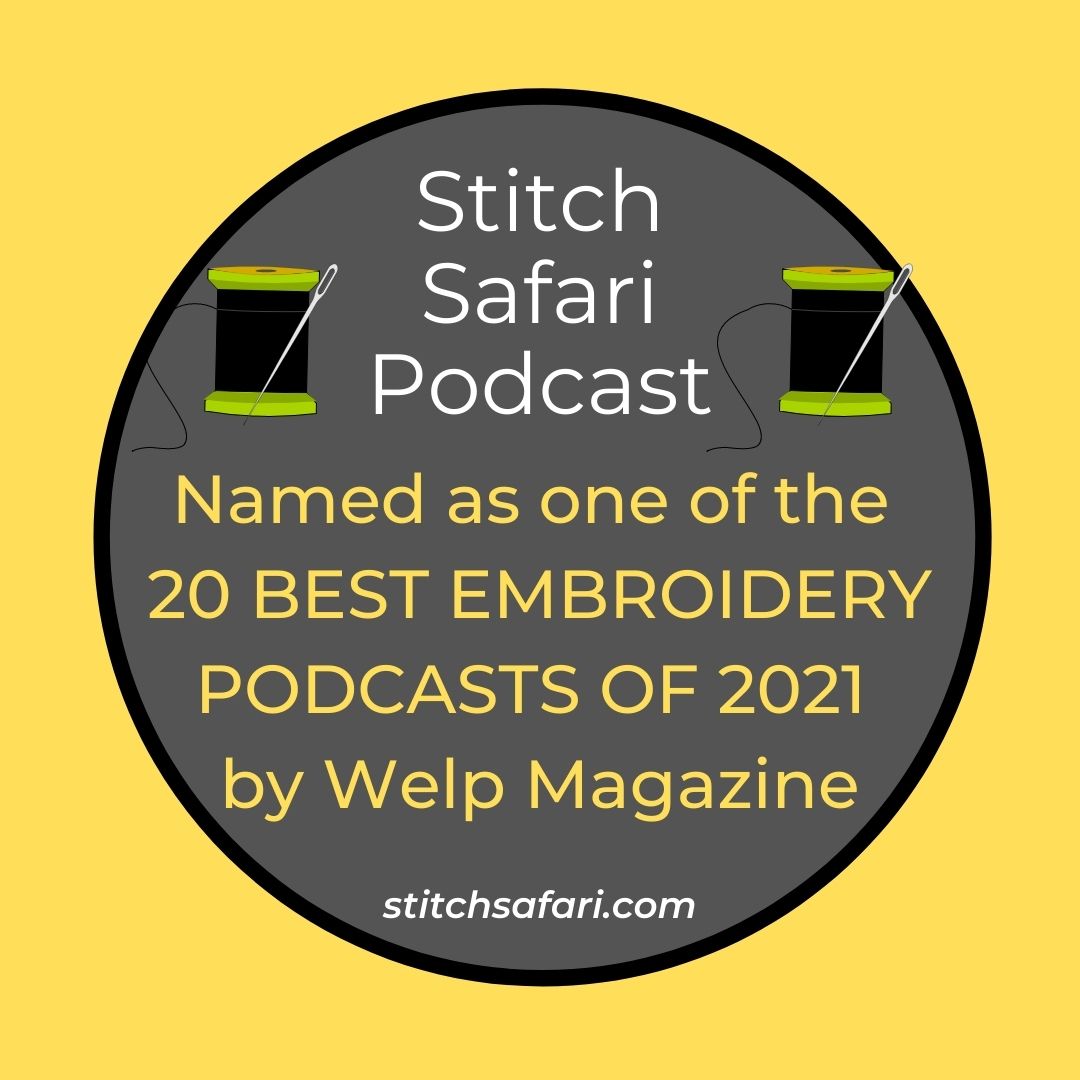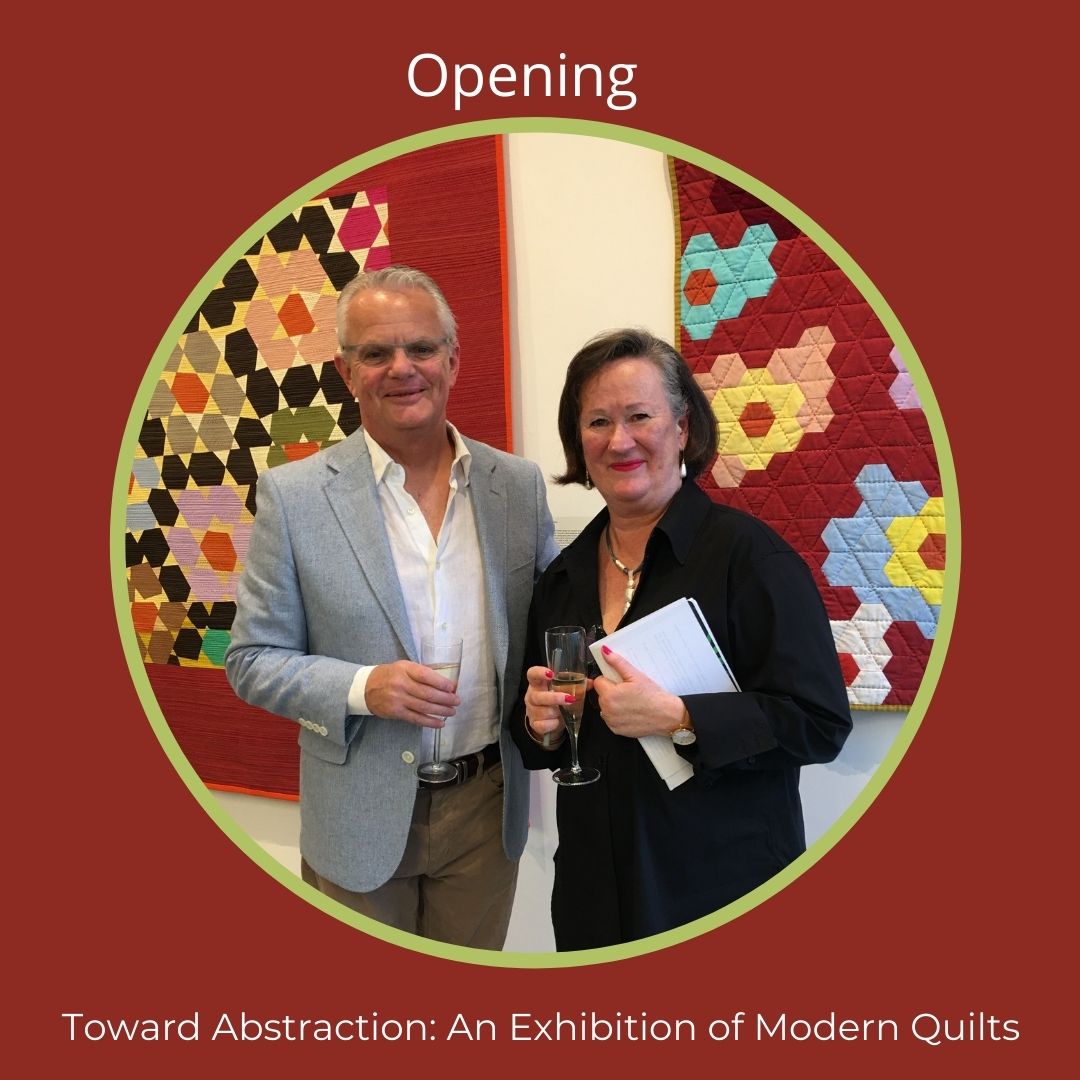 May 2021:  I was thrilled to be invited to officially open an exhibition of modern quilts, entitled Toward Abstraction: An Exhibition of Modern Quilts on Saturday, May 1, 2021.
If you live in Sydney or are able to visit Gallery76 at Concord West before May 30, then you're in for a treat.
These quilts present some of the most exciting Australian artists working in the modern quilt movement today.
Each artist has had at least one of these quilts juried into Quiltcon, one of the largest exhibitions of its kind, presented by the Modern Quilt Guild of America.
Now you can see them in a beautifully curated gallery setting, right here in Sydney.
Easily a must-see exhibition for anyone interested in stitch, textiles, colour and design.
Here's my opening speech.

ART QUILT AUSTRALIA 2021
OZQUILTNETWORK AWARD OF EXCELLENCE 2021
And Then There Were Three 2021  2m x 40cm
Accepted into the 6th Biennial Golden Textures Contemporary Art Quilt Exhibition at the Goldfields Art Gallery, Maryborough, in March, and also into one of Australia's premier juried exhibitions, Art Quilt Australia 2021, to be held at Shoalhaven Regional Gallery, Nowra, NSW from 12 June until 3 July 2021 and Yarra Ranges Regional Museum, Lilydale, Victoria from 7 August until 31 October 2021.
This narrative textile epitomizes an Australian summer using an unusual format inspired by the magnificent Medieval embroidery, the Bayeux Tapestry.
It's long, narrow configuration, confined by decorative borders offers a perfect opportunity for a story-telling composition, featuring gently abstracted frangipani leaves, flowers and buds, along with a simple account of a family of nesting magpies.
As a contemporary embroidered artwork, it communicates a link to historical embroideries and woven hangings used to convey or represent stories that were deemed important, worthy of being recorded.
Read how this piece was designed and made in my three-part blog series 'And Then There Were Three'.

Pleasure, Beauty, Freedom – 2021. 2m x 40cm
This lyrical, free-flowing design, inspired by the simplicity of a morning walk, embraces the pleasure, beauty and freedom felt during the easing of Covid restrictions.
The long, narrow, narrative format encased by geometric borders, references the magnificent medieval embroidery, the Bayeux Tapestry, connecting with our rich embroidered textile history.
The story gently percolates across the central frieze with zones of breezy airiness and cascading flowering gums, at the same time concealing five raucous, clamorous Lorikeets in and around the design embodying Australia's amazing wildlife.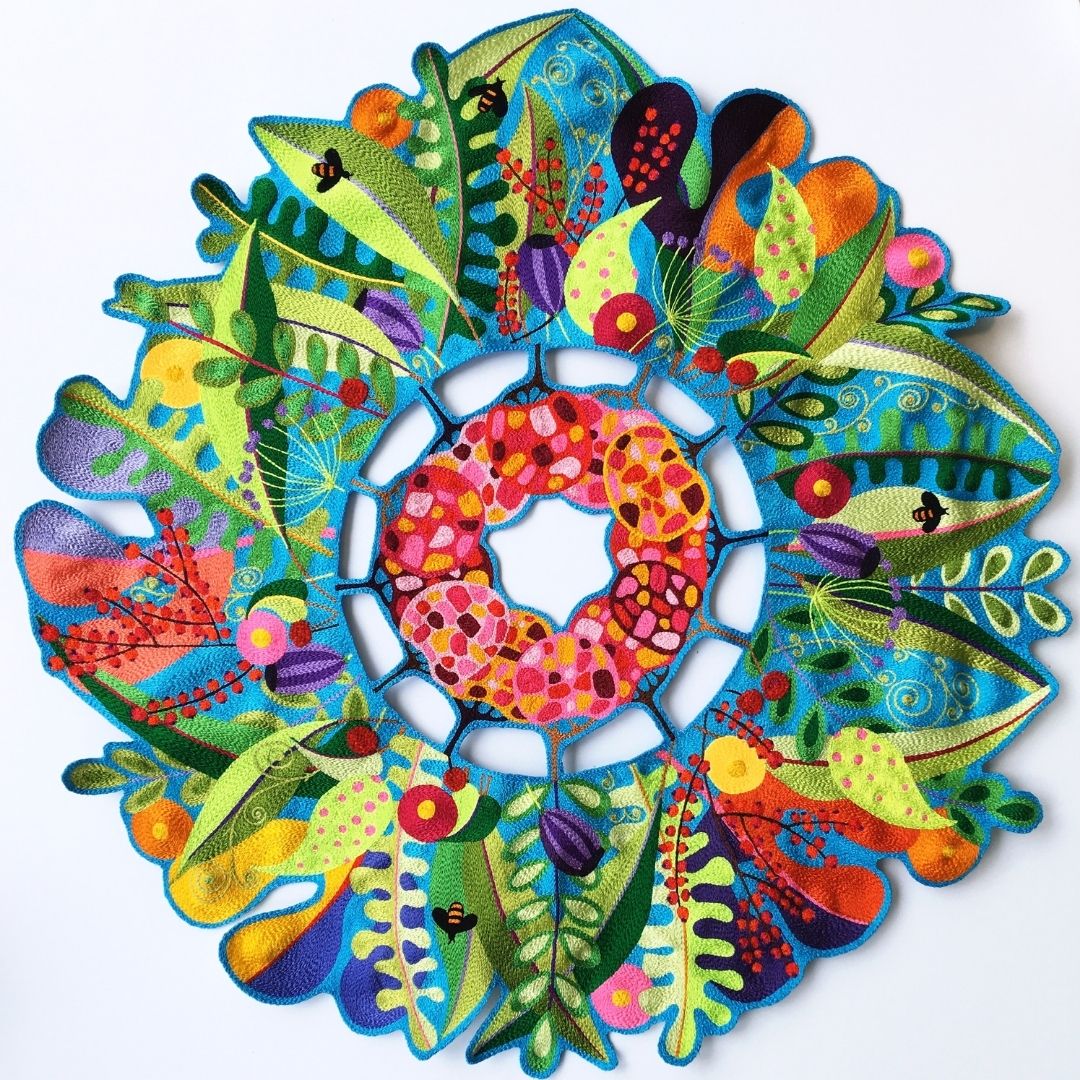 Ode to Plants 2020
Selected into the inaugural Australian Textile Art Award 2020 and also for the cover of the December 2020 issue of  Australia's premier textile magazine Textile Fibre Forum.
This is my response to the dreadful bushfires, drought and lockdown we've all experienced here in Australia recently.  It's a nod to looking forward to better things, to renewing our enthusiasm and the wonder of nature to regenerate after such hardships.
Worked in an unusual circular format which encourages an almost riotous interlacing design full of energy and life.
Fully machine embroidered using polyester and rayon thread on a felt substrate.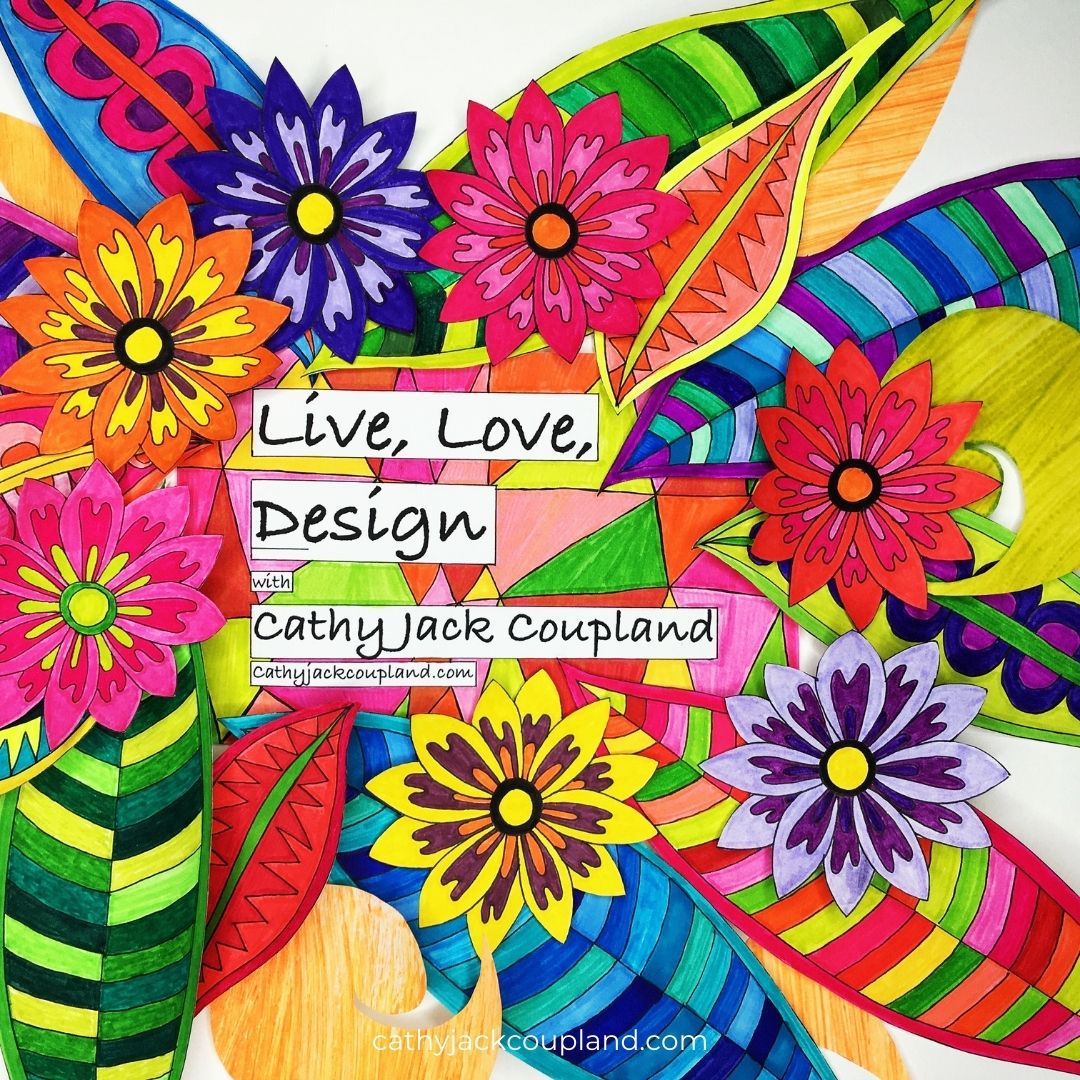 Want to design your own textile and fibre art, but don't know where to start?
The answer's anywhere – just start.  Be courageous, follow your heart and give design a go.
My name's Cathy Jack Coupland and I'm an award-winning Australian textile artist with over 20 years' experience designing original and unique machine embroidered artworks. 
Design isn't difficult, but it can be daunting, so we just have to make the whole process enjoyable and do-able – and best of all – make it yours! 
And just between you and me, the trick to creating amazing, meaningful design is really, really simple – just follow your passion and you can't go wrong. 
Join me as I present fortnightly forays into the magical world of design 
Jump on board – Live, Love, Design – it's your time.
YouTube: Cathy Jack Coupland
Cathy would love to hear from you
Whether you are looking to purchase artwork, offer an exhibition space or discuss Cathy's work, please message Cathy Jack Coupland Artist page on Facebook.