Re-energise and regain your enthusiasm for stitch.
Use this ultimate resource by Award-Winning Australian embroiderer and quilter, Cathy Jack Coupland, designed specially for the avid fibre artist.
Reconnect your passion to create through unique colour and design choices.
Save time – use my Checklists to inspire and motivate.
Just begin, and see where it takes you.
Download my Checklists now
ART QUILT AUSTRALIA 2021 OZQUILT NETWORK AWARD OF EXCELLENCE 2021- see below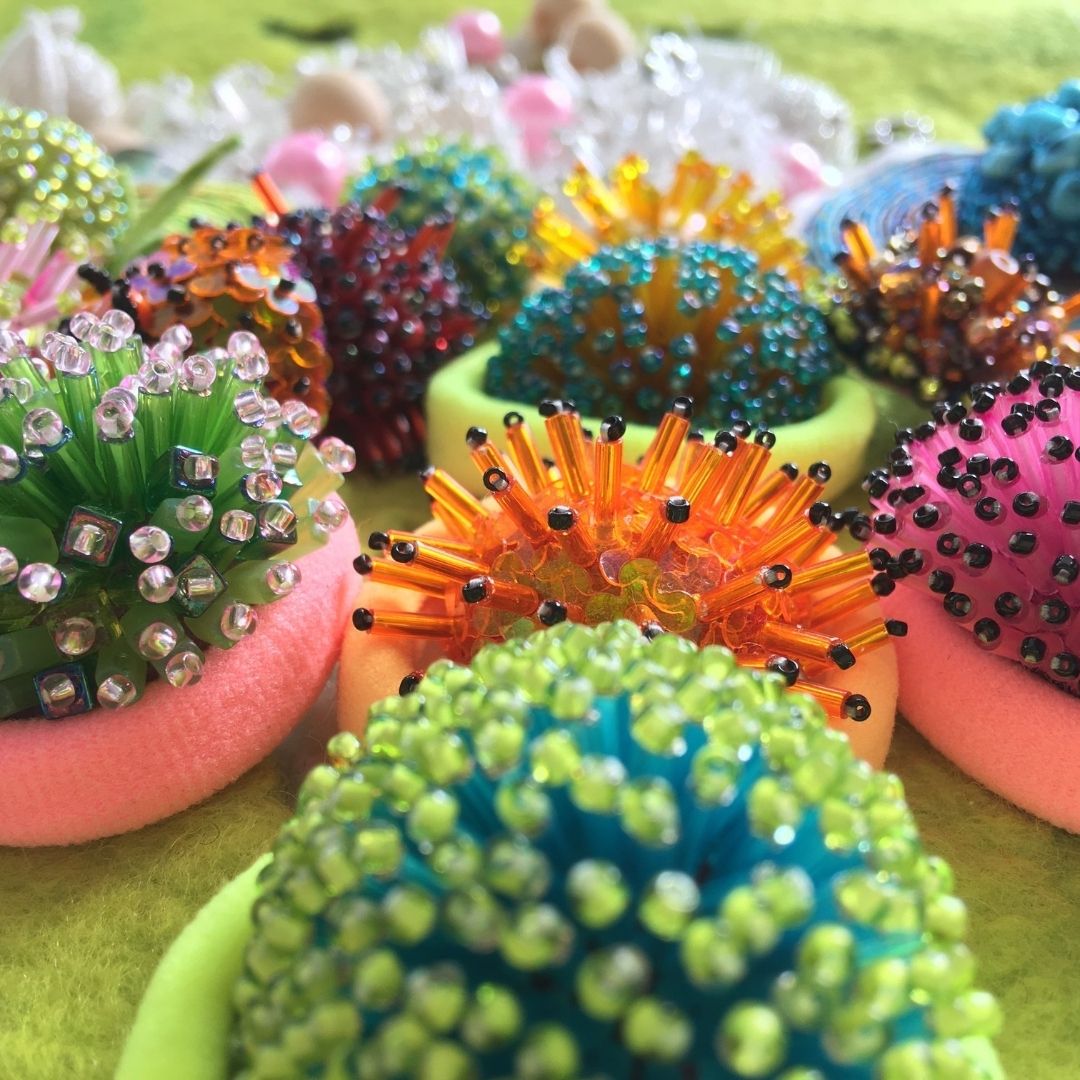 December 2021
An invitation to exhibit a piece of hand stitching has prompted me to reacquaint myself with a skill I've neglected for some time.
I've used our amazing ocean floors, in particular Australia's magnificent Great Barrier Reef as inspiration, gleaning important education about the fragility of these eerily beautiful structures.
And to achieve this goal, I've begun two samplers – one to ensure I could actually embroider and the second to begin to delve into innovative ways to express these megastructures of coral, home to many animals and such an important eco-system.
If you'd like to follow my story, I've posted part one of a vlog entitled 'A Cacophony of Stitch' on my YouTube channel.
Now I'm beginning to build a picture of how I'd like to move forward.
Such an exciting journey.  Join me as I progress through all the hurdles to create some beautiful slow stitching.
July 2021:  Creating art by using art – my latest work is taking staged images of my textile and fibre art incorporating hand and machine embroidery.  More images on Pinterest.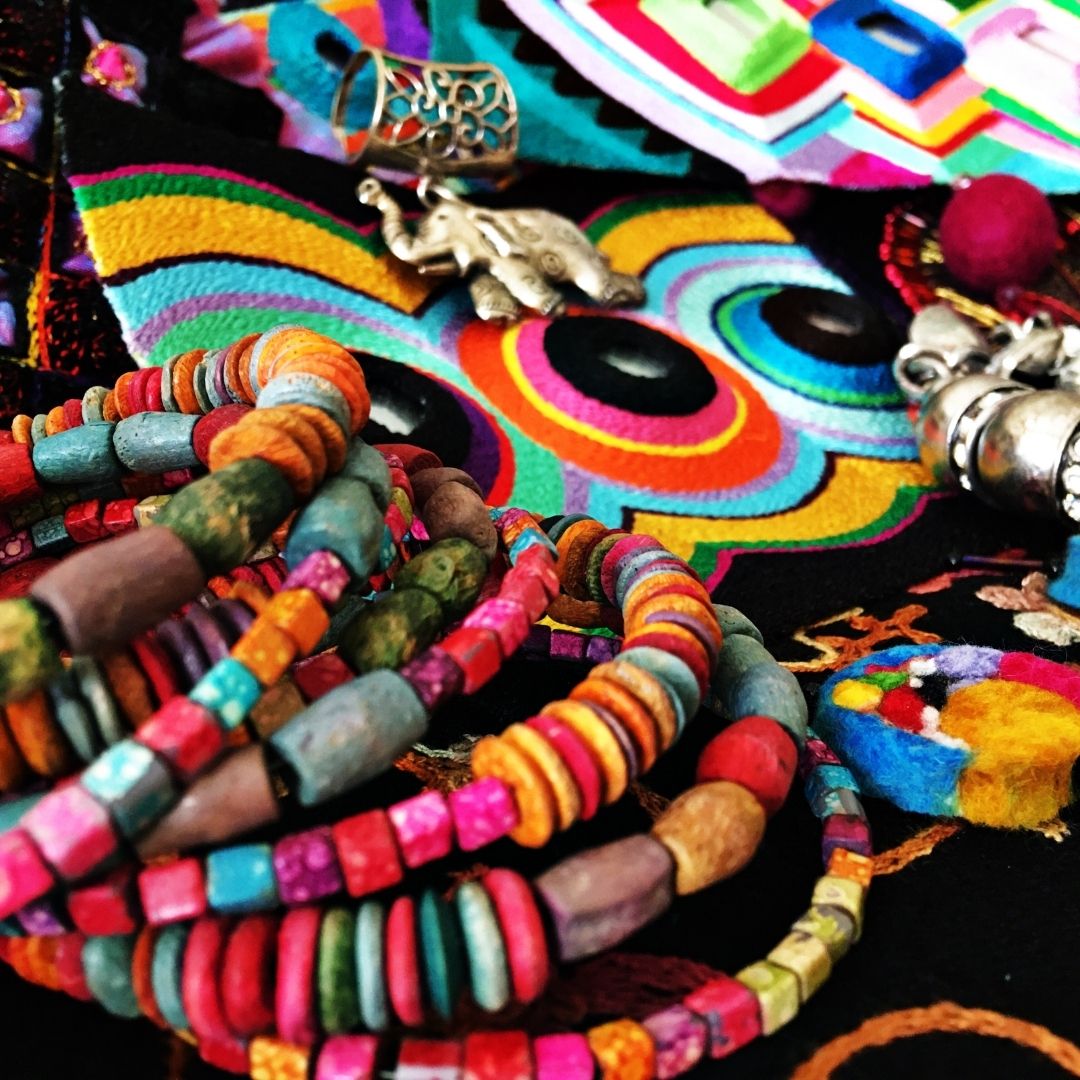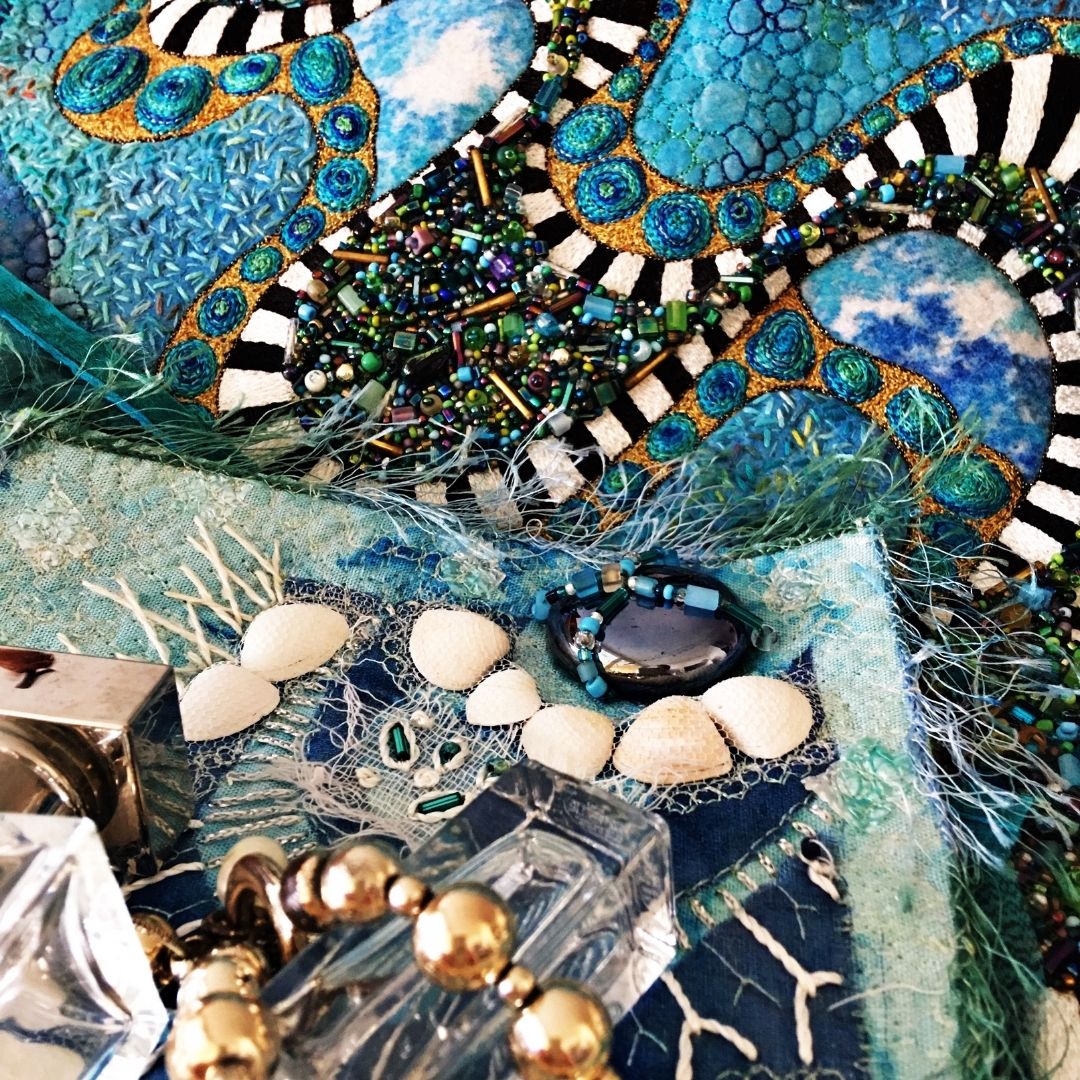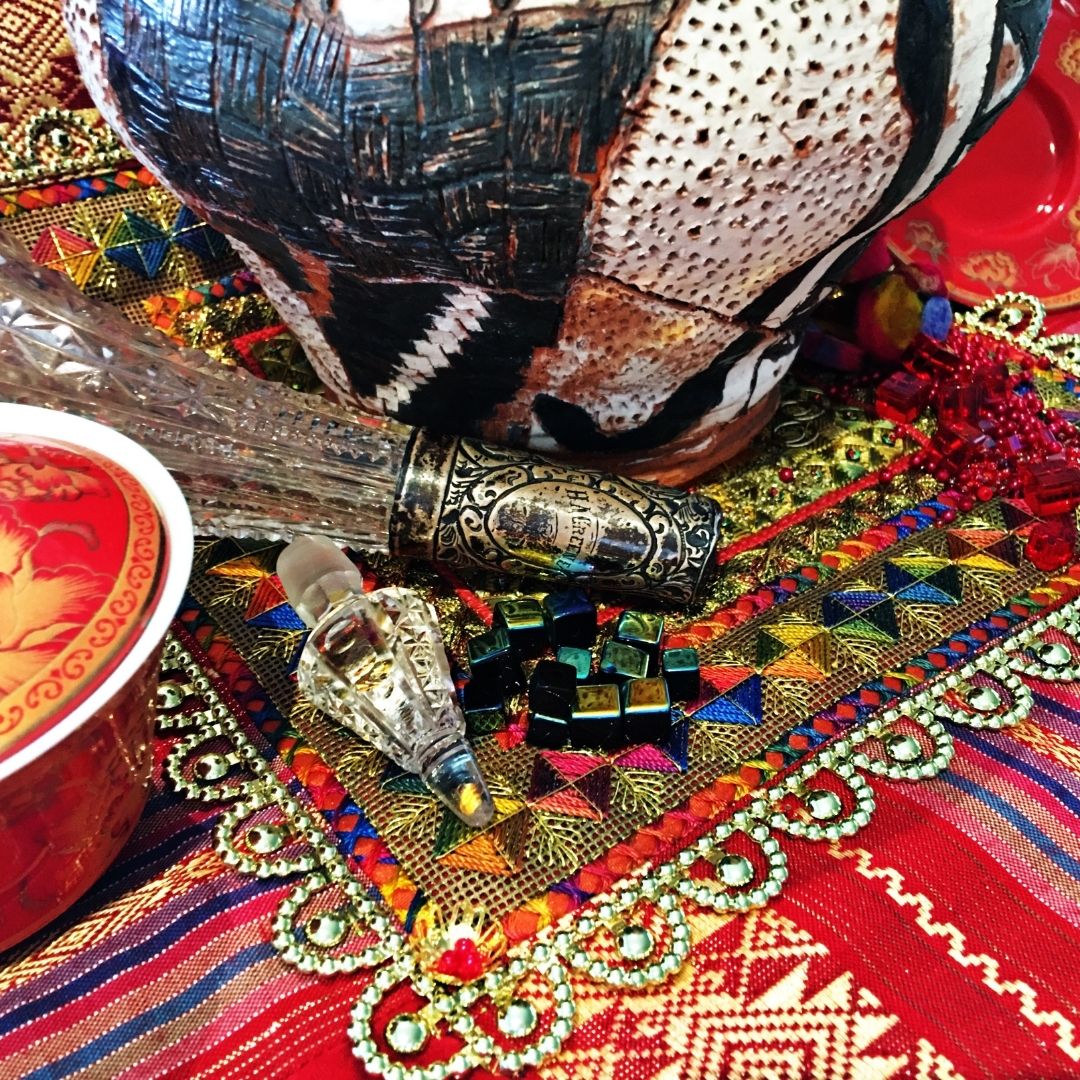 April 2021:  Thrilled to receive news that the Stitch Safari Podcast has been named as one of the 20 Best Embroidery Podcasts of 2021 by Welp Magazine.
There's a ton of work gone into beginning this Podcast, be equally, there's a ton of pleasure too.
The research, the writing and the recording are all new to me, but I'm enjoying every moment and every journey of learning more about design through history, its effect on the art of the needle, and the relevance of stitch to communities, economies, cultures, traditions and the individual.
It's also meant that I've been able to add some wonderful titles to my Embroidery History library.  More and more research is being done into the importance of stitch, embroidery and textiles throughout history, resulting in some pretty amazing books and papers being written by some pretty amazing people.
Most Podcasts range from between 10-20 minutes – making them perfect for a sit-down cup of coffee or for some dedicated stitching time.
If you haven't subscribed or listened, head on over to the Stitch Safari website where you can listen to every episode.  If you love history, design and stitch, you'll love the Stitch Safari Podcast.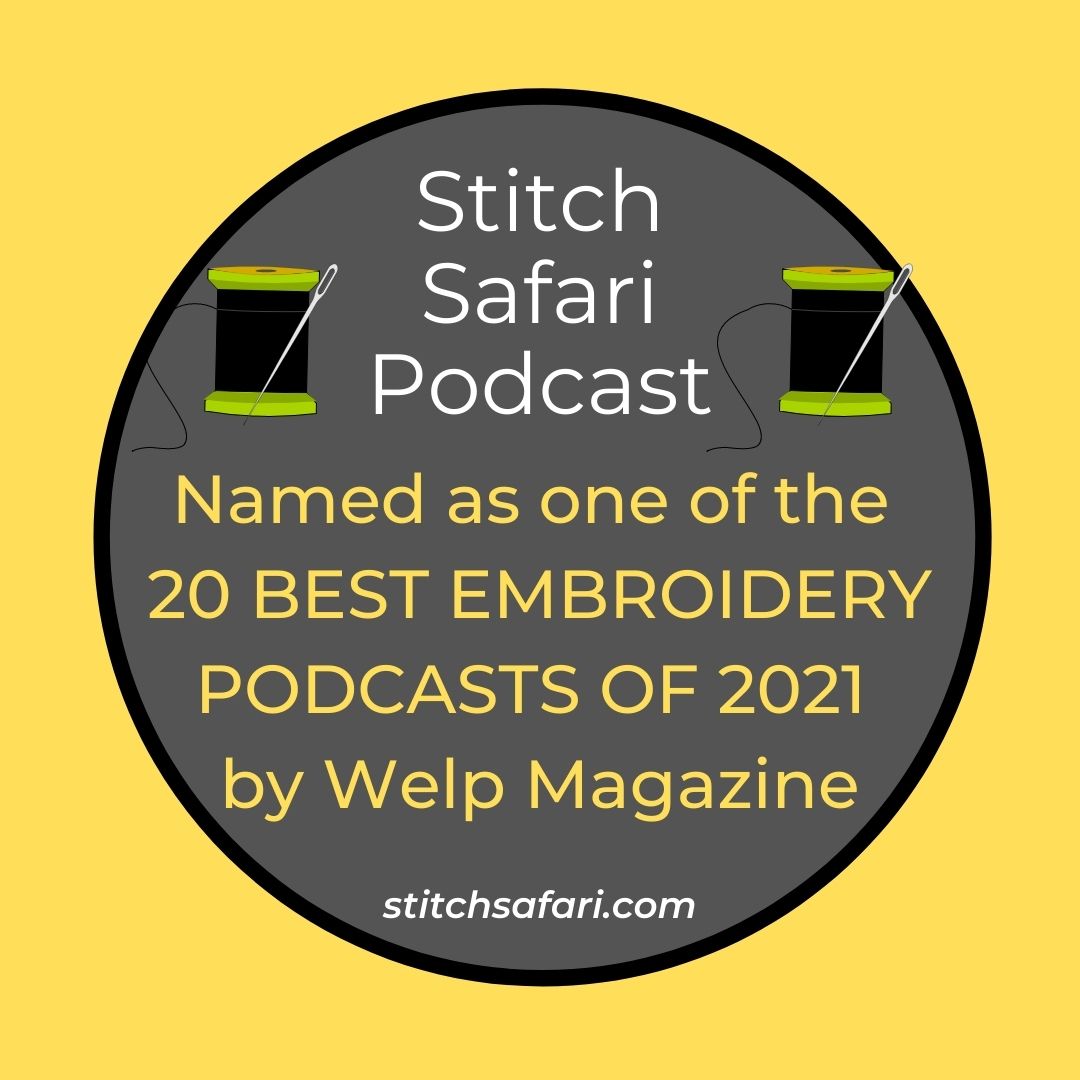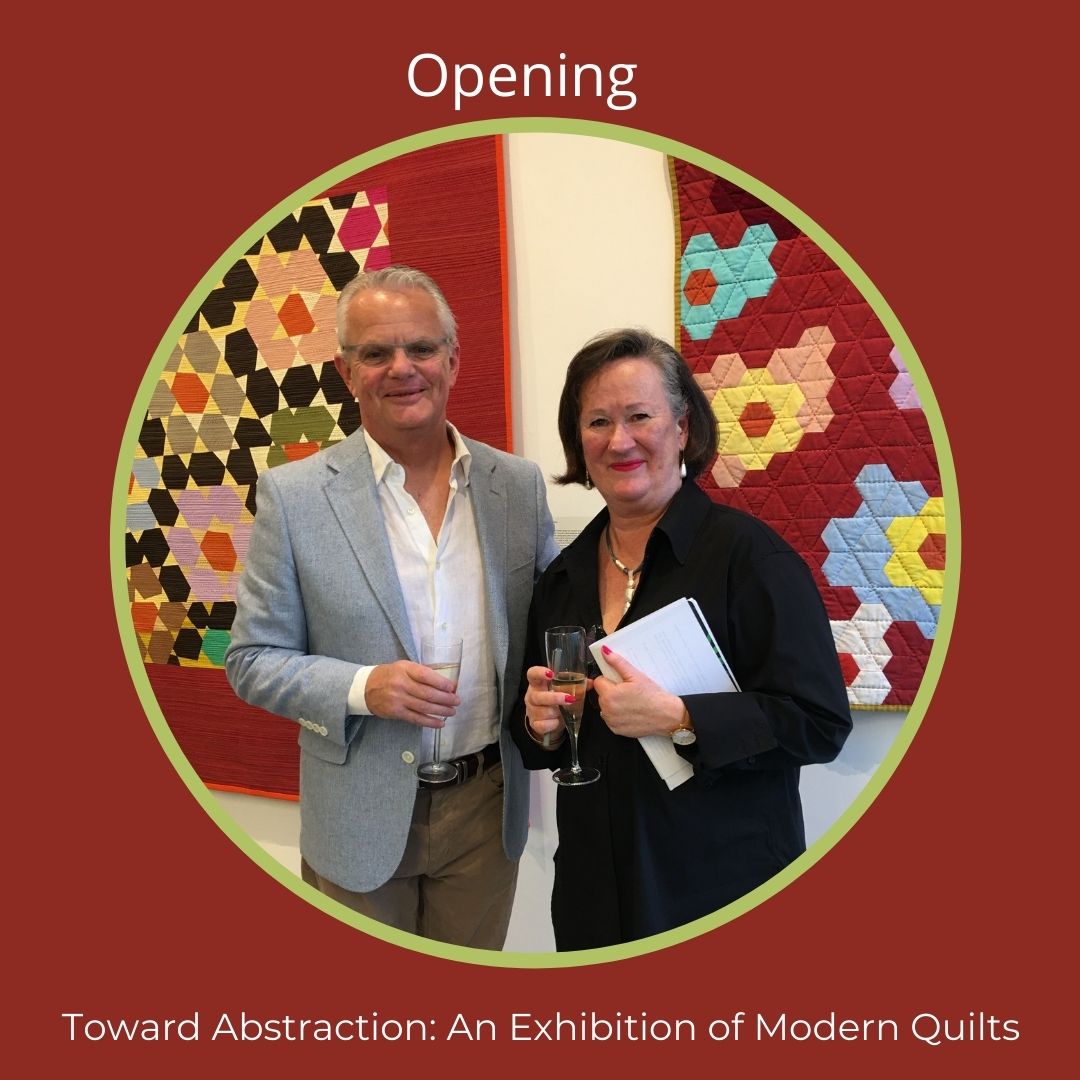 May 2021:  I was thrilled to be invited to officially open an exhibition of modern quilts, entitled Toward Abstraction: An Exhibition of Modern Quilts on Saturday, May 1, 2021.
If you live in Sydney or are able to visit Gallery76 at Concord West before May 30, then you're in for a treat.
These quilts present some of the most exciting Australian artists working in the modern quilt movement today.
Each artist has had at least one of these quilts juried into Quiltcon, one of the largest exhibitions of its kind, presented by the Modern Quilt Guild of America.
Now you can see them in a beautifully curated gallery setting, right here in Sydney.
Easily a must-see exhibition for anyone interested in stitch, textiles, colour and design.
Here's my opening speech.

ART QUILT AUSTRALIA 2021
OZQUILTNETWORK AWARD OF EXCELLENCE 2021
And Then There Were Three 2021  2m x 40cm
Accepted into the 6th Biennial Golden Textures Contemporary Art Quilt Exhibition at the Goldfields Art Gallery, Maryborough, in March, and also into one of Australia's premier juried exhibitions, Art Quilt Australia 2021, to be held at Shoalhaven Regional Gallery, Nowra, NSW from 12 June until 3 July 2021 and Yarra Ranges Regional Museum, Lilydale, Victoria from 7 August until 31 October 2021.
This narrative textile epitomizes an Australian summer using an unusual format inspired by the magnificent Medieval embroidery, the Bayeux Tapestry.
It's long, narrow configuration, confined by decorative borders offers a perfect opportunity for a story-telling composition, featuring gently abstracted frangipani leaves, flowers and buds, along with a simple account of a family of nesting magpies.
As a contemporary embroidered artwork, it communicates a link to historical embroideries and woven hangings used to convey or represent stories that were deemed important, worthy of being recorded.
Read how this piece was designed and made in my three-part blog series 'And Then There Were Three'.

Pleasure, Beauty, Freedom – 2021. 2m x 40cm
This lyrical, free-flowing design, inspired by the simplicity of a morning walk, embraces the pleasure, beauty and freedom felt during the easing of Covid restrictions.
The long, narrow, narrative format encased by geometric borders, references the magnificent medieval embroidery, the Bayeux Tapestry, connecting with our rich embroidered textile history.
The story gently percolates across the central frieze with zones of breezy airiness and cascading flowering gums, at the same time concealing five raucous, clamorous Lorikeets in and around the design embodying Australia's amazing wildlife.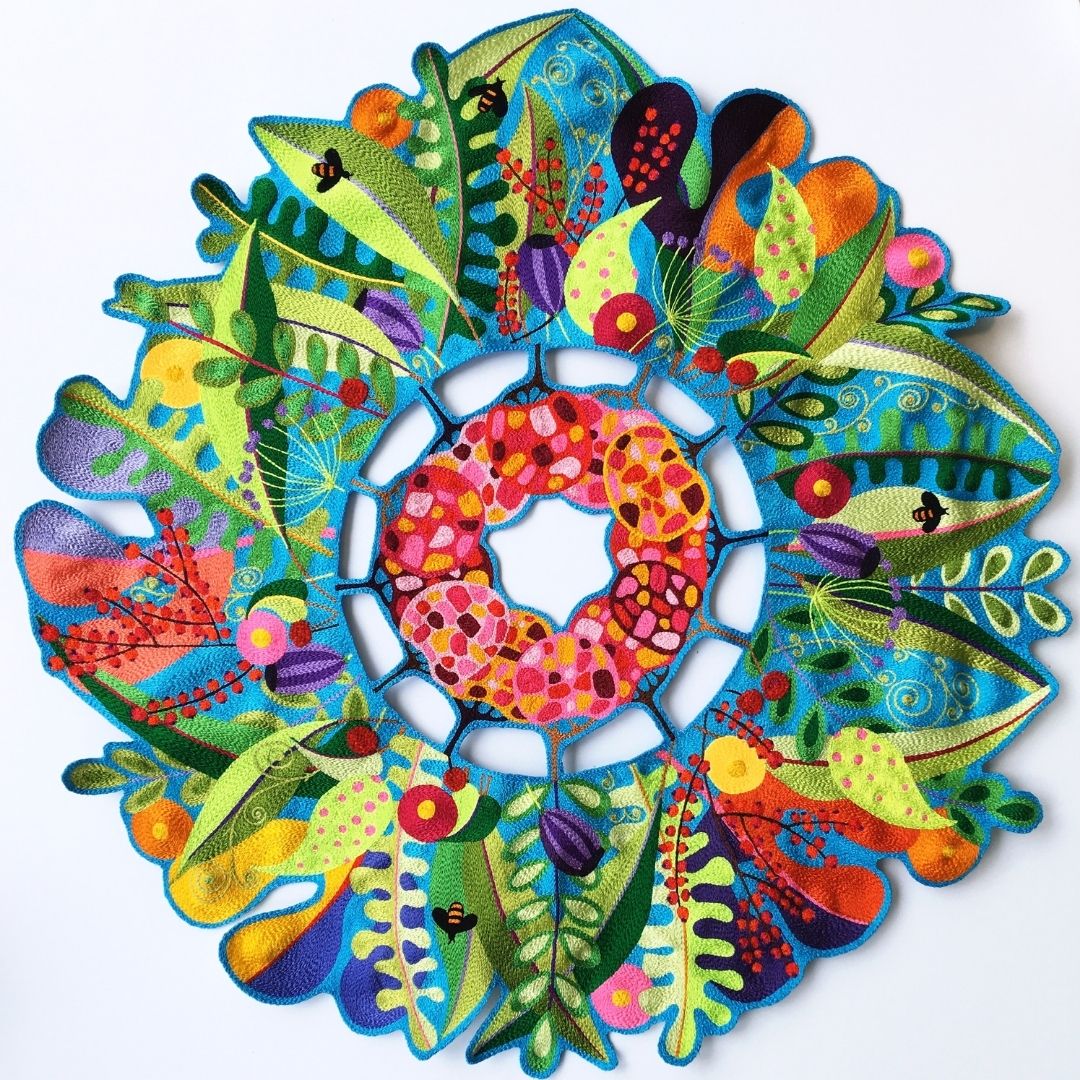 Ode to Plants 2020
Selected into the inaugural Australian Textile Art Award 2020 and also for the cover of the December 2020 issue of  Australia's premier textile magazine Textile Fibre Forum.
This is my response to the dreadful bushfires, drought and lockdown we've all experienced here in Australia recently.  It's a nod to looking forward to better things, to renewing our enthusiasm and the wonder of nature to regenerate after such hardships.
Worked in an unusual circular format which encourages an almost riotous interlacing design full of energy and life.
Fully machine embroidered using polyester and rayon thread on a felt substrate.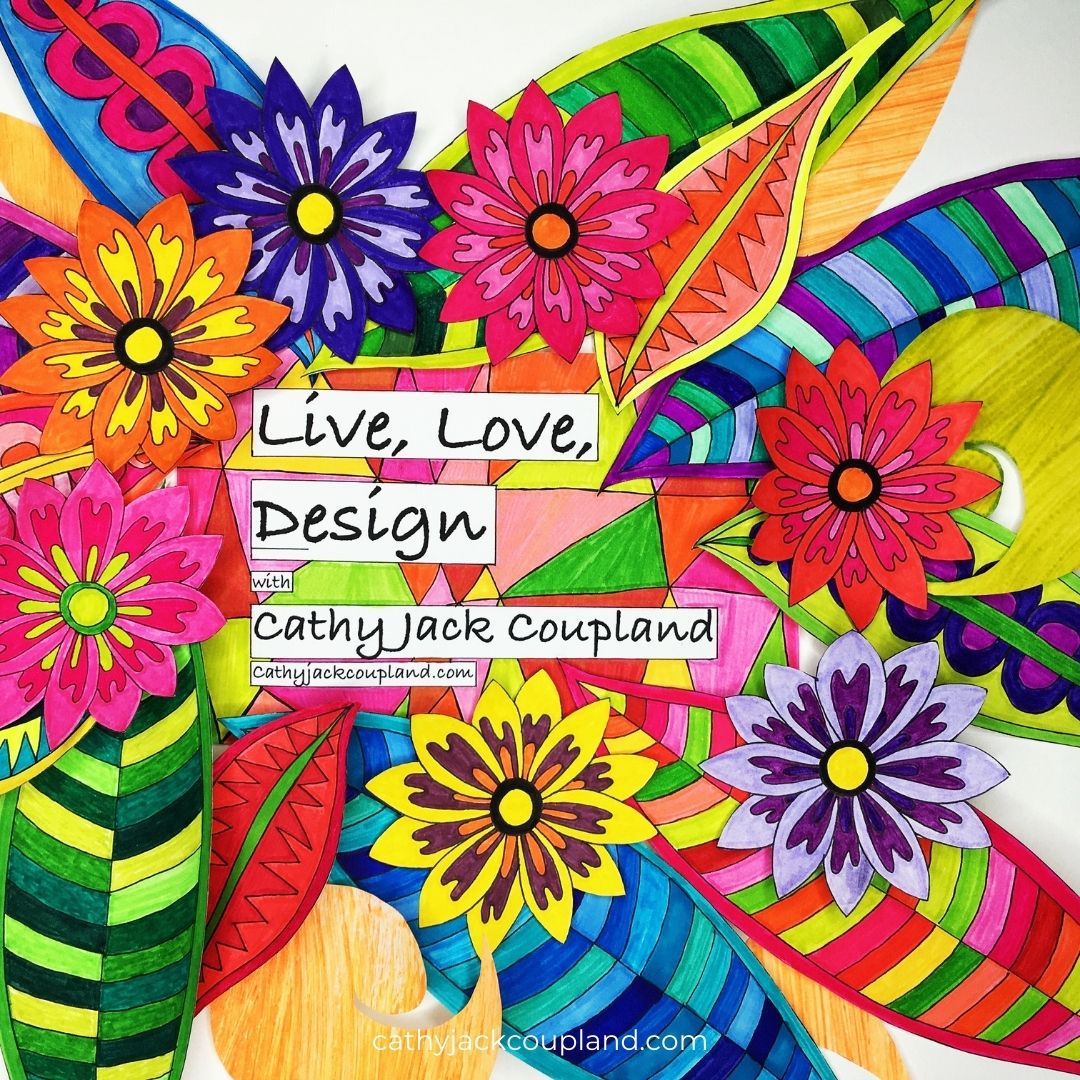 Want to design your own textile and fibre art, but don't know where to start?
The answer's anywhere – just start.  Be courageous, follow your heart and give design a go.
My name's Cathy Jack Coupland and I'm an award-winning Australian textile artist with over 20 years' experience designing original and unique machine embroidered artworks. 
Design isn't difficult, but it can be daunting, so we just have to make the whole process enjoyable and do-able – and best of all – make it yours! 
And just between you and me, the trick to creating amazing, meaningful design is really, really simple – just follow your passion and you can't go wrong. 
Join me as I present fortnightly forays into the magical world of design 
Jump on board – Live, Love, Design – it's your time.
YouTube: Cathy Jack Coupland
Cathy would love to hear from you
Whether you are looking to purchase artwork, offer an exhibition space or discuss Cathy's work, please message Cathy Jack Coupland Artist page on Facebook.