You know all those age-old axioms about absorbing experiences and embracing 'just doing,' well, that's what this is really about.  It sounds so simple, but sometimes just doing, just starting can also equate to just producing.
It's a story of how seemingly disparate parts of my life came together to coalesce into something delightfully different and unique.
'And Then There Were Three' is my expression of an Australian summer.  That means fragrant frangipani wafting their perfume on warm summer breezes, profuse colours and textures, especially explosive greens and innumerable chattering, squabbling birds.  And let's not forget the wave of agapanthus – those leggy, purple and white-headed pom-pom like blooms of gorgeousness, used by many of the smaller birds and bees as a swaying, swinging playground.
Some time ago I'd worked on design concepts incorporating my beloved frangipani. The leaves, flowers and those flower-buds that swell into fabulous shapes before bursting into magical, peachy-pink or whitely tinted flowers.  I went back to those drawings for inspiration.
We began hand-feeding two demanding magpies and soon realised they were taking food back to their nest.  It wasn't too long before they were accompanied by an equally demanding, squawking baby, with a voracious appetite – hence the name, 'And Then There Were Three.'
But the format – that long, narrow composition, entirely enclosed by borders – where on earth did that come from?  And the simple answer is… the Bayeux Tapestry.  I adore it.  Historically it can be traced back to Viking narrative textiles, so somewhere, somehow, that idea of a long narrow story-telling composition just seemed to gel and mellow into a concept.
I have a strong connection with historical textiles and embroidery and creativity should reflect those connections – as John Ruskin once said, 'embroidery draws the separate into the inseparable.'
The Bayeux Tapestry, consists of nine different panels, worked separately then cleverly stitched together, cleverly hiding seams with further embroidery.  I simply dispensed with the panels and worked my piece as one uninterrupted tableau.
Sometimes, things just click.  And this certainly clicked for me.
And it all began with paper, pencil and a rubber.  I like to design to the size of the finished work – that way all I have to do is simply transfer the design as is.  So, I began drawing – and rubbing out – and drawing and rubbing out some more.  That's the way I work.
From time to time I stood back to look at scale, repetition and unity.  It had to work together harmoniously, not just as lines on paper – plus this had to tell a cohesive yet simple story.  Summertime + birds = happiness.
With this work, I knew I wanted to make it light, bright and happy – and while staying true to my style I also wanted to up the ante on things like pattern and dynamism – it had to champion movement and energy.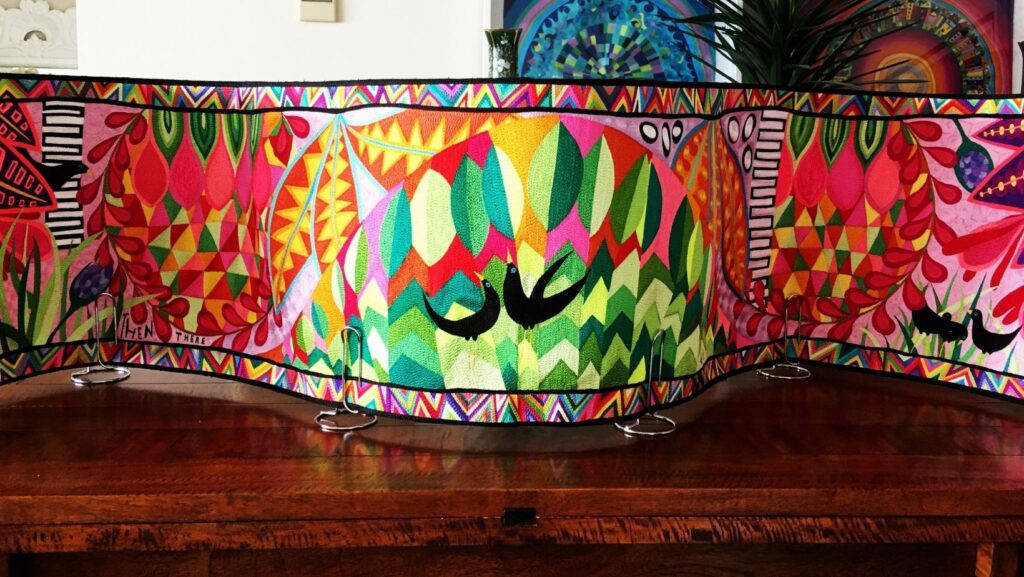 Elements like the leaves and buds were abstracted slightly and filled with eye-catching patterns.
Large areas of the colour-filled geometric pattern were enclosed by sweeping, quilt-like feathers – they're a visual contrast to the rest of the work, with bud shapes dripping gently down from the top.
The central, sweeping green patterned area featuring the two courting birds is the main focal point with a bit of a nod to the amazing sunrises and sunsets we experience.
What is unusual, is the addition of black and white elements in six areas across the work.  I love contrast and black and white are the best – and leads the eye across the work.  Funnily enough, the circles look like little eggs – but I didn't think of that when I was drawing ….they do though.
And finally the backgrounds and borders.  I can't tell why I chose a pale pink and purple colour for the backgrounds.  I only remember I didn't want blue or green and I wanted them visually separate from the central section.  As for the patterned borders, well that idea harks back to the Bayeux Tapestry – although mine is simply a repetitive geometric pattern filled with all the colours used in the work, not scenes from Aesop's Fables.  Nevertheless, it works and I love it.
There's beauty in making a fully-drawn paper design, shown below.  It's a gentle almost timeless process that I have huge confidence in.  And when I look at it now, that design is full of possibilities for new work – which I can take in numerous directions.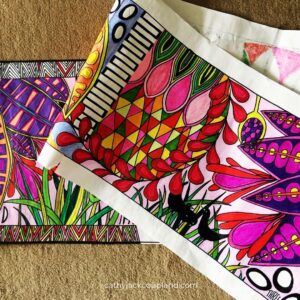 This beautiful process needs to drip through like fragrant, aromatic coffee, and the longer it filters and percolates, the better it seems.  It's just such a relaxing and soothing undertaking, wrapping around me like a comforting hug from an old friend.
I've begun another design, similar to this format – inspired by some photos taken on a local walk, connecting stitch history with something meaningful to me, all the while feeding my insatiable creative spirit.
And that's just as it should be.