So how did I transfer this larger-than-life, fairly intricate design?  By tracing every line, mark, dot and pattern on my drawing.
I went over the drawing before tracing to make sure all the lines made sense and were complete – in other words, that they're not just hanging in space unable to be read by the viewer – or by me as I'm stitching.  I can't tell you how many times I've been stitching and found something missing and had to draw directly with my thread, and that's OK – it's do-able, but not the best way to work with such intricate designs.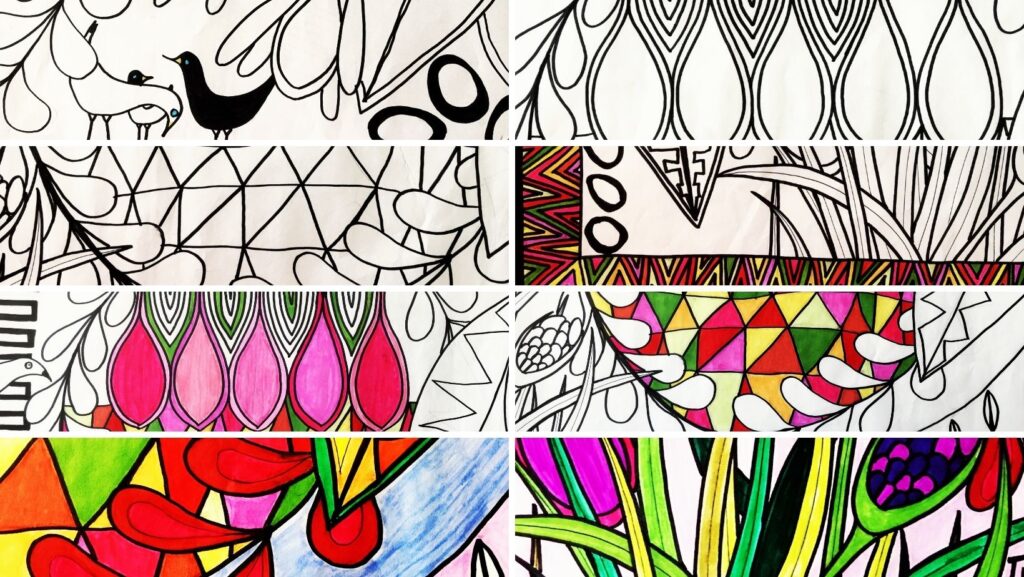 Then it was just a matter of tracing directly onto some lightweight fusible interfacing that had been taped over my already taped-down drawing.  I love this method as it accomplishes two purposes.  It allows for easy tracing of my drawing as it's fairly see-through, plus it's a stabilizer, so it helps support as I'm working on felt which has a huge tendency to stretch and move.  I mean, it will anyway, because of the density of stitch I use, but I like stitching onto it and it's the best method I've devised for transferring my designs.
Stitching began.  Feed dogs down, two threads through the needle, the tension between 2 and 3 depending on the thread colour and pressure at 10. I stitch out the backgrounds first, so there's a lot of pink and pale purple happening for quite a while, but the fun begins when all the other colours start to make an appearance.
I stitch with rhythm – an even, fairly slow-paced rhythm – even when I'm doing circles, which I think results in a beautiful finish.
Threads are cut from the top as I go, and from the back after each colour is completed.  It's not my favourite job, but it has to be done, because I know if I leave them, then they may show through on the back with the next colour used.  If I sell this work, I want my client to know I've gone the extra mile to present this work exceptionally.
I always try to work from the back to the front, meaning that I stitch elements that lie behind other elements first – so that I finish with clean, crisp linework which looks really easy but often isn't.  It can be complicated, but that's what also makes the work look so good, I think.  I also like to utilise the colour I have in the needle as much as possible, so wherever that colour is in the work, I will either cut the threads of just jump on over to the next area to be stitched.
And herein lies the beauty of actually colouring in my design first, because as soon as I start to stitch, I don't have to worry about colour.  I might change some things as I go – and that's fine, but in the main, the work will evolve pretty much as I've drawn it.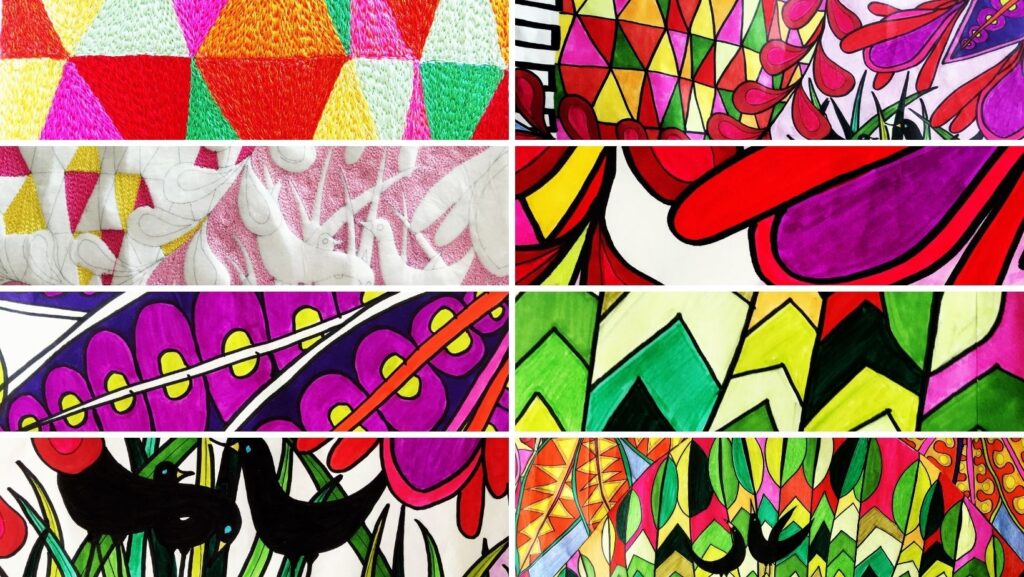 I follow rituals and routine to enable me to stitch for long periods of time.  I exercise and take regular breaks.  I do all my chores first and like to be at work at a certain time.  I listen to audiobooks to keep me entertained.  I clean and oil my machine every morning and change my needles regularly.  I also like to keep my workroom and threads tidy, so I can just walk in, sit down and stitch.  Meals are pre-planned, so there are no last-minute hassles there – ever.
Basically, it's head down until I finish.