I'm inspired by so many artists.  I want to be curious, always!
Inspiration is integral to my work practice as an Australian Textile Artist.  It can take many forms.  Sometimes it's as simple as a beautiful colour or mix of colours.  Sometimes it's work generated by other artists – and to me, it doesn't matter what they do!  On some level, I'm relating to the story they're trying to tell.  That's the magic.  I want to dig deeper and deeper to find out more about that person, how they work and what inspires them.  That spark, that curiosity is what can kick-start a whole new way of thinking or a whole new body of work.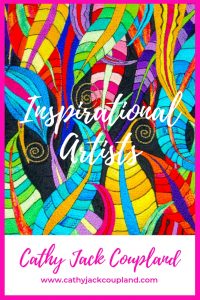 John Olsen, Australian Artist
John Olsen in a living treasure.  His words 'work makes work' echoes his passion and enthusiasm.  At age 90, he's still painting!  To John Olsen, feeling is more important than explaining.  He says 'the challenge is to define the feeling – the explanation can come later'.  He lived in Spain for three years, absorbing the colours, culture and art, returning to Sydney to 'find his footsteps in his common soil'.  What beautiful, touching words.  His work overflows with his vitality and exuberance for life.  Click here to watch a short video.
There are numerous books about John Olsen and his work.  One of my favourites is, 'My Salute to Five Bells'.  It's his story of the mural, specifically commissioned and designed for the Sydney Opera House.  He used Kenneth Slessor's 1939 poem, 'Five Bells' as inspiration for this work.   Read a short summary of the poem here.  The connection between the poem and the venue is Sydney Harbour.  As Barry Pearce, Emeritus Curator of Australian Art, Art Gallery of New South Wales states in his forward to the book, 'it privileges us rare insight into an artist's engine room, moving between agitato and lento, eloquence of thought and text, and the emotional, intellectual and visual struggle toward the unknown of how his public masterpiece might turn out'.
There is a commonality here.  Can you see it?  Pearce writes of Olsen's 'struggle toward the unknown'.  Isn't that what we all do as artists?  Click here if you're interested in the book 'My Salute to Five Bells', by John Olsen (Published by NLA Publishing, ACT, 2015).  I highly recommend it.
Chiharu Shiota, Japanese Installation Artist
Chiharu Shiota says of her work 'for me, it's just drawing in the air'.  At around age 20, Chiharu decided painting was not for her, saying, 'it was just colour and had no meaning for me'.  Her work is usually site specific, connecting stories using a complex network of string to create hauntingly beautiful narratives, often incorporating used possessions, such as suitcases, keys, beds or window frames.  These objects are woven into myriad inter-twined lines of string, leading the viewer's eye around and through the entire installation.
Chiharu's work is large in scale and theatrical.  It's an experience which mirrors her feelings.  Click here for an insight into one of her recent installations 'Beyond Time' held in an 18th century chapel in Yorkshire, UK.  I find her work unique.  It certainly draws an emotional response from me.
I really hope you enjoy this series, as much as I'm enjoying revisiting these inspiring artists.
I love being curious!