We all know what kind of year it's been, particularly if you live in Australia – but, for me, this Christmas wish post is about looking forward, being thankful, supporting one another and renewing our passions.
I feel so fortunate to have the kind of life that allows me to work to my passion.  And it's not simply about sitting at a sewing machine and making 'things' – it's about being able to follow a dream, to continue to learn and attempt things I would not have ever considered a decade or so ago.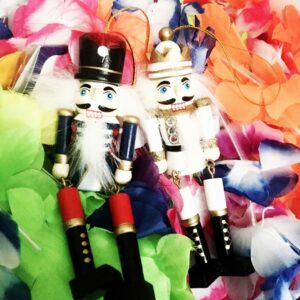 It's also about having a laugh and letting go – as I do with these guys, Bert and George, left.  I waste a lot of time playing around with them – but I also enjoy every moment.  They put a smile on my face.  See what else I do with these poor little fellows here.
This year saw me take a break from stitching for a short period – a time where I just had to concentrate and get my head around the tech needed to record and present my new podcast, Stitch Safari, but also make time to research and write each episode in the knowledge that I'm presenting factual, interesting information relating to the amazing journey stitch has to offer throughout history.
What's actually happened is that I've returned to design and stitching with a renewed passion – if that's possible.  That break fanned the flames brought about by inspiring research into such outstanding historical embroidery as The Bayeux Tapestry – a work rich in the storytelling narrative recording an immensely important time in English/French history and world history, but also chronicling medieval architecture, dress, farming, ships, tools, arms and armour, food and so much more – forever frozen in time through embroidery.
And it's also about looking at the positives – and looking forward, so my Christmas wish for everyone is that we may all do that – and I know sometimes life doesn't make that easy.
By being creative, and engaging our hands and minds, whenever we can – is sometimes the simplest, most effective panacea.  It doesn't necessarily fix our problems, but it strengthens a part of us that can – our inner strength.  It also gives our minds a chance to switch-off from all that noise and chatter that seems to make up our daily lives now.  Remember my post Find Your Whalesong?  The Inuits know how to do it.
Let's make 2021 a year of support – for the organisations we belong to, the galleries we love to visit, the businesses we need and the friends we've made.  We've all done it tough.
So to you all, please take some time to relax and enjoy a happy and safe Christmas in the knowledge that onwards and upwards is the only way to go – and imagine, create and stitch whenever you can, or just read a book.  I have some great books reviewed here.
I'll leave you with one of my all-time favourite quotes from a lady far wiser than me, Eleanor Roosevelt, where she says, 'Do something every day that scares you.'  That's my mission for 2021.  What's yours?
Give my podcast Stitch Safari a try.  I'm addicted!
Stay safe everyone, be kind to yourselves – 2021, bring it on!