Attending a Craft and Quilt Fair recently was, I have to say, a glorious re-emergence of fraternization with friends, traders, and people simply interested in creating.  (Plus getting a photo of yourself in front of a huge image of your work!)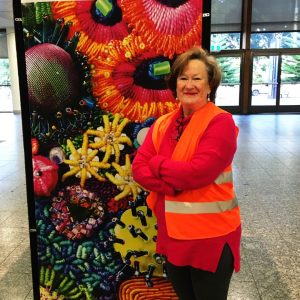 And while it's a monstrous amount of work, it's also a great way to reconnect with people – and that's what this industry is really all about.
It's about giving and sharing knowledge and ideas.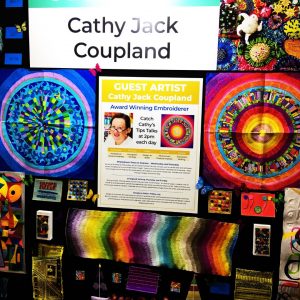 The rationale for my stand was to help show that connection between the drawn line and stitch – and I know it's not easy to bond the two together for some people, but I wanted to exemplify it is achievable and it is a gained skill.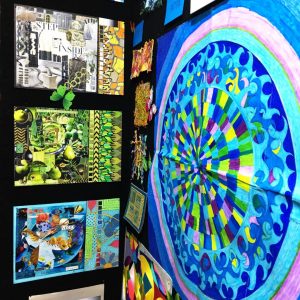 And all it takes is time, patience, and practice.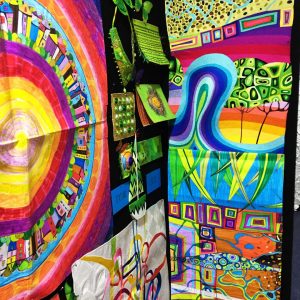 Facing that white paper fear, making marks that you know can be worked in a technique you're confident in, is just the beginning of a process I'm quite passionate about.
Over time, I've developed a set of processes that work for me and that's exactly what I tried to show – it's a method and a set of systems I know work.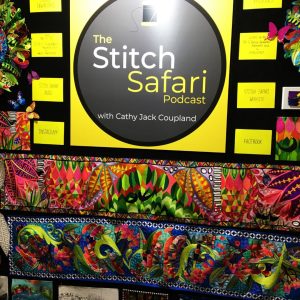 There would be others who may have a different set of processes and systems – mine are simply a fairly basic set of steps forward, establishing all the elements necessary to complete an original embroidered design.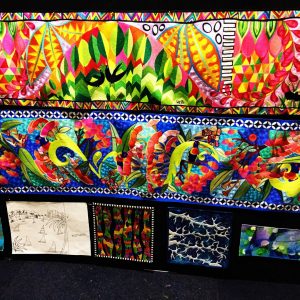 In other words, it ticks all the boxes – and then some.
And the feedback from people over the five days of the Craft & Quilt Fair was so positive, that I've decided to write a book.
I honestly believe the design process, from concept to finished product, is one any creator can achieve – but a little knowledge and advice goes a long way and helps make that journey a lot easier and more enjoyable.
So, my outline is done and set out on a large whiteboard where I see it every day as I walk past.  It's bound to need alterations and adjustments here and there, but it covers the entire process along with everything in between – including things most people don't even think about.
I'm excited and nervous in equal measure.
And it was all down to being invited by IntoCraft to be a guest artist at their 2022 Sydney Craft and Quilt Fair.