Embroidery is one of those things some people simply have an affinity with.
They pick it up as they go, with no formal training or degrees behind them – they learn on the job, so to speak.
And I think, in so many ways, that's a great pathway to success – the not-knowing, being able to break rules, and make mistakes.
Therein lies learning and education that are beyond precious.
There's also that freedom to challenge conventional traditions and values because there's no need to conform.
So don't panic if you've never been 'taught' to embroider, never attended a workshop, or haven't acquired any formal training – perhaps you're one of those people who just have that happy knack of being able to 'see' embroidery and work it to its fullest capabilities.
Your way.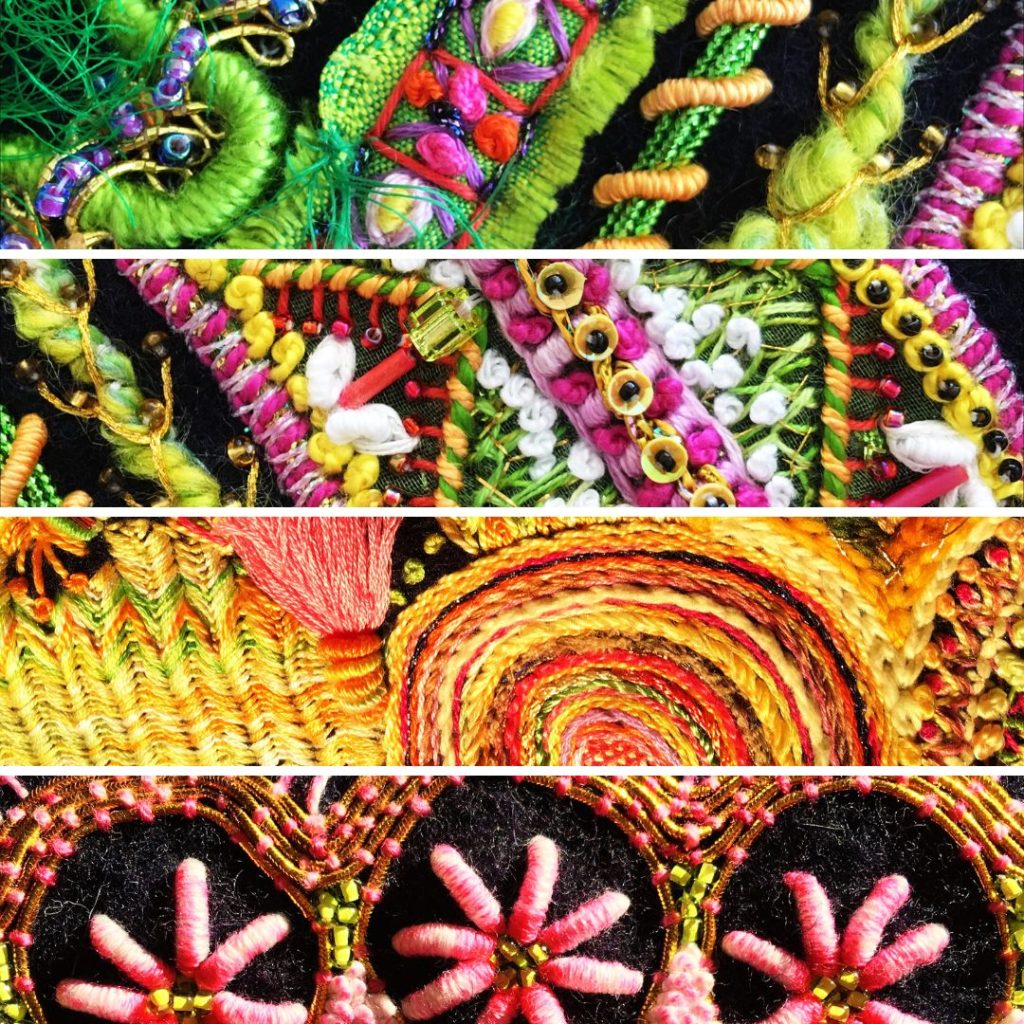 And that's what often makes this work so aesthetically stimulating and engaging.
It's like Picasso said: 'It took me four years to paint like Raphael, but a lifetime to paint like a child'.
The work is intuitive, creating its own energy and dynamism that's so expressive and captivating.
Why not begin afresh and paint some wonderfully expressive lines on firm watercolour paper?
Make several.
Pop them under your machine, feed-dogs down, and work a straight stitch over and around those lines.
Work some using zig-zag, also with your feeds dogs down – just make sure your foot and stitch plate accommodate the swing of the needle.
Perhaps other ideas will come to you as you stitch – try them.
Now incorporate some very simple hand embroidery stitches to add even more texture and colour to your work.
Use one or two threads of embroidery floss, and simply work straight stitches, building up areas of colour on top of and around the thread already worked by machine.
Follow the lines of your watercolour marks, spray them out a little, or work them closely together – feel the textures and colours.
Blend in even more colour.
Add some French Knots for variety – et voilà!
And there you have it.
Beautiful, simple embroidery.
Check out the Instagram feeds of these two amazing embroidery artists: Kristine Stattin and Danielle Clough.

All views and opinions expressed are my own, except where acknowledged information is included from other sources.