Improvisation: ad-libbing, spontaneity, lack of pre-meditation.
And it's hit hard – Improv embroidery, that is, championed in part by the purchase of a recently published book, Improv Embroidery by Australian embroidery artist Carol Cooke.  It's available for purchase via Carol's website.
It takes something pretty special to make me want to spend time with a needle and thread in my hand – as opposed to sitting at my beloved machine.
But this book did.
Anything that generates creativity in the embroidery sphere should be applauded, and it's that link with our past and our forebears, of techniques, tried and true, of recycling and refashioning something still quite useable, of making and fostering memories or simply using some of the beautiful threads in my stash in a creative way that I find so intriguing and comforting.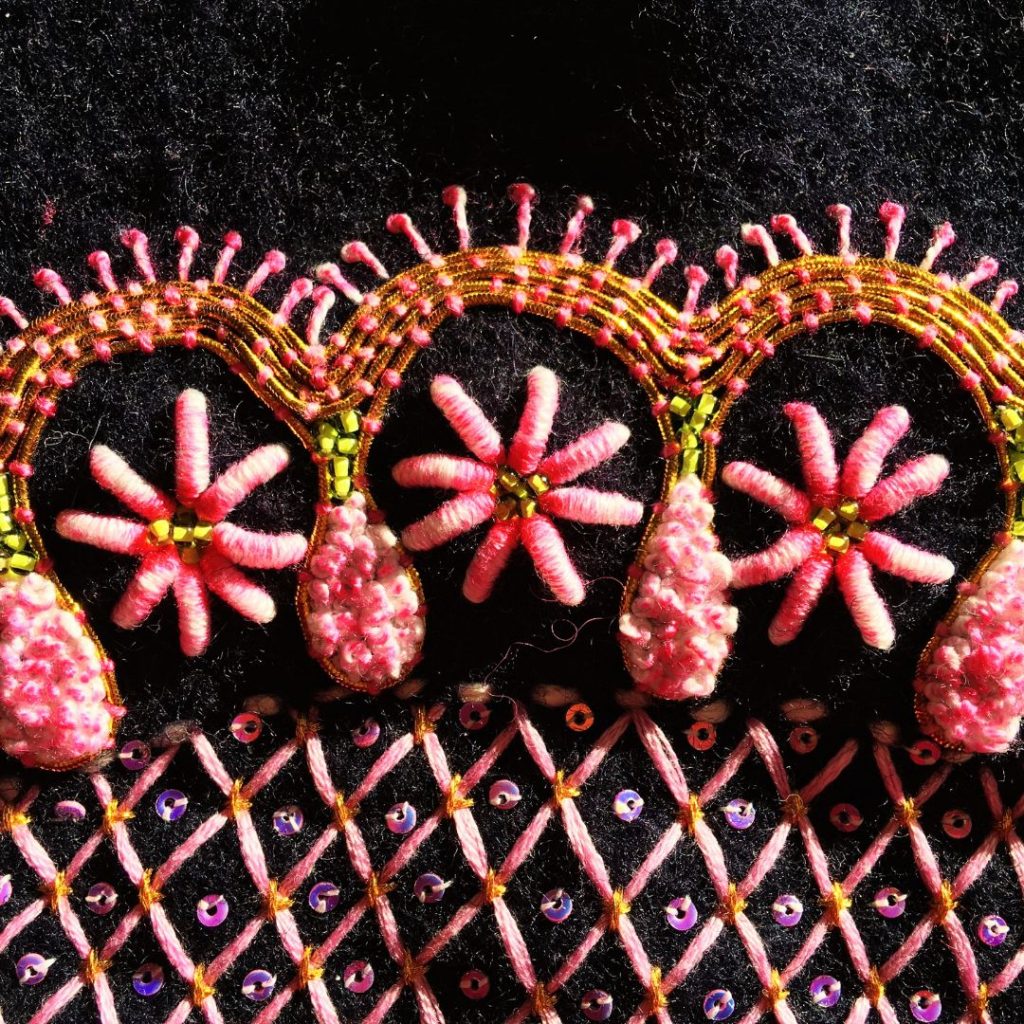 Not to mention the feel of the work in your hand as it grows and becomes heavier and less malleable – it's a fascinating tactile experience.
Then there's the pleasure – that simple pleasure of repeatedly taking a threaded needle through fabric to create a line, a texture, a pattern, adding embellishments or simply making marks, and that's what Improv Embroidery's all about.
Here, there's no plan, no design, no rules – just a group of stitches informing the next group of stitches and so on.  It's really a great exercise in design planning, on the run – and if that's not scary, nothing is.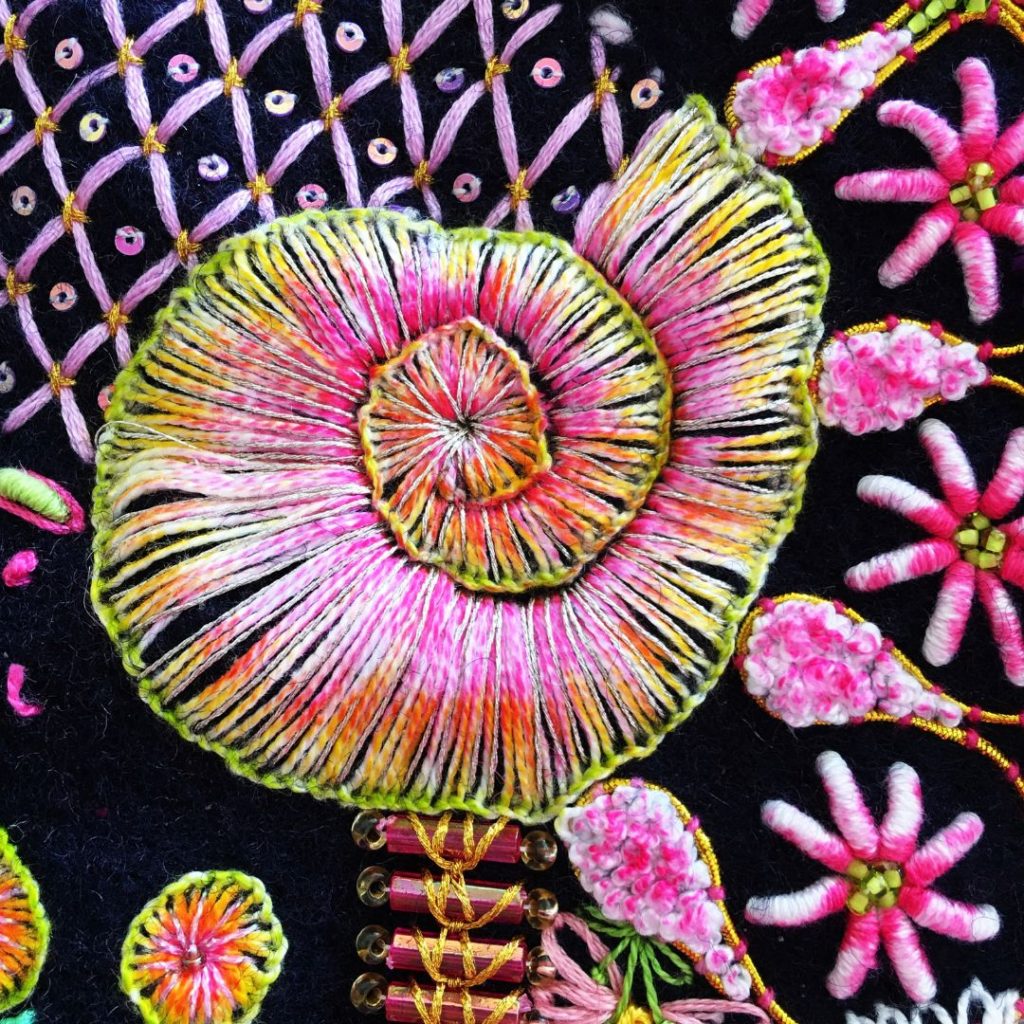 This was definitely an exploration into unchartered waters for me, and I'm loving it.  But, be careful – it's addictive.
My improv embroidery began with a clean-up, finding 8 rectangles of navy blue wool – a beautifully dark navy and pure wool to boot.  Perfect to stitch into for a person who really prefers to stitch without a hoop.
Fortunately, I also found my stash of embroidery threads and halleluja, my tin of embroidery needles – although occasional thread-shopping top-ups are definitely required, such as the variegated silks and cottons below.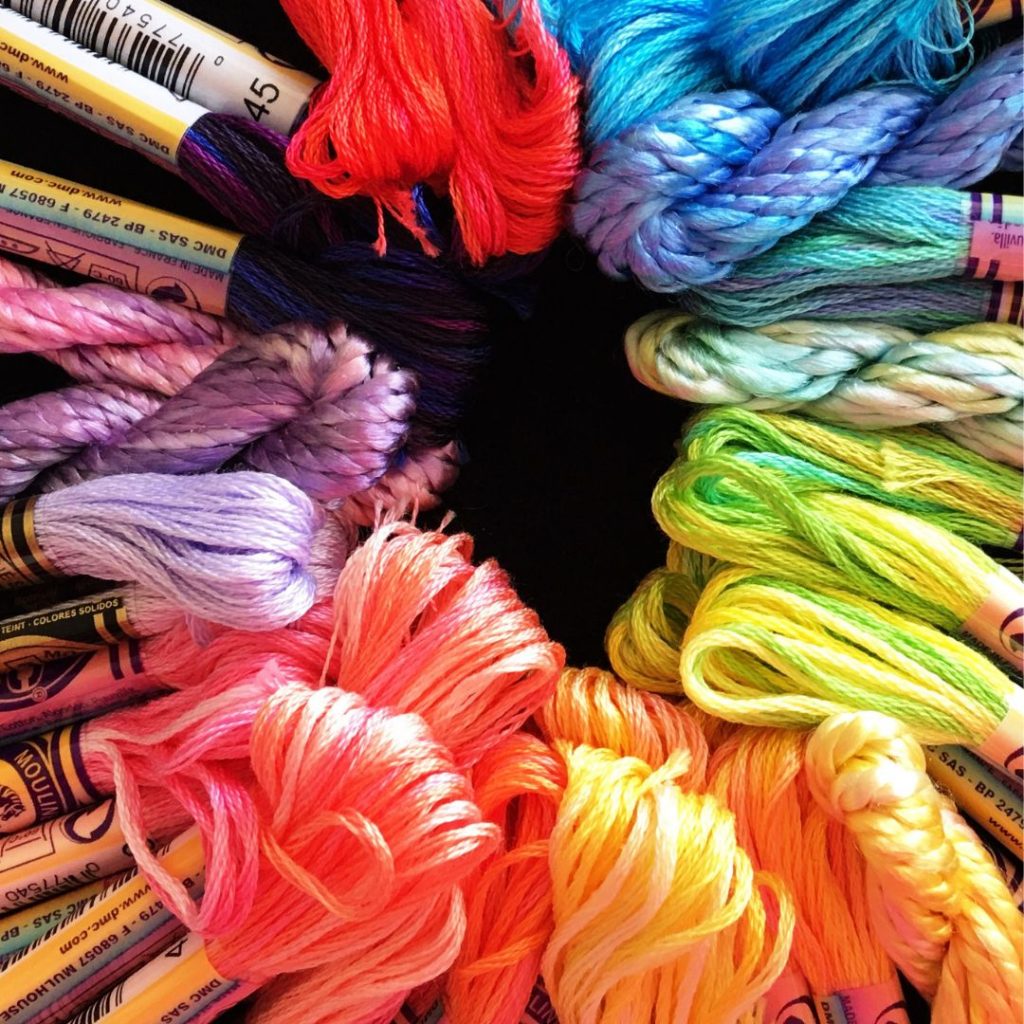 Each woollen rectangle was embroidered with the next to create a long, narrow ground for me to easily roll and take to work on at the upcoming Sydney Craft and Quilt Fair at Homebush later this month.
And what I discovered was a renewed and refreshed interest in hand embroidery, with no boundaries, no expectations, and no pressure.
It's pure me – my style, my interpretations, my colours and my mistakes.  Fixing those mistakes was yet another exercise – in problem-solving, or reverse stitching on rare occasions.
I even discovered colouring threads using markers which I'll talk about more fully next week.
Self-determined, self-directed embroidery – that's improv embroidery at its best.
Give it a go.