Do you want to re-ignite and re-engage your passion for design, stitch and creativity?
Well, inspiration may be closer than you think.  Take another look at what's around you.  Look with the eyes of a designer.  Are there beautiful lines and shapes that excite you?  What about shape, colour and texture?  Really take the time to look – then take some carefully composed images.  It may well be the beginning of a new body of design work.  I hope so.
Taking photos is one sure-fire way to inspire me, especially if it incorporates items or places I love and that have special meaning.  Even the image of tomatoes ripening on the vine in the summer sunshine insspires me.  I can feel the warmth and smell that tomatoey freshness and almost reach out to touch them – just from this image!  Plus, what an amazing colour palette.  They were tasty too!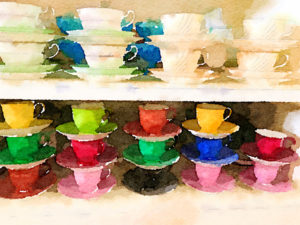 'I shut my eyes in order to see'.  Paul Gauguin.
Sometimes, we just don't see the beauty surrounding us.  This image of stacked tea and coffee cups is whimsical and appealing.  I walk past them every day.  Some were bought at auction, others were handed down – they have relevance.  I've used an app called Waterlogue to give these images a beautiful painterly quality, bursting with personality.  Just look at the colours, the shadows, the values and the light.  Now, look at the shapes, the positive and negative space and the spacing between each cup and saucer.  This is a great composition for a design or the beginning of a new design.  Do you have a collection of some sort, that could become the basis for a great image leading to great design?  My neighbours have a tea-pot collection, how cool would that look in a design!  Also, think about styling for a photoshoot.  Not every image has to be taken in-situ.  Make it yours!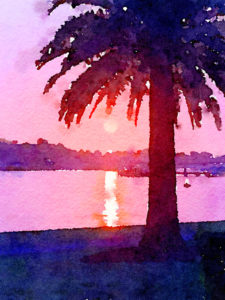 'The magic of the sun transmutes the palm trees into gold, the water seems full of diamonds and men become Kings from the East'.  Pierre Auguste Renoir, writing from Algier.
If the words above aren't inspiring enough, why not try a little drama?  Early morning walks are part of my daily routine and Mother Nature never lets me down.  This sunrise was exquisite.  Liquid gold, rising before my eyes.  It encapsulates the elegance of a largely monochromatic palette, with the drama of a contrasting golden river of reflected, molten sunshine.  Look at those stunning colours in the foreground – rich and dark.  This is a great example of mood – it's mysterious and exotic.  Strong, interesting lines divide the image, plus there's another element of contrast, beautiful contrast, in the gently suspended, circular sun.  Heavenly.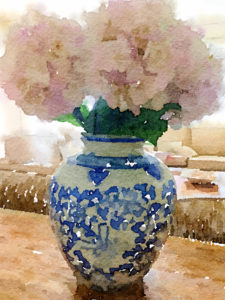 'To create one's own world takes courage'.  Georgia O'Keeffe
But sometimes I don't want drama, sometimes I want something soothing, restful and calm.  These pretty hydrangeas do just that for me.  Soft, delicate, muted colours, collared by darkly rich, green leaves.  The star, for me though, is the eye-catching, gently rounded shape of the vase.  Blue-and-white china is a firm favourite.  It's familiar, comforting and almost timeless in its simple elegance.  The flowers and vase are very much the centrepieces of the image, but the background is also interesting and very important.  Perspective promotes the vase and flowers as the focal point, but the background is pulling its weight too, inviting my eyes to wander in and take a closer look around.  What about the diagonal line made by the table the flowers are sitting on?  It draws the eye from one side of the image to the other.  Take a look around where you are right now.  Are there any shapes or lines drawing your attention?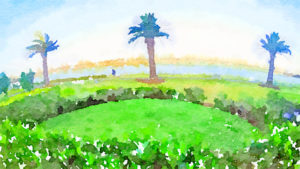 'Great art picks up from where nature ends'.  Marc Chagall
Have you thought about a panorama for design inspiration?  This very balanced image is pleasing to the eye and has linear strength.  The curvature of the horizon line, the trees and the ovoid shape of the small grassy area in the foreground ensures my eyes travel across and around the entire image.  The colours are soothing yet bright, chirpy and happy.  Green is a favourite and helps promote a sense of well being.  Have you taken any panoramic images?  Take another look.  Your next design idea might be just sitting in your camera.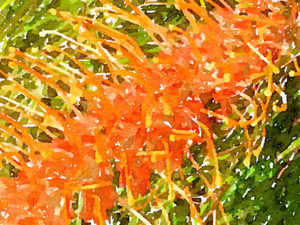 'Give me mud and I will paint the skin of Venus'.  Eugene Delacroix.
This Grevillea was spectacular.  There was a very busy bee I was trying to capture along with the Spring sunshine, the light and those magical colours.  The lines and texture in this image are tantalising and irresistible to me.  There is a great contrast between colour and value along with that all-powerful line.  Small diagonal lines in the background greens show the direction from left to right.  Then there's the Grevillea with it's myriad long, balletic lines ending in small spheres, all radiating outward from the flower itself.  Look at the actual flower, gently trailing from the top-right to the bottom-left.  There's a lot going on in this image.  It gives me so many ideas.  How about you?  What's in your garden?  Give macros a go!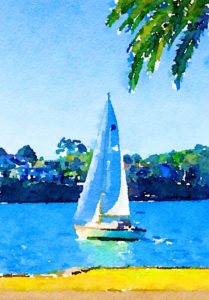 'Blue, darkly, deeply, beautiful blue'.  From the poem 'Madoc' by Robert Southey.
This image has it all.  Mood, atmosphere, shape, texture, contrast, colour, value, line, space, balance, but it's just a boat on the water in brilliant, summery sunshine.  Simplicity itself.  I have to tell a story here.  For years I avoided using blues in my work because someone once said to me I obviously didn't like blues as I didn't use them much.  What I eventually learnt, sometime later, was that I actually disliked the blues this person used – which were grey, dull and lifeless.  As soon as I learnt to 'go my own way',  and had the confidence to use the colours that resonated with me, I was on the right path and beautiful blues now feature in my work.  They are 'my' blues.  Sparkling, uplifting, heartening blues.  I'm not going to write more about this image.  I think you've got it by now.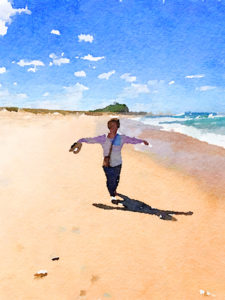 'We are what we repeatedly do.  Excellence then is not an act, but a habit'.  Aristotle.
In this post, I've looked at what's around me with the eye of a designer; the simple things.  You can do the same.  Learn to see through a camera lens and re-discover the joy to be found in designing your own work.
For me, it's tomatoes, tea-cups, sunrises, flowers, vistas, sailing boats and……the beautiful beach at Nobby's Head in Newcastle, above.
This is the first post after my website refresh, something I've been wanting to do for a while.  Take some time and have a look around.  The Resources page is new.  It's full of great information via five Checklists and three Desktop Wallpapers for you to download and use – all for free!
From me to you – find pleasure in simplicity……and if you liked this post, sign up below.  I'd love to keep you in the loop.