So what does the making of textile or fibre art take – really?
Sometimes it takes just one stitch.
I know a lot of people think they need a diversity of stitch and techniques to create magical, textural designs, but that's just not so.  And what immediately comes to mind, as a stunning example, is the use of the simple, easy-to-perform running stitch in the work of Indian Kantha embroidery, below. Photo from NewsInAsia.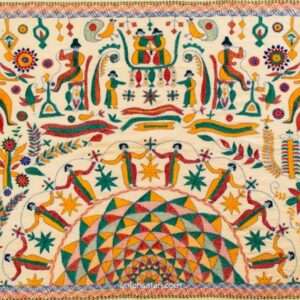 Said to have originated as a mending technique where Bengali women used a thread taken from their colourful saris to create stunning embroideries, they worked these stitches on dhotis or saris which had probably been washed and washed until they were as soft as a cloud, giving the work a gently pliable, wave-like texture when stitched.
This centuries-old technique dates back to 1500 BC as a means of making a new textile from old.  So scraps from those old, soft dhotis and saris were stitched together in layers to create a new patchwork quilt or coverlet.
The Sasha Association states: 'Kantha comprises the simplest stitch in the language of embroidery – the running stitch.  It's the way this stitch is used, in different arrangements, that forms the complex vocabulary of Kantha.
And that's exactly what I do in my own work using a simple straight stitch, feed dogs down on my machine. I know I can utilise shape, colour, line, pattern and direction to give life to the design because of the way the light falls onto the thread.  I can even create dimension through the density created by that repetitive stitch.  Now that's the fascinating part for me.  And it's just one stitch, repeated over and over again, just like those fabulous Kantha embroideries.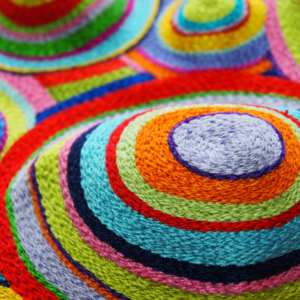 So if 2021 is your year to either begin making textile or fibre art or if you want to take your work further, it's not always about throwing more and more complexity and technique into the design.
Sometimes, it's about taking it away and learning to innovate within that simplicity.