Time away can be great for renewing tired and overworked creativity.
Discovering cultural and historical textile practices on the island of Rarotonga in the Cook Islands has led me down a path I never thought I'd venture, into that of Tivaevae.  Watch this short video, hosted by the editor and publisher of NZ Quilting magazine, Ann Scott, titled Tivaevae Quilting Treasures from the Cook Islands.
The Punanga Nui Saturday markets in Avarua offered our first experience.  It was a vibrant sea of colour in a buzzing open-air market with handcrafts, food, tropical fruit vendors, and live folk music, abounding with friendly, sleepy-eyed dogs, chirping hens and chickens, as well as cocky, highly vocal roosters.
Nearly every stall was awash with the pulsating colours and patterns of the South Pacific, but what I had my eye on was Tivaevae or Tivaivai in the Cook Islands, Tifaifai in French Polynesia – a form of artistic quilt making traditionally worked by Polynesian women. The word literally means "patches", in reference to the pieces of material sewn together.
We didn't get to see any pieced Tivaevae quilts, but on offer at the Punanga Nui markets, was a meeting place for women or 'mamas' to sit and stitch together on a cool, covered verandah, while a hen and her small chicks happily foraged in the garden below.
Inside was a large selection of stitch-your-own bedcovers, wall hangings, and cushion covers in a variety of stunning tropical colours and designs – and of course, I purchased one.  I now wish I'd bought more.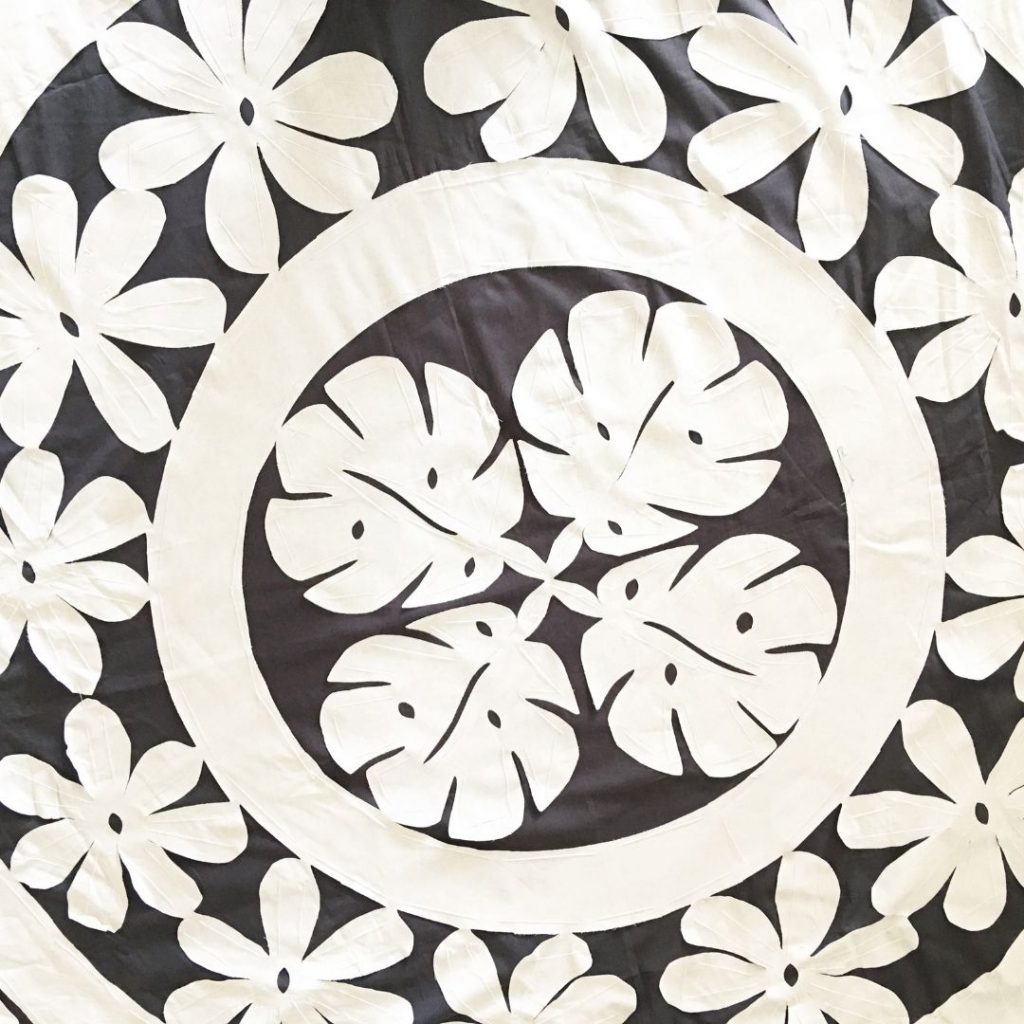 However, these were all applique quilts – and in the Cook Islands, they may also incorporate embroidery as well.
These are not three-layer quilts – only two.   Sensible in a climate where the temperature rarely drops below 18 degrees.  I didn't see any quilting, but I did see embroidery.
Presented for sale with the design already tacked onto the base layer fabric, the two layers having been stitched together and then turned to the right side – the idea being that you simply applique the design, with the stitches showing on the back, and voila the bedcover, or wall hanging is finished.
And they were stunning.
Two women run this small enterprise, allowing Rarotongan women to earn a small income not only from their stitching but their design work too.
In the Cook Islands designs may be handed down from generation to generation – they own that design, and many of the designs are cut out freehand or make use of folded paper to generate an explosion of quadriaxial patterning – based on the diagonals.  Or they are simply organic and free-flowing.
This form of quadriaxial pattern generation is often seen in Hawaiian quilts where the diagonal patterns create four distinct repeat-pattern regions.
The design on my quilt incorporates a central medallion holding four tropical-style leaves using the quadriaxial design idea, surrounded by a large ring that's then surrounded by numerous seven-petalled flowers.  Encircling these are larger leaves – similar to those used in the central circle, that then float to the outer edges, allowing the two layers to be fully stitched together so there's no binding.
That play on circles within a square is very appealing, but there are really only three different regions in this large bedcover, so the scale of the elements and the design are amazing.
It's a very simple, yet clever way to design and reminds me more of mola work, where the pattern is created by revealing the fabric beneath the top layer fabric – even though this is traditional style applique, not reverse applique.  The design is really generated by the negative space.
What's mind-blowing to me, is that nearly every piece of this design is connected – it touches another part or parts of the design somewhere, reminiscent of those snowflake-type patterns we used to cut out of folded paper as children.
My quilt was designed and made by Ina Bishop and I was assured that her design was cut freehand.
All I can say is well done Ina – this is a statement piece and I'm in awe of your work.
Measuring approximately 2m x 2m, this one has been created using a dark grey background and a white cut-out top, which will keep me busy for some time to come.  It's a stunner.
So I'm sure you all know what I'm going to do now – go out into my garden and draw inspiration from the shapes I see to try and begin to understand that balance between simplicity and complexity that the Cook Island women achieve in their amazing design work – and then get it to connect together somehow.  I always had trouble with those snowflakes.
I've begun researching the history of Tivaevae quilts for an upcoming episode on my Stitch Safari Podcast, so do keep an eye out for that.
But until my next blog post, Kia Orana – a beautiful greeting used in the Cook Islands to say hello – literally translated means 'may you live a long and fulfilling life'.
What do you do while on holiday?  Stitch and take photos of your work on the beach, of course, representing all that delicious, tropical azure water.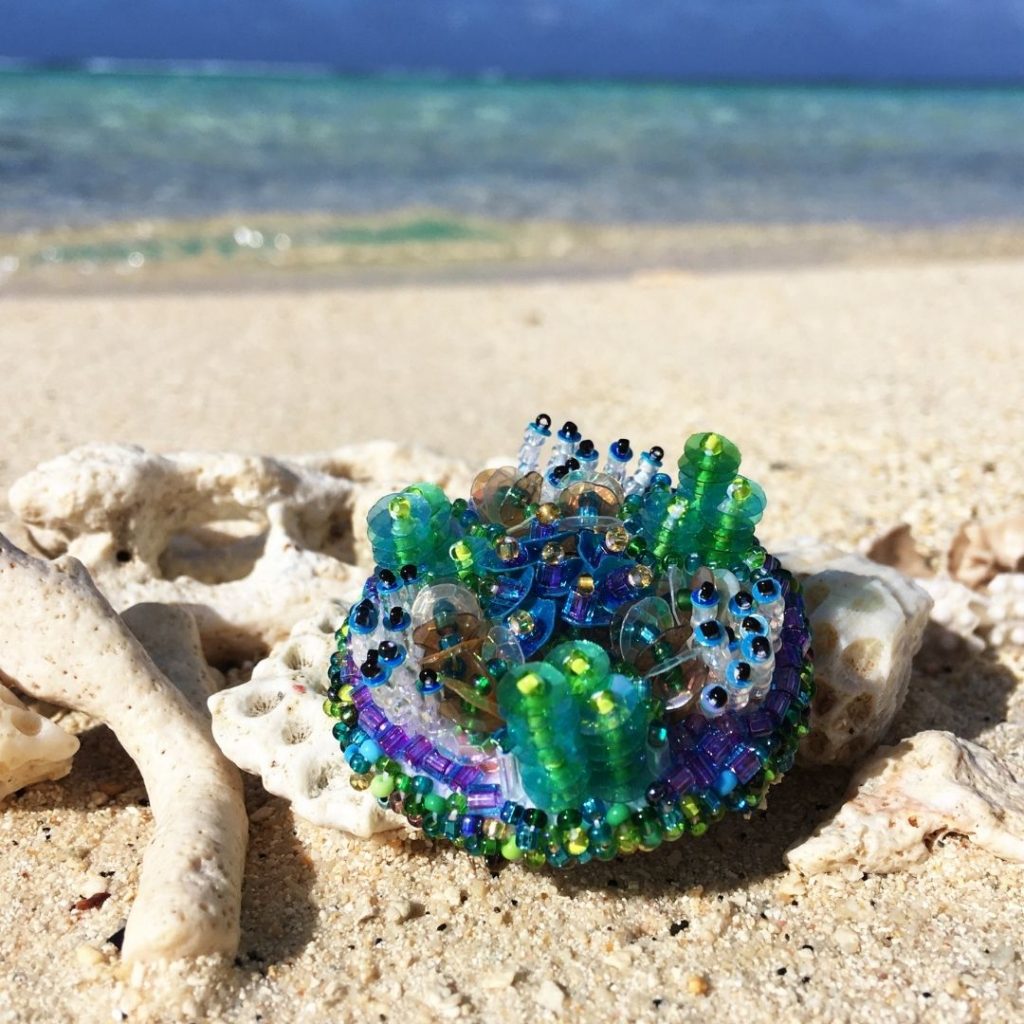 And if you want to travel to a tropical location, check out Rarotonga.  We loved it.