I am all for anything that motivates me to design.  The idea of using a Vision Board to inspire new work was exciting.
Vision Boards are the visual embryo of a concept, capturing the information and motivation I need to move forward to design or to move a design forward!
This is what I used to make my Vision Board:
a sheet of foam core 50cm wide x 76.5cm high (mine had a sticky backing which could be used to attach to a wall or larger board).  I didn't as I like being able to move the board to different work areas.  It's very lightweight.
some sort of system to attach images, magazine clippings, text, colour swatches, samples, etc.  I glued mine after I was happy with their placement, but you could use pins or washi tape and make it look really amazing.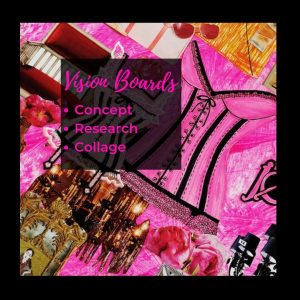 Now I begin the story I want to tell.  
1.  Concept
My concept is Fashion Illustration with French Flair.  I know very little about Fashion Illustration, but I just love it!  The more whimsical and abstracted, the better.
The first thing I did was paint my board fluoro pink using a large brush working in different directions to give it texture.
I wrote lists of words capturing the essence of what I wanted to achieve.  This provided the clarity to explore and incorporate numerous ideas.  Here's what I ended up with:  Fashion inspired: chic, sassy, atypical and quirky.  Colours: pink, black, gold, white and silver.  Combine French flair and text.  I printed this out in my favourite text and attached it to the top of my Board.
The colours I want to use are tre élegant!  Check out my Pinterest Boards Colour-Black and White and Colour-Precious Pink, if these colourways interest you.
2.  Research
I began with Pinterest.  I have three great Pinterest Boards on Illustration. Fashion Illustration, Sonia Delaunay, and Illustration-Whimsical.  Sonia Delaunay's work is well worth checking out.
I visited YouTube and Google.  It takes time to find good information, but it's there.
I went through my personal Library for books on my concept.
I bought a couple of fashion magazines and went through my stash of old magazines.
I investigated graphic design, unusual design ideas (for me) such as Steampunk.
3.  Collage
I collected magazine clippings, paper, threads, beads, French words – whatever I could find to reinforce my colour palette and concept.
I began to draw.  Drawing figures is not easy- but I will simplify.  I trace, draw and rub-out a lot!
I collaged my collected snippets onto my Board and played around with placement.  Want some inspiration on Collage?  Check out my Pinterest board Collage.
Anything I liked, I included.  I can edit at any time.  It's good to go down some new pathways.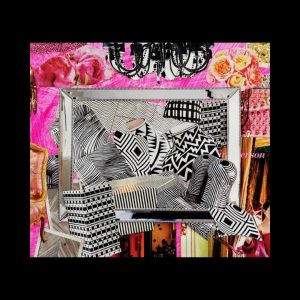 I'll keep you posted with my progress.  So far my mind's abuzz.  How I'm going to interpret these ideas is yet to become clear, but I love my Vision Board.  It's a different way of working for me.  Plus it can sit pretty much anywhere as it's so lightweight.
From me to you, I'll use anything that inspires and motivates me to create new designs, that stretches me to think in different directions and forces me to learn.  Are you the same?