I adore great photography.  Like great art, it draws you in, so I believe in taking the time to stage photoshoots of my work – wherever possible.
Because I've taken the time to make a beautiful piece of embroidered art, why wouldn't I want to do it justice in a fabulously interesting image that supports and promotes that beauty?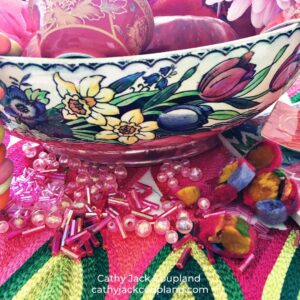 And I'll tell you why I bother, why I'm happy to expend that time and energy doing this.  Our world is pretty much defined, even dominated by the internet and social media.  So when I use images of my work on my own social media, I want them to reflect a little bit of me, the person behind the work.  And I want those images to be interesting and fun, demonstrating that person.  That's why I like to do photoshoots on the smaller pieces of work I create.
And these images may include treasured or quirky items revealing a little bit of me – and that's what I want people to see.  I'm usually a fairly private person, but not with my work.
I adore hunting out forgotten treasures, odd little bits and pieces or even the common or every day.  As long as it helps build a story around that embroidery, I'll do it.  Here are three of my latest photoshoots.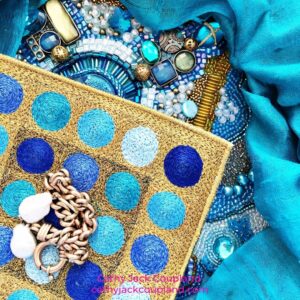 And it can be such fun as again I'm creating, but in a different way – and simply by doing that, I'm also releasing the tensions of the everyday and the disappointing predicament we find ourselves in regarding Covid.
Plus doing this one simple thing can help define your work, your style and your brand – and in today's marketing-savvy world, that's huge.
OK, so let's do a photo shoot.  Here are my simple tips and tricks:
block out a morning or afternoon – you need dedicated time to do this and to get those images just right
collect items from your home that you think will complement your work.  I usually begin with colour as a starting point
look for a contrast in size and texture – go for the odd or quirky – it may just work
loof for just one stand out piece
start to build the elements around your work
include things like old china, jewellery, sewing tools, threads, fabrics, old books, candles, old perfume bottles, fruit, beads, flowers – think outside the square – it may just create an amazing shot
what about including the hand of the maker?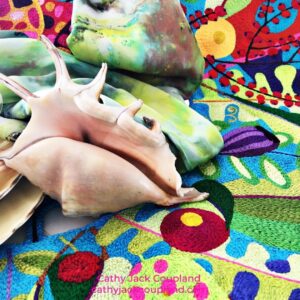 relax and take some time arranging your chosen elements around your embroidery
take images with a phone or camera
take them from different angles and perspectives – high and low, straight and angled
take a lot – you can discard the weaker ones later
change the elements for a different look
take your time and make sure they're in focus
make sure you work in a well-lit area
remember to check edges to ensure you haven't also included something you don't want to be seen – like a foot or a finger over the lens
I like to look at all the images on my computer, then begin discarding the weaker ones
I go to my photo editor app Pic Tap Go and apply filters – this might be to get rid of shadows, intensify colour or amplify contrast
now it's off to Canva, a graphic design platform, to make them uniform
Et voilà – and there you go.
Make your images resonate with your personality, and make them as beautiful as your work.  I reckon it's worth the effort.