There are numerous ways to exhibit your work.  I've tried a few.
But what about the wonderful opportunities Quilt Shows, Group Shows or Guild Exhibitions offer?  And there are quite a few!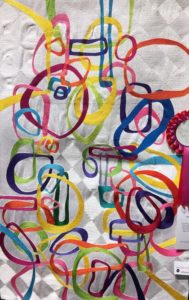 QuiltNSW's Sydney Quilt Show 2019 was held recently at the ICC Sydney, Exhibition Centre, Darling Harbour.  Here's my entry above.  Sitting at the end of the day, watching people file out of the venue saw me thinking about the numerous benefits afforded by these type of events, many of which are often overlooked.
Everyone looked tired but happy and excited, as I was, whether by their purchases or what they had seen.  I couldn't help overhearing comments on quilts and techniques, with bags being opened, spilling out a bounty of fabrics, threads, and tools.  Below are my take-home treasures.  Who can resist beautifully coloured fabrics and threads, and teeny-tiny lime green wooden pegs?  What on earth I'll use them for, I don't know.  I just knew they had to reside with me.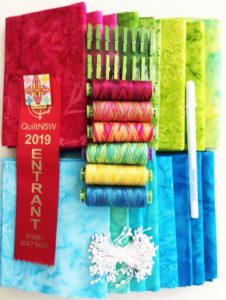 It's that sense of excitement that's precious.
There seemed to be a range of ages exiting the show, with a number of young people. Are they interested in and involved with working with their hands because of a surge in recycling and repairing or is it a way of slowing down a fast-paced, digital world using something calming and repetitive, I don't know, but it's good to see.  It shows they care and that there's a future for this work and the events to showcase them.
These shows and exhibitions offer so much and here are my views on why:
Large Quilt Shows, Group Shows or Guild Exhibitions often offer the opportunity for people to become a member of the organisation to join groups of like-minded people with similar aims and interests.  It promotes camaraderie, networking and a sense of belonging.
It promotes the aims of the organisation, which is usually to show the work of all who enter, giving confidence to those who have never exhibited before or who are unsure of their work.  It may be the start of a new career.  It happens!
Sometimes large Quilt Shows, Group Shows or Guild Exhibitions offer a juried, judged or juried and judged exhibition.  It may be open to members and non-members giving entrants a chance to perfect techniques, and design skills, or perfect working to a theme.
Being open to non-members encourages outside interest and perhaps even involvement in the organisation.  It also shows the organisation as being valuable to anyone interested in exhibiting their work.
There may be feedback from Judges, offering a further chance to better skills.
By exhibiting all work entered, it may inspire the taking up of quilting or embroidery, as it shows a range of work from amateur to professional.  It encourages the newcomer as well as those with considerable experience.
Showing the work of textile artists and providing the opportunity for floor talks by these artists, offers another layer to the educative process to aid and support what is taught in schools and colleges.  It can also be a great resource network for these teachers to utilise.
Exhibiting a variety of work usually means a diversity of materials techniques and how to use them.  Great inspiration for everyone.
By exhibiting a variety of work, it shows the many ways colour can be used.  That's usually the first thing I notice!
Often there are free artist talks and demonstrations by knowledgeable makers – people who actually do the work.
Many shows or exhibitions are accompanied by a shop or a number of stands offering myriad products.   This supports small business owners and workers.
Larger shows and exhibitions often organise sponsors for prizes.  This is a great way for businesses within a niche industry to market themselves (and be marketed by the organisation).
Raffles may be organised to help support the aims of the organisation or go towards a local charity or community service.
Sometimes there are small 'Challenges' offered.  Making something small encourages people to try.
If it's a large show or exhibition, there may be prizes allocated to categories.  There's nothing like winning a prize or rosette to spur further achievement.
Many of the organisations are not-for-profit.  This is an opportunity to market their organisation as being professional and worthy of your involvement.
By supporting these exhibitions and shows, we're supporting an orgnaisation offering a community service.
If you've ever tried to plan an exhibition on your own, you'll know there's a huge amount of work involved.  This is all done for you.  All you have to do is follow the entry guidelines.
Even better, there's always the opportunity to volunteer, make friends and help behind the scenes.  It can be extremely rewarding.
You could up-skill or better still, share a skill.
If it's a large show or exhibition of note, it provides an opportunity for local councils and tourist boards to promote their city or state nationally or internationally.  This worth should never be underestimated.  It has value.
Now I'm not saying it's a perfect world exhibiting at Quilt Shows, Group Shows or Guild Exhibitions. 
But I've stopped to think for a moment.  What it would be like without them?  What would happen?  I think it would be a devastating loss, which is why I support them.
What impressed me at the recent Award Ceremony by QuiltNSW at the Sydney Quilt Show 2019, was the level of professionalism and the way quilting and quilters are reaching out to others within the community.  That's really important.
I can't even think about how many volunteer hours it took to get that show up-and-running effectively over five days.  It's mind-boggling really.  But it's done year after year after year – and it gets better every year, in my opinion.
From me to you. I attended QuiltNSW's Sydney Quilt Show 2019, proudly wearing my entrant ribbon, attached with my volunteer badge.  I usually don't bother, but I've re-thought things.  I need to support something I believe in and enjoy.  Do you agree?