Do you sample?
It's not something I do often, I must admit, but when it comes to having to design and make something different, something requiring careful thought either in construction or technique, then I sample, sample, sample.
And it's worth it.  One small glitch in design, one small oversight in construction or one small omission in technique and I could be looking at a dismal failure instead of a successful new work.
So I'm sharing my experiences in designing a piece that's testing me in many ways.
It's a small work with a size requirement of 10x10x10cm – that's a given, so I begin drawing and thinking – and sampling.
And as so often happens with this filtering process, ideas come and go.  My initial concept of a small box was put aside for what I think will be just as beautiful, more relevant to the exhibition and a lot easier to construct – especially for that size requirement.
Where do I start?  Pencil and paper is my go-to design tool – and the beauty is, you can easily stitch into it.
I drew a series of small coloured circles onto paper, surrounding them with a gold background
I'm confident I can translate this into machine stitch – OK, good so far
next came some spiky hand stitching to create dimension and texture – all good until I turned it over
travelling the threads from one circle to another, while time-saving, created an unsightly parade of thread lines across the back of the work – something I want to avoid because they will be seen
so I start thinking about how I could disguise them somehow
my first thought is to use the same thread in the bobbin as I embroider the spikes, embroidering each circle separately and not travelling those threads
I could then hide the beginning and end of that stitching within that bobbin work almost unseen – I think
with this as a starting point, I begin to think about form, so I'm trying to optimize a 10x10x10cm cube of space

my thought at this stage is for a very clean, simple, contemporary form consisting of three nesting shapes – if I can fit them within the size requirement

I trialled two triangular forms, both of which work well and nested together well, but then I decided to try a curved form – which would actually represent me better as my first exhibition contained a lot of work in circles – and this exhibition is an invitation to return to exhibit, along with a number of other artists who've also exhibited at the same gallery
using this curved shape would also showcase the spiky hand embroidery beautifully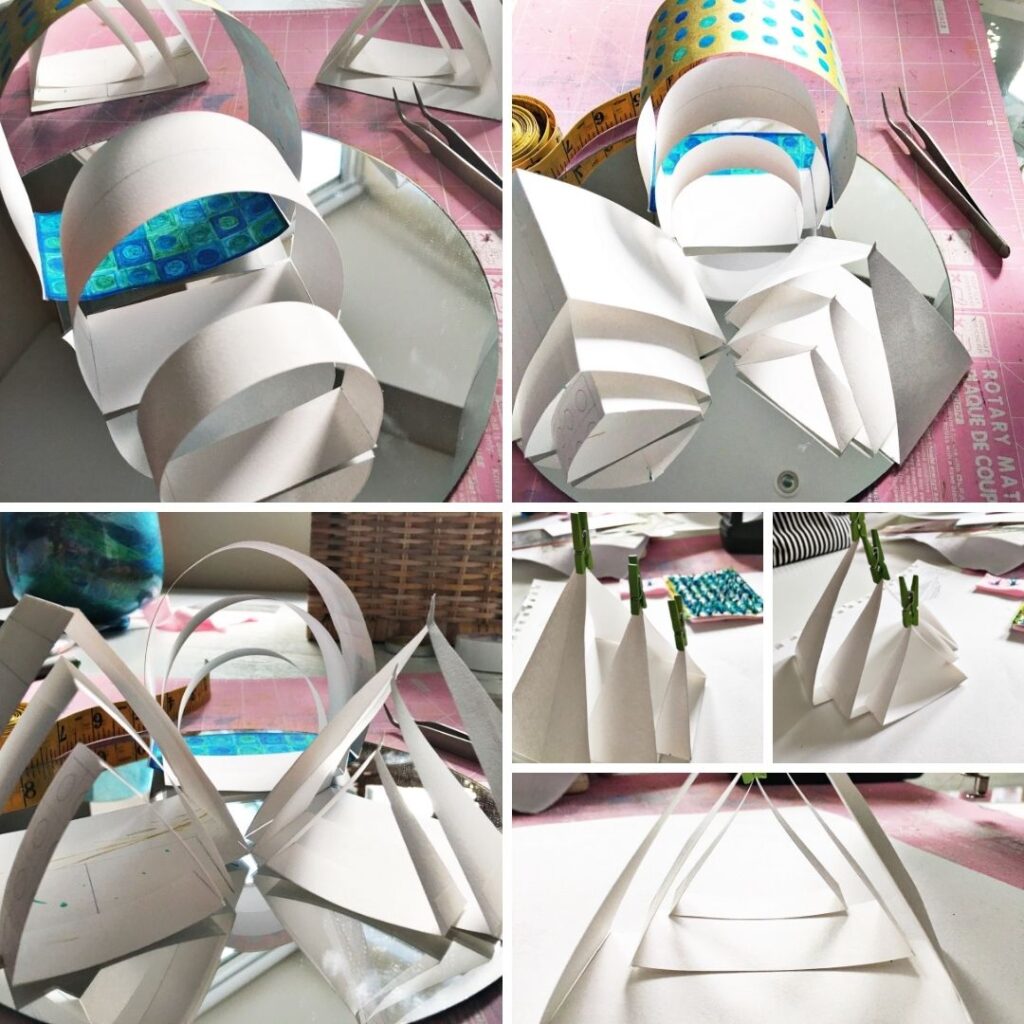 So, the benefits of sampling mean that already I've already rejected a concept and polished a technique.  I've made paper mock-ups to get an idea of form and sizes enabling successful nesting within the specified size requirement.  Yes, it takes more time, but the advantages far outweigh the time consideration for me.
And that's exactly what sampling and drawing do, teasing, tantalizing and beguiling those possibilities.  I just want to ease the pathway for a successful outcome as much as I can.
At this stage, I feel quietly confident beginning this small work.  The concept reaches into the past, contemporising my work in circles, something I find very appealing, plus making paper forms visualises my nesting idea.  The work has more visual weight, more interesting lines and utilises that 10x10x10 space well.
So, for me, sampling gets a huge tick.
My job now is to actually do it!