It's no secret I love books.
So when I come across a publication that absorbed my interest the way this one has, I just have to share.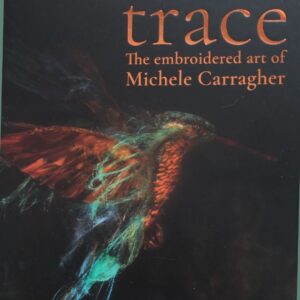 Trace, The Embroidered Art of Michele Carragher, published by Search Press in 2021, is possibly one of the most engrossing embroidery reads I've come across recently.  It's featured in my morning routine over the last weeks, for pure enjoyment over a cup of tea and an absorbing story – slowly appreciating and savouring every page and every image.
Michele Carragher is a costume designer in the film and TV industry, where her work can be seen on many award-winning productions such as Game of Thrones and The Crown.
It's the insights Michele so generously gives of her vision for her work, her working process, and even some of the failures along the way – pieces that were stitched but didn't quite fit with her concept.
And the photography – amazing images of beautifully wrought embroidery, engaging numerous techniques to fulfill her storyline and concept.
Now that's also something worth mentioning too.  Michele's use of visual imagery to gather, accumulate and assemble together a storyline begging further scrutiny, but also visually informing her work, is a lesson on how it should be done.
Each chapter begins with 'Artefact Insight' – her vision for and story about the work – highlighting certain facts that might be passed over without reading, but which give added meaning, depth, and understanding to the embroidery.
And it's not just about the piece itself, but all the players – as it should be – the background, the foreground, the ground, and even the air – Michele's vision is dimensional.  It's superb.
Then there are Michele's working insights.  Brilliant, insightful supplemental tidbits of information on her working process.
There's a lot to be learned from this book – about storytelling, presentation, right down to the use and blending of techniques.  As a result, I've bought two Jane Nicholas books and researched a stitch called the Sorbello stitch – one I've not tried but will be using soon.
Frankly, this book is an utter delight from cover to cover and I would highly recommend it to anyone interested in concept embroidery.
What a wonderful beginning to 2022 – full of inspiration and sharing through a simple book.
Check out Michele's website here.