Over the last ten to fifteen years, there's been a plethora of 'how to' books revolving around the area of what I disparagingly call, Slash and Burn embroidery.
And honestly, very few have appealed to me – at all – until now.
Waiting for family to arrive on Christmas Day found me on my computer.  I came across a YouTube video about Marian Jasmik, uploaded by Arnolds Attic – part of a 'Meet the Artist' series.
Within moments I was purchasing her book, 'Textures From Nature In Textile Art,' on Kindle.
What I particularly liked is that the work shown in the video revolved solely around process development – in other words, Marian kept asking herself, 'what if?' as she worked – no sketchbook, no drawing – and this was replicated in her book.
Working this way, to find answers to those innumerable 'what if' moments formed a series of samples that she successfully exhibited.
But for me, it's the elegance of the entire body of work.  Cohesive in colour and presentation, using some unbelievable elements to create both texture and dimension – including a clothing pricing gun producing a wonderfully spiky element!
Marian's book is both practical and inspirational – grounded by the common element of nature's textures, beginning with photography to hone in on unusual details then translating those images into dimensional works using an eclectic mix of man-made and repurposed materials.
And really, it's all about transforming with heat – a soldering iron, a heat gun, or a simple candle flame to distill and extract the wonders of nature into a unique piece of textile art, supported by hand and machine embroidery, dyeing, printing, and painting.
I was so inspired, that two days after Christmas I created some delightful coral shapes using hand-made paper, wash-away, and hand embroidery to form beads of varying heights and widths to include in a new artwork.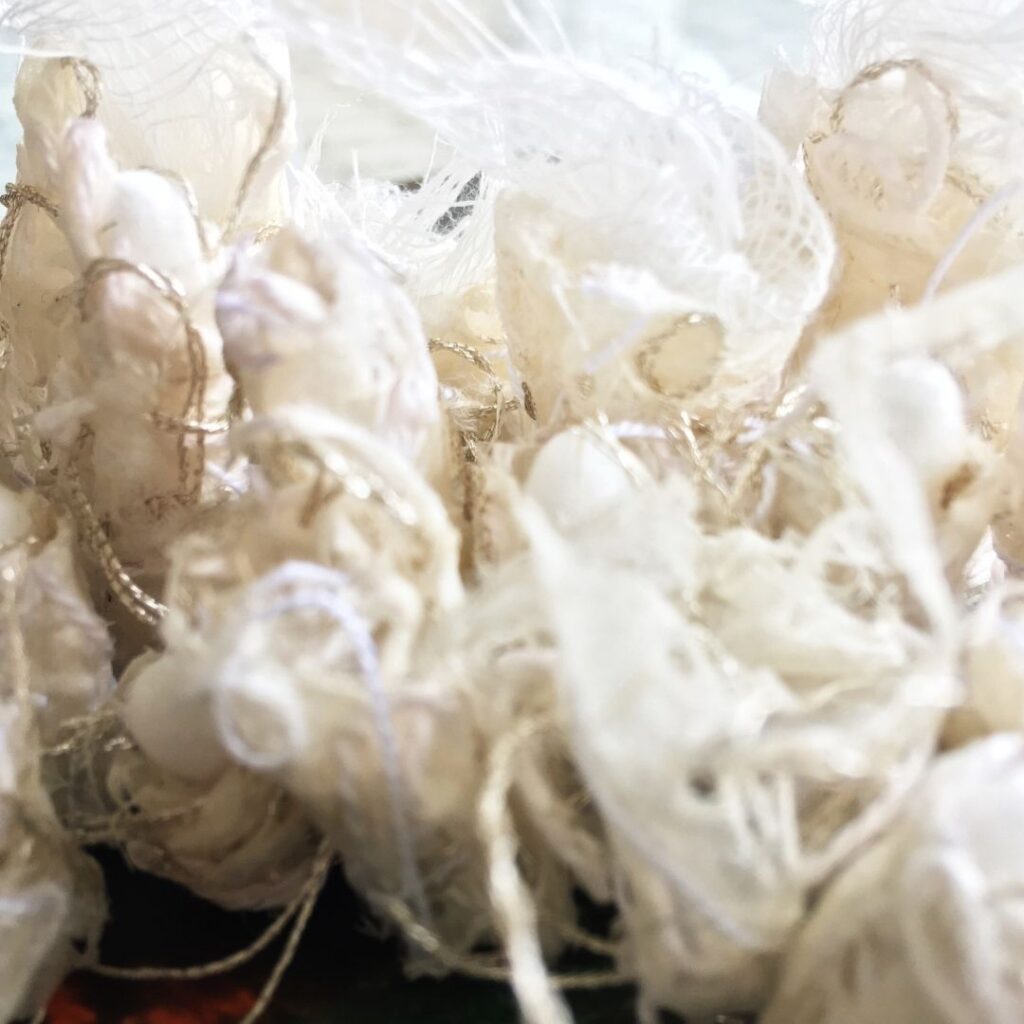 I'm a convert.  I know there's a heat gun and soldering iron somewhere in my stash, but for now, I'm forming a collection of the oddest items imaginable, ready to slash and burn.
Honestly, nothing's out of bounds now in terms of creative, innovative embroidery.
Check out Marian's website here.