This Textile Art Series focusses on Textile and Fibre Artists from around the world, who use stitch in their artistic practice.  I'll delve into their processes, inspiration, and materials to understand what makes each of us unique in our endeavor to create.  It will be an interesting journey.  You're more than welcome to join me.
Ailish Henderson, Fine Artist, Embroiderer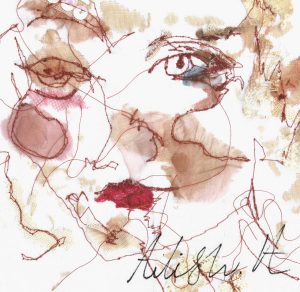 Above:  Sunday morning flowers (Lady-chief designs), 2018, Hand embroidered collage on a vintage hankie, digitally printed onto Silk Satin.
The work of Ailish Henderson immediately piqued my interest. Her artistic use of technique, materials, and inspiration leading to meaningful storytelling incorporates her fine art training with textiles and stitch.  As Ailish didn't begin stitching until she was 16, I'm even more impressed with her empathetic use of stitch in her work.
Inspiration
There is a recurring theme to Ailish's current work which is 'repair', expressed in an emotional context.  She questions how to mend the maker, focussing on the unseen or unobserved, considering the inward healing making and creating offers.  This topical subject is often overlooked in our fast-paced, digital world.  Inspiration is usually personal, evoking family, life experiences and even loss.  Ailish has used her own prose (The Torn Umbrella) to inspire work and has an ongoing sense of curiosity, so necessary in producing work with layered meaning.  The following YouTube videos are well worth watching.  The Torn Umbrella: Ailish Henderson and The Art of Falling Apart and Maker:Mended Ailish Henderson interview at her exhibition at The Knitting and Stitching Show 2019.
Process
Myriad processes makeup Ailish's practice, including sketching, painting, journaling, collage, hand, and machine embroidery, embellishing, and screenprinting.  Inspiration is used to create a simple, drawn vignette, which is then re-interpreted in textiles.   This may be drawn directly onto the fabric then painted and collaged using pieces from her stash.  Ailish uses free machine embroidery in her work along with hand embroidery, both of which offer amazing texture.  Loose, free lines, washes of colour, small swatches of fabric and embellishments, textural stitch and dangling threads merge to create work of ethereal beauty.  Her main focus now is printed textiles using her original designs digitally printed onto cloth.
Materials
Ailish incorporates recycled, vintage fabrics and embellishments into her work.  To Ailish these have meaning and history, many of them stained with life.  She uses numerous drawing based mediums directly onto fabrics.  Substrates range from paper to linen to recycled fabrics.
Ailish's work demonstrates her technical skill and ability to merge textiles and embroidery with her fine art training.  That's not always easy to accomplish but can be clearly seen in her journals showing ideas, inspiration, and process.  Ailish's designs transition beautifully onto digitally printed fabrics which then offer numerous further uses.
Thank you Ailish for allowing me to write about your inspiring work.