When it comes to creating a design, full to the brim with meaningful content, it really is as simple as an equation.
D = I + M (Design = Inspiration + Momentum)
We're all inspired by something – that's step one, but I think it's that next transitional step of actually applying inspiration to create a design for textile or fibre art, that seems to obstruct the wheels of progress.  What to do?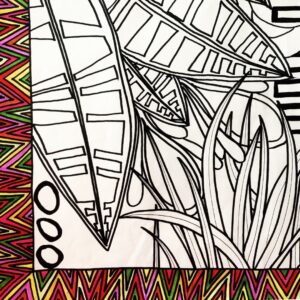 Grease those wheels – and this is where momentum comes in to play.  The other day I was doodling and found myself filling page after page after page – really enjoying myself and the process. And it's that momentum pushing me forward to make the effort, to begin and to carry me further through the design process.  Momentum – that's my favourite design tool of all time, and it's a secret!
I was in the groove and I was loving it – and that's exactly what momentum does.  I have the opportunity to enter an exhibition early next year – I like to support Australian textile-art exhibition initiatives – and this is a good one.
And those well-lubricated wheels make it easy. I had everything to hand.  The rough sketches, the size, and the loose story-line.  Now, how to apply all this into a cohesive whole?  It's always about going back to basics.  Drawing, collage, templates, the elements and principles of design and time.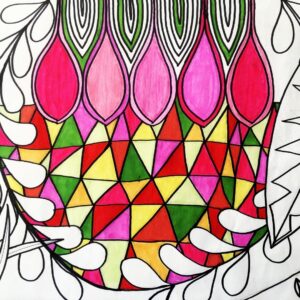 This is the time to really let your hair down and try anything and everything.  I traced around collaged shapes.  I abstracted and simplified sketches of a recent image taken in my garden  I created movement, using it as a focal point and to get a sense of scale and balance, I laid the design on the floor so I could see it as a whole – just to get it all into perspective.
Now there's a shape I've re-used from work I did in my sketchbook earlier this year, based on tightly furled, unopened frangipani flowers.  Previous design work like this is pure gold – it's so precious and can be used again and again.  This time, all I've done is to increase the scale and add some linear pattern in between.  The green design at the bottom was the original sketchbook work – the image in the centre shows how I've re-used that same element.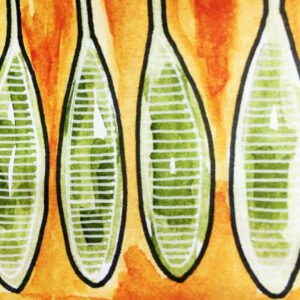 Having a goal or purpose is a great motivator.  Even if I miss the deadline of early January 2021, I'll still have new work, plus ideas for more to come.  And it's come about because of the coalescence of a number of things.  The drawing and mark-making were one, but also the research I'm doing for my podcasts.
And the starting point for this work was the Bayeux Tapestry and I know I've mentioned this before, but the more I learn, the more I want to know.  The history, the battle, the politics – then we get to the actual embroidery and the scholarship on this is awe-inspiring, so it has real meaning for me.
And by creating a modern context, using points of similarity such as a decorative border, a simple storyline, including text and replicating the long, narrow format, I feel a real connection with the work.
Anyone who can say they have a connection with the work they've just designed is surely onto a winner.
I can't wait to begin.