It's a busy time in our household, as with many others, while the world continues to regulate itself after the Covid 19 pandemic.
With the second iteration of a family wedding looming large, soon to be played out in one of the world's most beautiful, unspoiled tropical locations, I asked myself how could I help make this event truly special.
And being a textile artist, the answer had to involve a needle and thread.
The location's surrounded by a lagoon and reef featuring turquoise blue-green waters, numerous species of fish and turtles, along with amazing coral outcrops, so there were numerous avenues for inspiration – and as I just happen to have been studying and researching corals for my own work, it made sense to make a small coral wedding token for each female guest, representing the occasion but also the stunning, unspoiled location where it's taking place.
So with that aim in mind and plenty of imagination, work began making fourteen small beaded coral-like wedding tokens.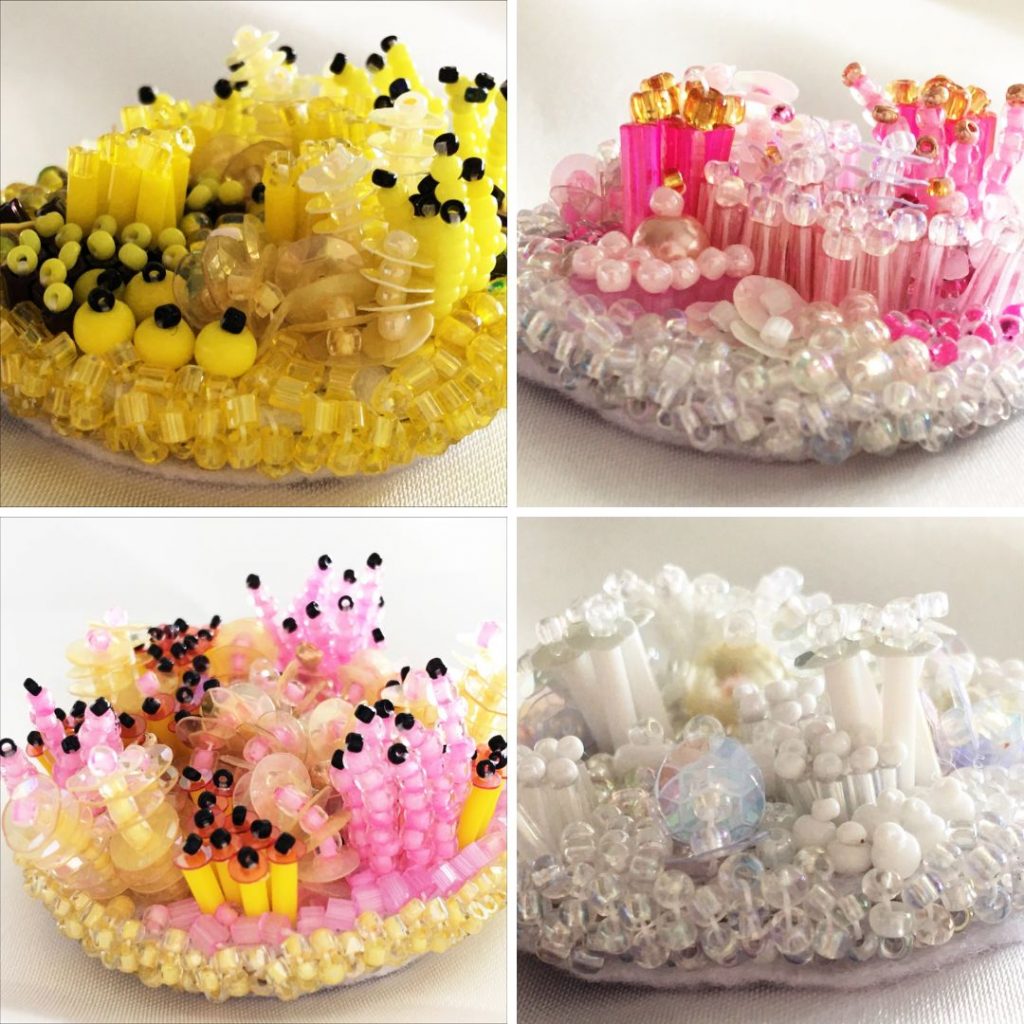 By the third little coral, I had a stitch recipe or formula down pat.
Can you see a pattern?  In most, but not all tokens, I started with groupings of three – three beaded corals and three sequin corals, sometimes with a feature in the centre, then it was just a matter of creating a repeated pattern between and around those points.
Recently I was gifted a huge collection of stunning beads and sequins that took me four days to sort through and organise – but having done that, and amalgamated them with my own collection, choosing colours and shapes became super easy, offering plenty of variety.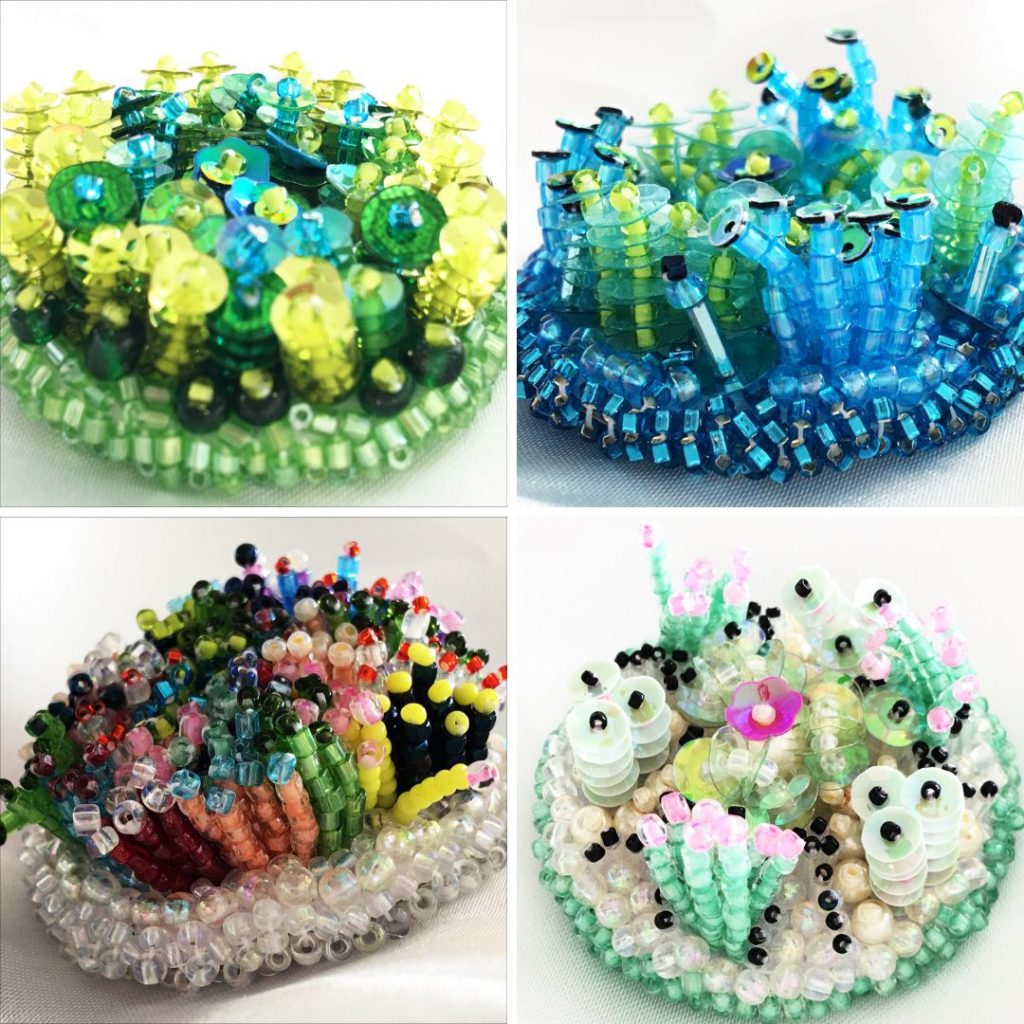 Beading is very like hand embroidery – there's that almost instant hit of gratification along with a wonderful sense of indulgence and opulence from using fairly simple materials.  There's just something about that sequinny-sparkle or beaded texture that's appealed to humans for centuries.
And what gives an added sense of excitement and visual appeal, is the use of contrast – simple, easy-to-achieve contrast.
So by varying the size, shape, spacing, texture, number, and colour, what begins as ho-hum and hum-drum, ends with something quite spectacular and unique – a small wedding token people will hopefully cherish and re-purpose.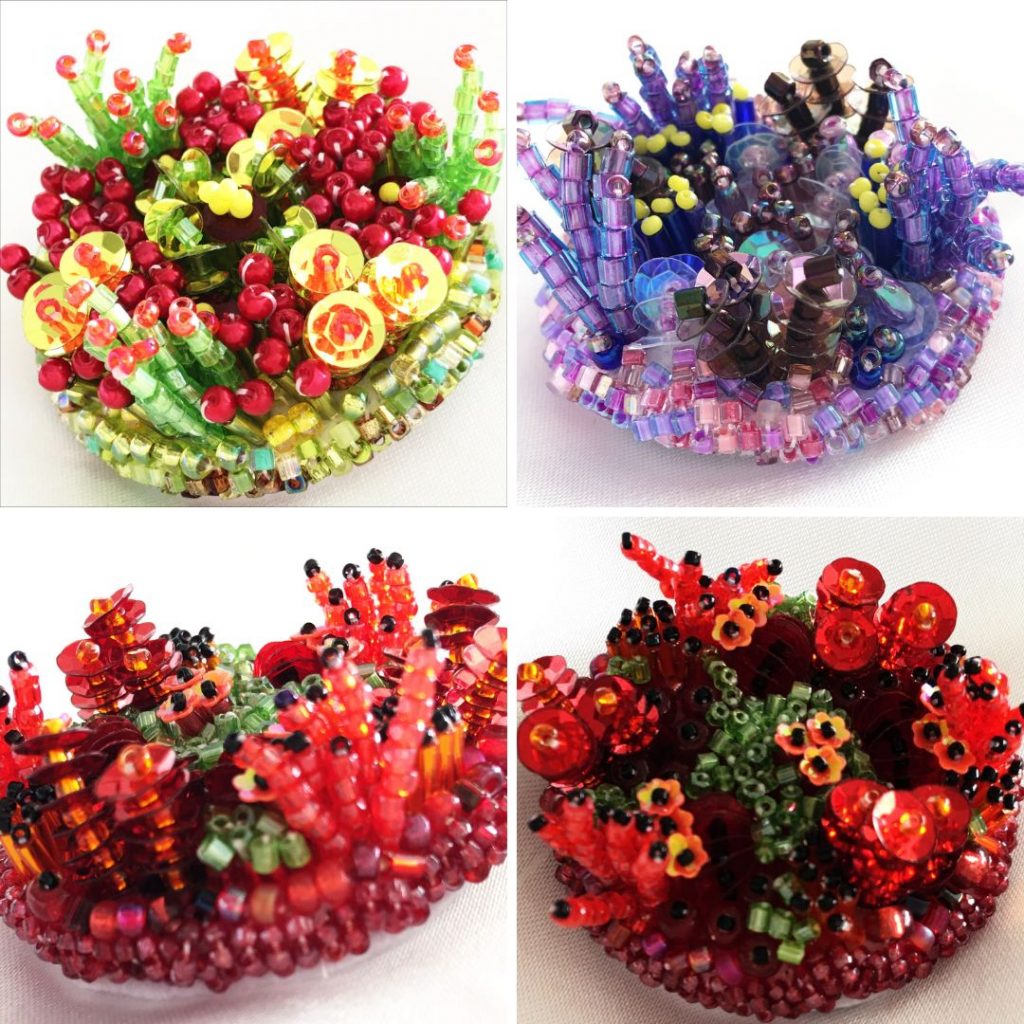 These could easily be re-homed into new jewellery pieces, bags, or even added to hats.  They would also look stunning suspended in resin or attached to a smooth stone and used as a paperweight.  But, for me, a simple white frame or tiny wooden plinth, that could sit atop a desk would make the perfect home and be a happy reminder of a beautiful island and a special event.
Sometime in the not-too-distant future, I'll make a video for my YouTube channel showing how to make these little gems, but in the meantime, here's a YouTube link to the entire series.  At 2″ in diameter, they each take around four to four-and-a-half hours, depending on the design – time of pure pleasure, enjoyment, and satisfaction.
So by using a simple needle and thread, unique and reusable gifts can be easily made, creating a bonus that just keeps on giving.
As my one-and-only appearance as Mother of the Bride, this is one small gesture I can give my daughter's guests.  It's a surprise for her pre-wedding ladies' lunch – handmade with love.
Only four to go – I'd better get back to work!