Creativity, for me, is about being curious and willing to make mistakes to grow – that then leads to inspiration.
And sometimes it's about changing things up a little and going back to the basics of making marks and working with colours that make your heart sing.
I'm so over packing and unpacking, of trying to find a park and carrying requirements to and from a venue – especially my sewing machine.  I like it just where it is, thanks very much.
Now obviously, there are times when the opportunity arises to work with someone face-to-face who creates an exceptional and memorable experience, but there are now professional-level online learning platforms available that are easy to navigate – even for a novice like me.
Occasionally I dip into the ocean of online courses and workshops – with great enjoyment I might add.  I don't go in for the subscription-type offerings – knowing me I'd forget yet continue paying for something I'm not using.
So last week I visited a course I bought about six months ago – thinking that over summer I'd be able to work outside.  Well, of course, we've had one of the wettest summers since the 1940s – so I bit the bullet and worked inside.
And I'm absolutely thrilled with my choice.  The tutor, Tracy Verdugo, is an Australian mixed media artist, with a gentle voice and endless enthusiasm, who happily shares her knowledge and inspiration.
Tracy calls herself an inspiration instigator, prolific painter, bestselling author and lover of the written word, smitten traveller, and soaker-up of all that is beautiful.
The first course is one I'll certainly revisit from time to time as there's a plethora of great information and ideas – not only to inspire creativity but to actually lay them down expressively.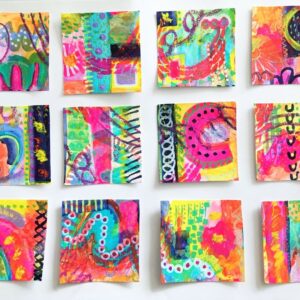 Creative exercises using your own marks and your own colours, form a vocabulary unique and meaningful to only you, but also reinforce mark-making techniques using layering and contrast of line – and the big one for me, colour.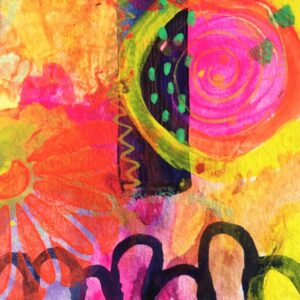 So, out of twelve small pieces from the one exercise, I ended up with three or four I thought would be worthy of looking to recreate in stitch somehow.  The one above, 'Summer Sun' is my favourite.  It just glows with a beautiful palette of pinks, yellows and oranges – colours I really love – yet made more exciting by the use of a little green, a touch of lavender and dark, dark blue.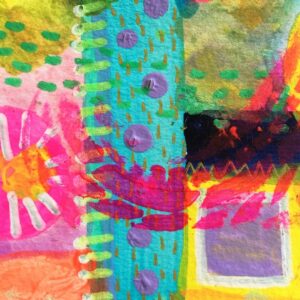 This one's a bit more static, but I love the swirl of that pink created by using part of a stencil, laying lazily over all the other elements, like a feather in the wind…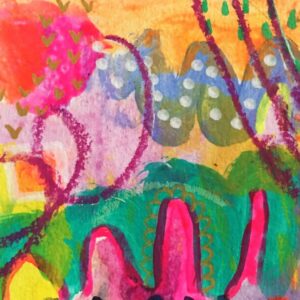 And lastly, this little one has distinct possibilities.  I feel like the Loch Ness monster is lurking at the bottom.  It has a sense of fun.
So I now have paint, brushes, paint, twigs, stencils everywhere I look – but I'm creating – and being inspired.
Immensely valuable, incredibly enjoyable and able to be viewed over and over, in my own time – the online course is one of great value and inspiration.
It's well worth keeping an eye out for online workshops from some of your favourite artists.