I'm in a bit of a groove of late and it seems to be working, so I'm inviting you to get into your groove as well – in ten easy steps.
It's not a challenge – but it is meant to stimulate, stretch and inspire your design skills.
And it's all about PatternPlay – using beautiful lines, creating your own designs, exercising your imagination and presenting each one to perfection.
Do it at your own pace, but try to be consistent.  My regime has evolved as follows – take images on my phone of interesting plants, either flowering or with their stunning seed pods or leaves.  And I do use tools to enhance those images.
I edit images with an app called PicTapGo which I find heightens, sharpens or lightens the colour, depending on the original shot I took.  I also use Canva on my computer and my phone.  I'll add links to these and other tools at the end of this post, including my ten easy steps to help get you going.
My favourite colouring tool would be Tombow markers with a brush tip at one end and a fine tip at the other.  Frankly, I'll use anything I have as long as it's the colour I want, but Tombow is definitely great for covering both large and small areas.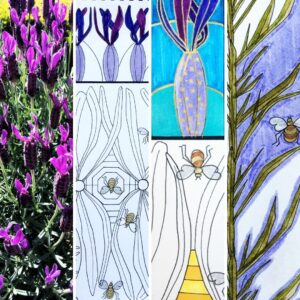 It's also important to take work-in-progress shots – honestly, I think we sometimes forget just what a beautiful process design is – that putting pencil to paper, using our own visual language to interpret something that resonates within.  That's huge.  And it's a skill that really needs constant attention.
Use those work-in-progress shots for your social media and as a memento of the work you've accomplished.  Make an e-book and be proud of your achievement.
Play around with your images on Canva – you might be amazed just how good they look, plus it's a fun way to generate new design/pattern ideas by using the grids and inverting images you create for even more design ideas.  The examples below  – with a few tweaks – would make fantastic backgrounds for new design work.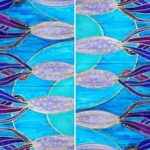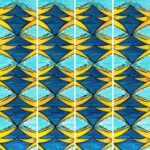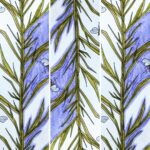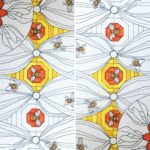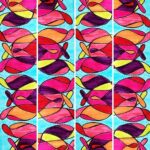 My regimen is to try to begin a new design each weekend.  I don't need to finish it then, simply get the prominent ideas I want to include down on paper.  I can work on this during the week while watching TV – things like filling my design with colour is a great way to utilise this time.
Use layout inspiration from Eugene Grasset's 1896 book – a link follows.  Tease out both your creative individuality along with what the plant has to offer.  Emphasize, distort, diminish, simplify – explore all these possibilities.
Each design is numbered 1/52 or 2/52 as I want to continue this over a year.  If I miss a week here or there I'm not going to worry – but that's what I'm aiming for.  I'm also planning on making a special cover to keep all these designs safe, dog-ear free and in one place.  I'll neaten the torn edge and in a year's time, I'll have a compendium of natural designs I can call on at any time.
And they're all mine!  No copyright issues, but full to bursting with ideas for use in other designs or if they're good enough, as stand-alone designs to keep me busy for a very long time to come.
Join me, and if you take up my invitation, share your work.  Contact me through Facebook.
My 10-steps to 'PatternPlay' are:
take your own images and edit
look for at least three stand-out elements in the image
create at least three separate design areas on the page and utilise differing shapes
use abstraction and simplification in your design work
utilise contrast and variety
incorporate pattern, rhythm and repetition
use whichever drawing techniques or materials you're comfortable with
take work-in-progress images and use them on your social media
use Canva to make new background patterns from this design work
make a compendium to store your design work for future reference
Links to tools:
PatternPlay encourages originality and individuality in design using beautiful lines and your own creativity. You're invited!  Best of luck.